What Dwayne Johnson Really Looked Like At 10 Years Old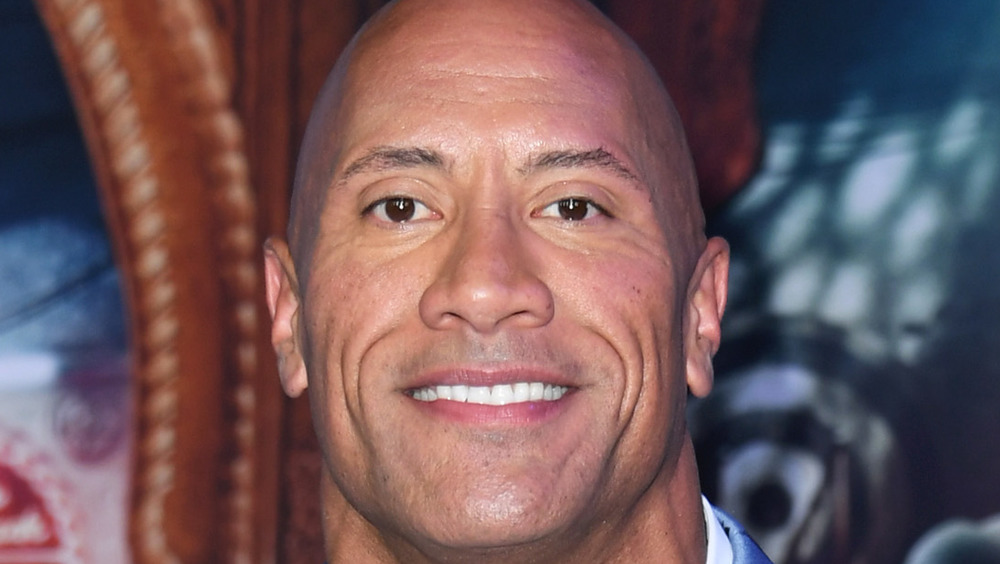 Jon Kopaloff/Getty Images
Dwayne Johnson, a.k.a. The Rock, is giving fans a peek at his past with his new show Young Rock, which debuted on NBC in February 2021. Based on his real-life experiences, the sitcom throws it back to his awkward younger years before he became one of the most famous faces in WWE and Hollywood royalty. Fans see the superstar navigate growing up in an eccentric family all the way up to his running for president in 2032.
As we see Johnson make his way through childhood and his teenage years, three different actors play him at each stage of his life. Adrian Groulx stars as a 10-year-old Johnson, while Bradley Constant plays him at 15, and Uli Latukefu takes on the star between the ages of 18 and 20. (The Rock also stars as himself as an adult.)
But just how much does Groulx actually look like The Rock at age 10, and what did The Rock really look like as a pre-teen? Keep reading to find out.
Does Adrian Groulx really look like The Rock?
It turns out Adrian Groulx's casting is actually pretty accurate. In February 2021, Dwayne Johnson promoted the show by sharing a snap to Instagram of himself at 10 years old alongside a photo of Groulx in character, and his resemblance to the star is uncanny.
The Rock flashed a big smile and showed off a hairstyle very similar to Groulx's as he posed in front of a gray background while wearing a Hawaiian shirt. "A little bucked tooth, afro'd 10 year old 'Dewey' played by the lovable @AdrianGroulx. Taking Hawaii by storm and trying to sneak a nip of tequila at the dinner table whenever I could," he joked in the caption, adding that the photo showed "where [his] wild life all began."
In another promotional image posted to Johnson's Instagram in September 2020, The Rock proved how much they look alike with a side by side snap as he called the young actor his "hero."
"At 10yrs old, I was rambunctious as all hell, was already girl crazy and loved pro wrestling — especially the part when wrestlers would bleed," Johnson wrote in the caption. "This kid, Adrian is my hero because I look back at this time in my life so fondly and how I viewed the world thru my 10yr old eyes. I was all these things but at the core I was a sweet little boy and a complicated little cub who just needed guidance."
Could Adrian Groulx play Dwayne Johnson after 10 years old?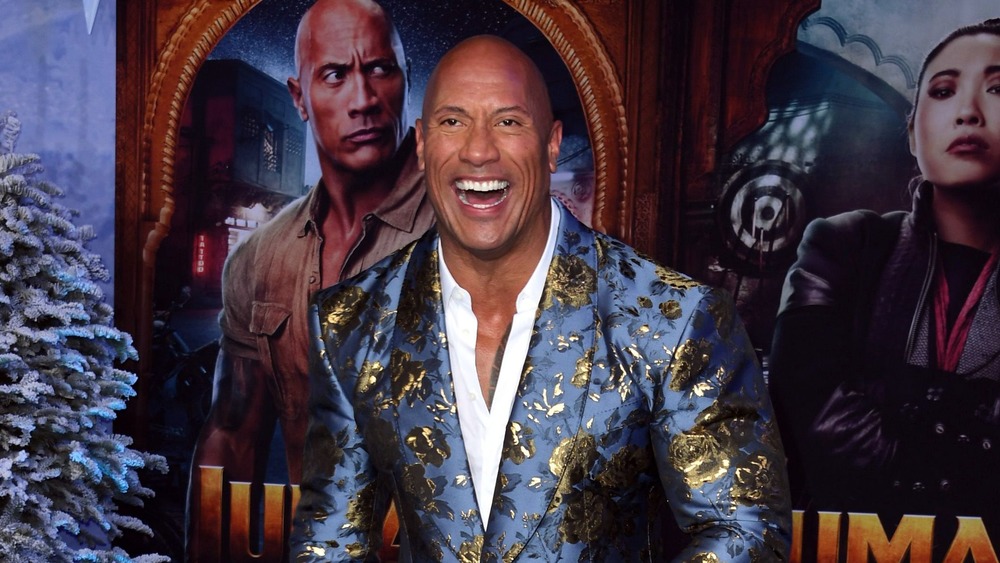 Jon Kopaloff/Getty Images
Dwayne Johnson shared a snap of himself at 11 years old on Instagram in October 2020. Though Bradley Constant and Uli Latukefu take on the later stages of Johnson's childhood, Adrian Groulx's resemblance to him clearly didn't stop at 10 years old. In the photo, The Rock had his hands on his hips in a puffy blue jacket and no shirt. He wore a wrestling belt around his waist and another over his shoulder as he rocked hair very similar to Groulx's.
"A lil' throwback action to 1983, when I was 11 years old – I used to LOVE putting on my dad's wrestling trunks, boots, jacket and championship belts – dreaming of one day becoming a pro wrestling champion," he wrote in the caption. Johnson then joked that he forgot to wear a "training bra" and that he was about to be "late for school" alongside the hashtag "#thankgodforpuberty."
Johnson's dad is Rocky Johnson, a professional wrestler and member of the WWE Hall of Fame who died at 75 in January 2020. The wrestler received a number of accolades in his career and, per The Guardian, "became the first Black world tag-team champion in WWE history," alongside his partner Tony Atlas. In Young Rock, he's played by Joseph Lee Anderson.