Inside Jennifer Garner And Mark Ruffalo's Reunion
Anyone who loved Jennifer Garner and Mark Ruffalo's chemistry in 13 Going On 30 will be thrilled to hear that the two actors are teaming up again — and have already shared a sweet picture from the set of their new project.
Garner starred as Jenna Rink in the time-traveling tribute to the '80s, while Ruffalo played her best friend turned love interest Matt Flamhaff. On Feb. 23, 2021, Ruffalo posted an adorable picture of their reunion on his Instagram. "Reconnecting with an old pal," the actor wrote, before giving a shout-out to fans of the 2004 rom-com: "Anyone know where we can get Razzles in Canada?"
Garner also shared the same selfie with her Instagram followers. "Wishing dust worked! And I got a perfect day with my old pal," the star enthused in her caption. Fans loved seeing the pair together again, and even fellow actor Juliette Lewis couldn't help but gush: "Oh my goodness. I love this so much and the two people in it!!!" she commented. Here's what brought the actors and "pals" together again.
Jennifer Garner and Mark Ruffalo play parents in a new movie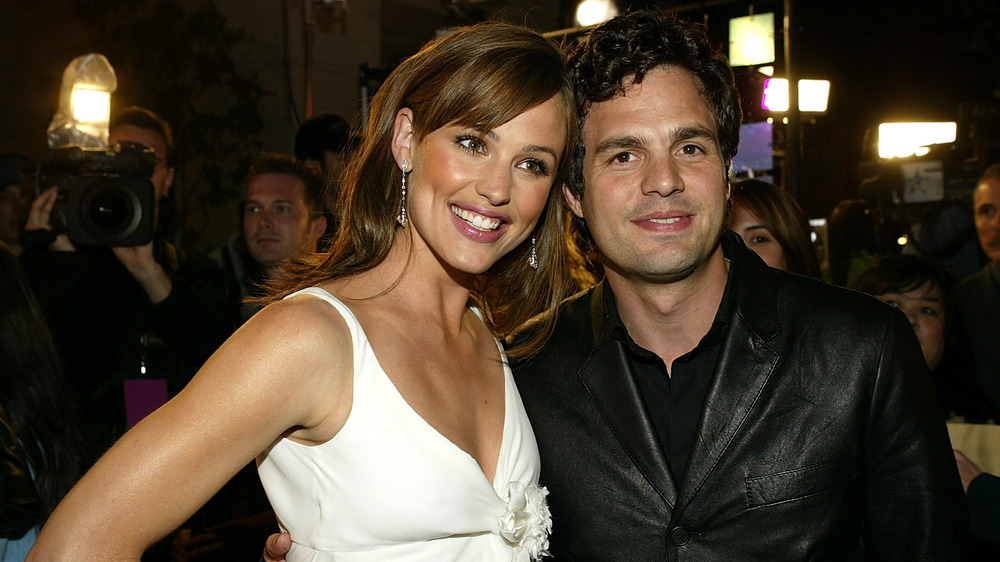 Carlo Allegri/Getty Images
Both actors are currently in Vancouver to work on the film The Adam Project, which also stars Ryan Reynolds and Zoe Saldana. As The Hollywood Reporter revealed, the sci-fi action adventure will be directed by Shawn Levy, who previously worked with Reynolds on the comedy Free Guy.
The new film's plot coincidentally bears some resemblance to 13 Going On 30 too, even if it probably won't feature any "Thriller" dance sequences. According to THR, Mark Ruffalo and Jennifer Garner will play the parents of Reynolds, whose character has to travel back in time in order to meet his 13-year-old self and his brilliant physicist father. 
This will be the first on-screen reunion between Garner and Ruffalo since their 2004 feel-good classic, per People. In 2019, Garner shared a touching tribute to 13 Going On 30 on her Instagram for its 15th anniversary, paying tribute to the young actors who played her "slumber party crew."
"The movie benefitted from the performances of so many young actresses. Open and twinkly-magical then— now, 15 years later, they are ruling the world," the Alias star wrote. Garner continued by shouting out Ariana Grande for referencing the film in her "Thank U, Next" music video, writing that she felt "so, so lucky to have had the experience of making this joyful movie" and "even luckier to be part of something that, all of these years later, can still make people (hi, @arianagrande) smile."