Who Is Ginny & Georgia Star, Antonia Gentry?
Ginny & Georgia is the latest Netflix series du jour, with The Guardian describing it as "Desperate Housewives meets Gilmore Girls." The show — which premiered Feb. 24, 2021 — is about 30-something Georgia (Brianne Howey), a single mom who has finally settled down in a small town after over a decade of moving around with her 15-year-old daughter Ginny (Antonia Gentry). Georgia has a "checkered past," and the small New England town they take residency in is not prepared for the newcomers, Entertainment Weekly reported. "It's a mother-daughter coming-of-age story and they're both coming of age at the same time, which keeps it really interesting," Howey told the outlet.
After working on episodes of GLOW and Black-ish, Anya Adams got tapped to executive produce Ginny & Georgia, and she brought in a wealth of female talent to help produce the show, per Teen Vogue. "Walking into the chemistry read and just seeing a room filled with women, was just an added bonus," Gentry told Entertainment Weekly. She also told Teen Vogue, "I felt so safe on set, in ways that you don't really realize."
Now that we've caught you up to speed on the series, let's take a closer look at who plays the character of Ginny, aka Antonia Gentry.
Antonia Gentry had a health scare during auditions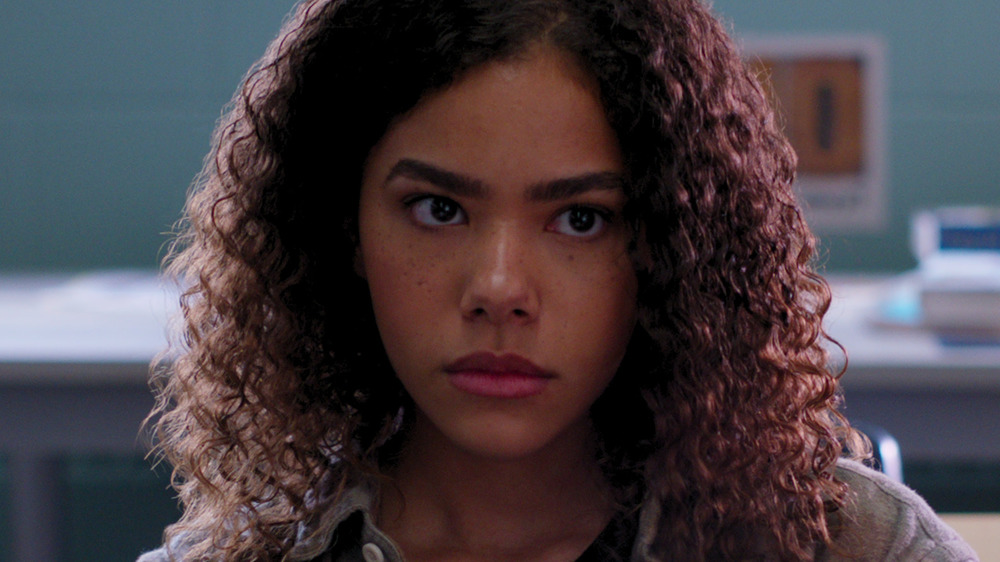 Courtesy of Netflix
Antonia Gentry had aspired to be an actress long before starring in Georgia & Ginny. She told Teen Vogue that, as a little kid, she would put on costumes and record herself using her mother's old camera. "I actually say to the camera, 'I think I'm going to become an actress,'" Gentry added, "My mom found those videos about two years ago."
The actress followed her passion at a young age and moved from Atlanta, Ga., when she was young to attend Davidson Fine Arts school in Georgia. Later, she returned to Atlanta to study acting at Emory University, picking up commercial and television roles while completing her studies. Gentry's first big break came from the small Netflix film Candy Jar in 2018, PopSugar reported. The actor completed the audition process for Georgia & Ginny just as she was finishing up her program. "My professors were understanding and encouraging for the most part, but it was pretty hard bouncing back and forth between being a full-time college student," she told W Magazine. The Netflix star traveled so much during the audition process that she developed a blood clot in her leg. "That was kind of scary, but I [had] booked the role, and I wasn't going to tell anyone about my blood clot," she revealed to Teen Vogue.
So, is there a special person by Gentry's side to help her celebrate these successes? Continue reading to find out details about Gentry's love life.
How Antonia Gentry influenced the role of Ginny
Antonia Gentry had the same boyfriend since high school, a man named Ezra Pounds. As reported by PopSugar, Pounds is a producer and composer based out of Atlanta. The pair often fill their respective Instagram feeds with adorable photos of each other and has been doing so since 2012. Leading up to the release of Georgia & Ginny, Pounds made an Instagram post to promote the show and support his partner. "Excited for my best friend, my soulmate, & my lover," he wrote in the caption while including a promo poster for the series.
The actor was able to inject her own life experience into the character of Ginny not only on screen but on the page as well. She told Teen Vogue that Sarah Lampert — the show's creator — asked for her input. "As soon as we started [filming], Sarah invited me to her hotel to talk and hear my stories about what it was like being biracial, being in a predominantly white school," Gentry told the outlet. She also shared with W Magazine, "Her friends are mostly white and they mean well, but they don't often say the right things." She told the publication that, growing up, she did not see many bi-racial characters portrayed in film and television, so she felt drawn to Ginny.
It's neat to know that those watching Georgia & Ginny not only get to know the teenage character but Gentry, too.