Mitch McConnell Reveals Whether Or Not He Will Support Trump In The Future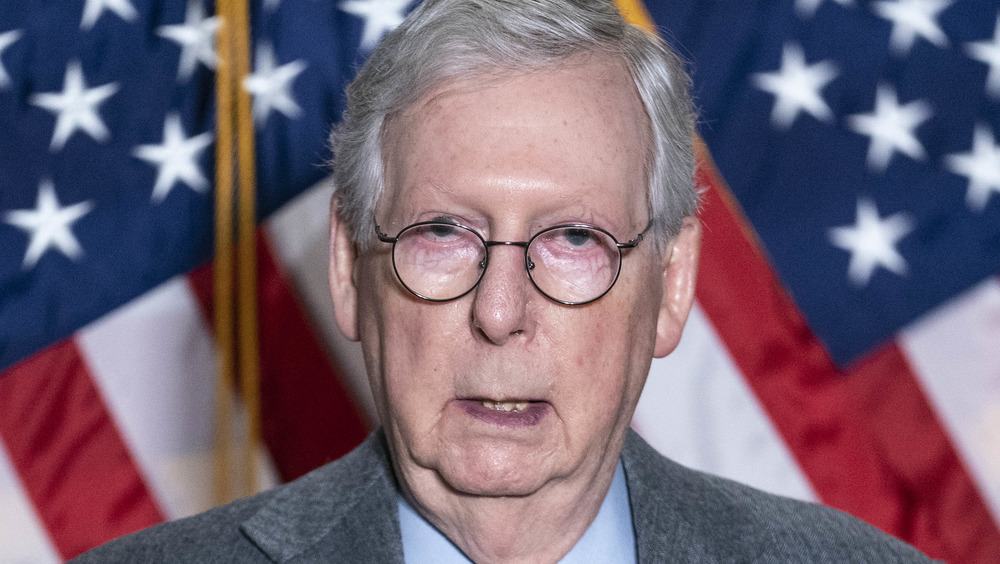 Bloomberg/Getty Images
With President Joe Biden in office and a Democratic majority in the Senate, the Democratic party began 2021 in power. That leaves Republicans already planning for 2024 and what is likely to be "a wide-open race," as Senate Minority Leader Mitch McConnell said in a Fox News interview on Feb. 25, 2021 (via CNN). Of course, the question on everyone's mind remains: what about former President Trump? Even out of office, Trump remains popular within the party and continues to cast his larger-than-life shadow on the future of the GOP.
For his part, McConnell was a staunch supporter of the ex-president up until the Jan. 6 attack on the U.S. Capitol, when he called Trump "practically and morally responsible" for the violence that ensued. Trump fired back at his one-time friend by branding McConnell a "dour, sullen and unsmiling political hack," even going so far as to claim credit for McConnell's recent reelection. While the Kentucky Senator voted to acquit Trump during his second impeachment trial, a wedge has clearly been driven through the pair's friendship. So, does this schism mean that McConnell will back Trump in the future? Here's what McConnell told Fox News' Bret Baier.
Mitch McConnell will 'absolutely' support the GOP presidential nominee in 2024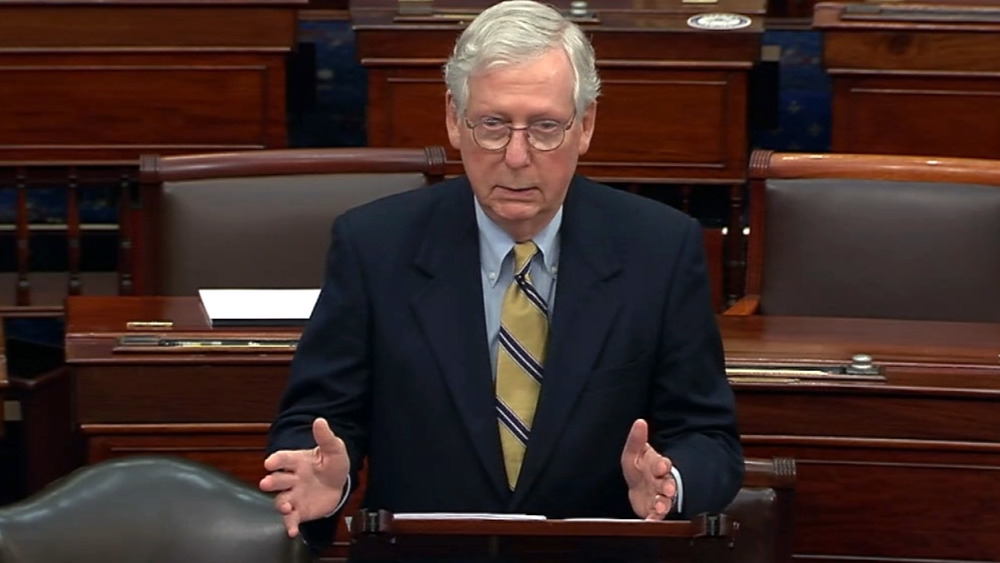 Handout/Getty Images
During a Feb. 25, 2021 Fox News interview with host Bret Baier, Mitch McConnell shared his thoughts on the future of the Republican party, stating that there are "at least four" Senate Republicans whom he believes will run for president in 2024 (via Forbes). When asked directly by Baier whether he would throw his support behind Trump at that time, McConnell responded, "the nominee of the party? Absolutely." Whatever his personal opinions about the former President, McConnell will likely let bygones be bygones and move forward with what he believes to be the party's best interests at heart.
This sentiment is widely shared by the rest of the GOP, many of whom feel Trump is the Republican party's best chance to regain control. On Feb. 16, South Carolina Senator Lindsey Graham appeared on a Fox News segment where he strongly intimated that McConnell should get in line with pro-Trump supporters, according to Business Insider. "What I would say to Senator McConnell: I know Trump can be a handful, but he is the most dominant figure in the Republican party," Graham said. "We don't have a snowball's chance in hell of taking back the majority without Donald Trump. If you don't get that, you're just not looking."
How does the Republican party feel about Trump?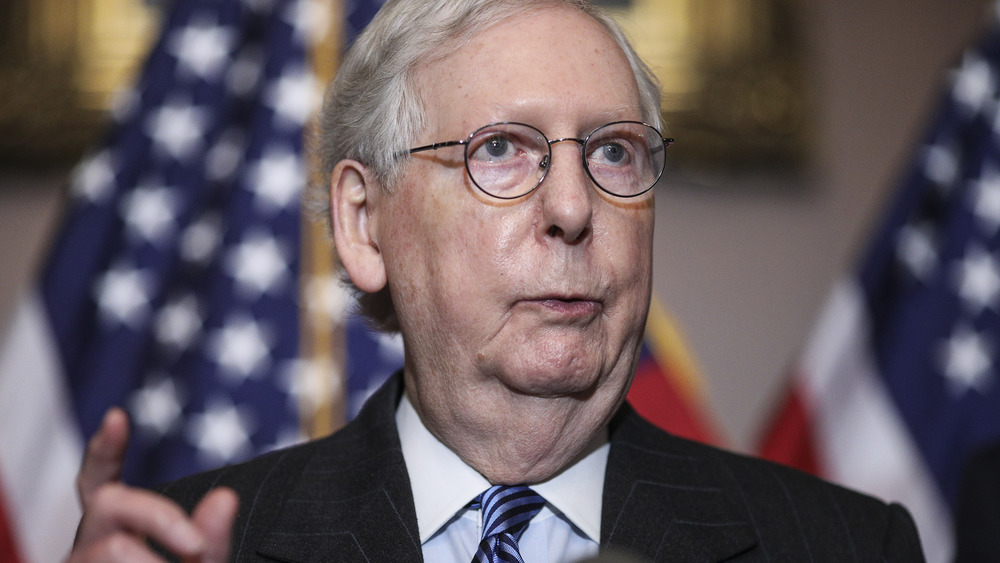 Pool/Getty Images
When Wyoming Rep. Liz Cheney denounced Trump for his role in the attack on the U.S. Capitol, adding (via The Hill) that he "does not have a role as a leader of our party going forward," the backlash was swift and immediate. According to Forbes, several right-wing House Republicans clamored for her to step down as Republican conference chair. A handful, such as Rep. Andy Briggs, took an even firmer stance by declaring that Cheney's views had "no room in the party." 
Even Republicans who have frequently butted heads with Trump, such as one-time presidential nominee Mitt Romney, acknowledge that he may well be the future of the Republican party. "I'm pretty sure he will win the nomination," Romney told The New York Times in an interview on Feb. 23. "I look at the polls, and the polls show that among the names being floated as potential contenders in 2024, if you put President Trump in there among Republicans, he wins in a landslide."
According to a Morning Consult / Politico poll released in February 2021, 54% of Republican voters would support Trump if he chose to run for reelection. In the same poll, former Vice President Mike Pence earned 12% of the people's support, while Donald Trump Jr. and former U.N. Ambassador Nikki Haley polled at around 6% apiece. Perhaps the GOP is right not to count Trump out just yet!