The Truth About Donald Trump And Tiger Woods' Relationship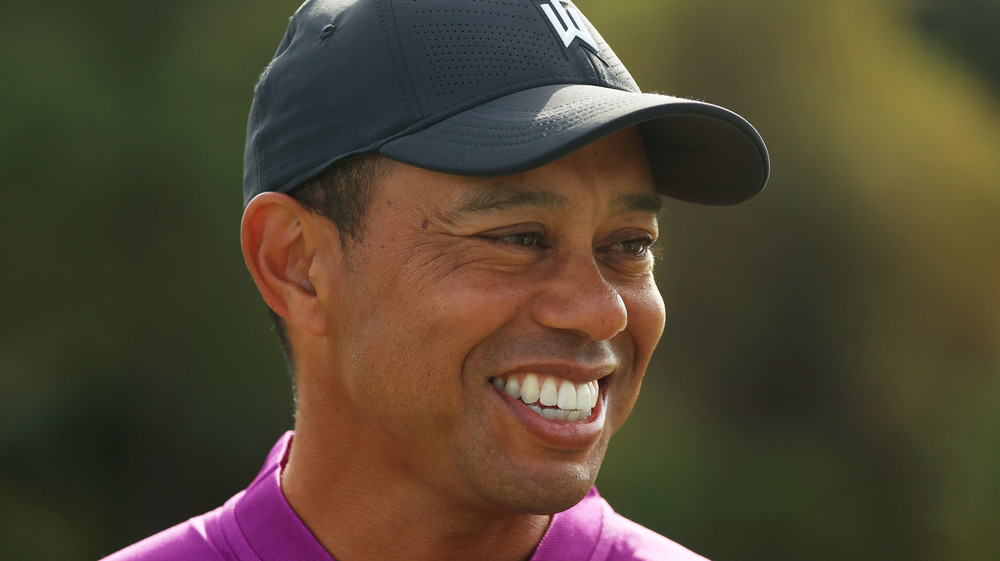 Mike Ehrmann/Getty Images
Following Tiger Woods' car accident on Feb. 23, 2021, which caused severe damage to his vehicle and sent the professional golfer into surgery for his injuries, friends and fans of Woods immediately took to social media to share their well wishes. "Praying for my brother @TigerWoods as we all anxiously await more news. Thinking of him and his entire family," Alex Rodriguez tweeted. "Sending a special prayer out to @TigerWoods & his family," comedian Kevin Hart, who was also involved in a serious car crash in 2020, wrote. "Praying for a speedy recovery." Even Woods' exes former club hostess Rachel Uchitel and Olympic gold medalist Lindsey Vonn sent their thoughts to the pro athlete.
Furthermore, former President Donald Trump sent a message to Woods via his spokesman and adviser Jason Miller. "Get well soon, Tiger. You are a true champion!" Trump said in the statement, which was released on Miller's Twitter account. The celebrity-turned-politician later went on Fox News and predicted that Woods will be back on the course after he heals from his injuries. "He's going to be back," Trump said, per USA Today. "I have no doubt about it, he's going to be back." He also praised him as an athlete and friend. "As a golfer he's just incredible," Trump said. "He's an incredible guy."
This isn't the first time that Trump has been associated with the pro golfer. Let's take a look into the truth about Donald Trump and Tiger Woods' relationship.
Donald Trump awarded Tiger Woods in 2019 with a special honor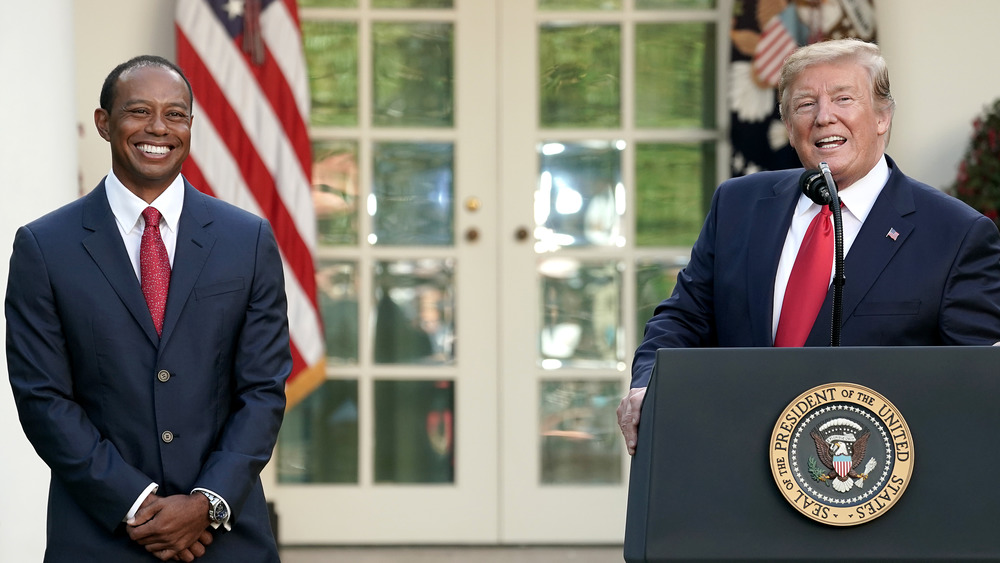 Chip Somodevilla/Getty Images
In May 2019, Tiger Woods became the first active athlete to earn the Presidential Medal of Freedom, which is "the Nation's highest civilian honor, presented to individuals who have made especially meritorious contributions to the security or national interests of the United States, to world peace, or to cultural or other significant public or private endeavors," per Barack Obama's White House site.
The medal was presented to Woods by Donald Trump, who was president at the time. "Tiger, we are inspired by everything you've become and attained," Trump told his friend, according to USA Today. "We can't wait to see what's next Tiger," Trump continued. "There are no winners like you." Prior to the ceremony, Sarah Huckabee Sanders said that the president thought the father of two was "not only a tremendous athlete but also has a great comeback story," per The New York Times.
Following the event, Woods sent a heartfelt tweet to reflect on the honor. "It's an incredible privilege to be awarded the Presidential Medal of Freedom. Considering the recipients, history, and what this means to me and my family, it's also very humbling," he said. "Thank you all for your support and I hope this inspires others to never give up on their dreams."
Tiger Woods is quiet about his relationship with Donald Trump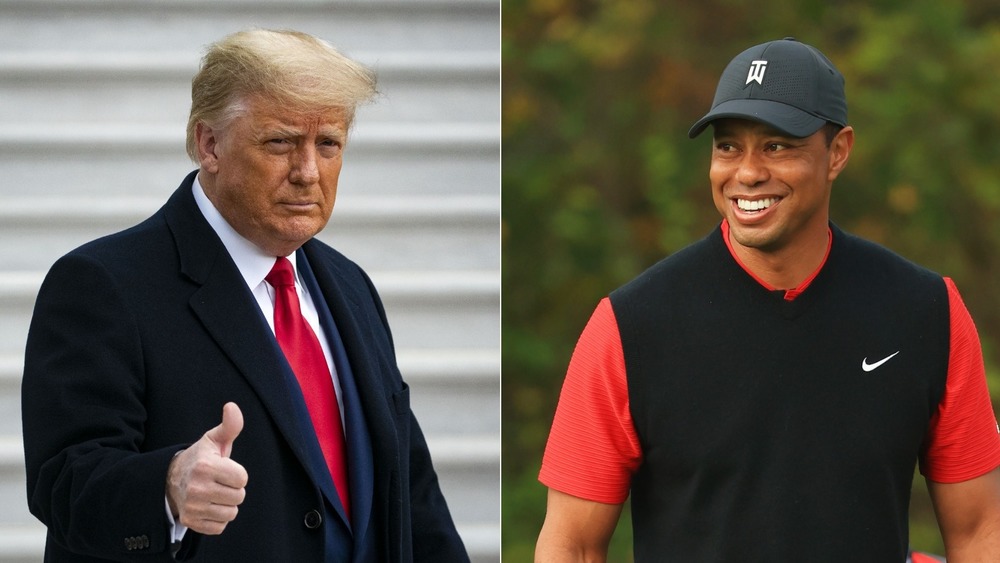 Al Drago, Mike Ehrmann/Getty Images
Tiger Woods and Donald Trump have a relationship that dates back to before Trump's presidency. In 2014, for instance, Trump announced that he partnered with Woods to design a golf course in Dubai, which would be part of a "luxury residential megaproject," per The New York Times.
After the Northern Trust golf tournament in August 2019, Woods was asked about his relationship with Trump, but chose a rather diplomatic answer. "Well, I've known Donald for a number of years," he responded, as noted by Business Insider. "We've played golf together. We've had dinner together. I've known him pre-presidency and obviously during his presidency." He was then questioned about his feelings toward Trump's political agenda. "He's the President of the United States. You have to respect the office. No matter who is in the office, you may like, dislike personality or the politics, but we all must respect the office," he answered. Woods passed on another question regarding his relationship with Trump. Following his statement, Trump took to his since-banned Twitter account to congratulate Woods on his win, per Business Insider.
Trump has been more vocal about his fondness of the professional athlete, but it's no secret that they have a relationship to some degree. In his closing comments regarding Woods' car crash, he said (per USA Today), "All I'd say to him is get better and get out there because we all miss him. We need Tiger."