Why Fans Think Meghan Markle Revealed The Sex Of Her New Baby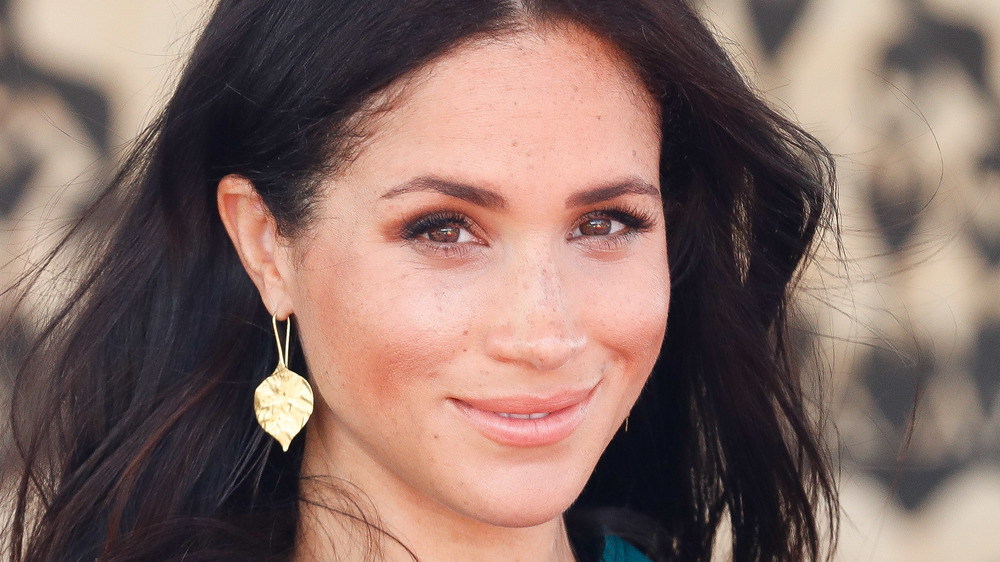 Chris Jackson/Getty Images
Royal fanatics around the world — and also hardcore Suits fans, were delighted to learn that Prince Harry and Meghan Markle were expecting their second child in February 2021. It was another big announcement for the Duke and Duchess of Sussex, who have been in the news quite a bit lately. After laying low for most of 2020, the Sussexes reemerged in the new year and brought the drama with them.
In February 2021, the couple reaffirmed their commitment to remain in LA as nonactive royals. Then, after confirming their desire to stay as far away from Buckingham Palace as possible, they hit the press circuit. Harry appeared on the Late Late Show with James Corden and shared his feelings about The Crown (we're still dying to know Camilla's thoughts). Meanwhile, Meghan announced she would be sitting down for an exclusive interview with Oprah.
All this comes on the heels of their pregnancy announcement. Traditionally the royals do not reveal the sex of their unborn child (even if they might privately find out). Meghan and Harry, who are in a sort of a "royal gray area" at the moment, don't necessarily have to bow to that standard, but so far, they haven't confirmed anything about the child's gender. Some fans, though, think Meghan has been dropping hints.
Fans think Meghan Markle dropped a big hint
Devoted fans of Prince Harry and Meghan Markle are pretty sure the Suessexes are expecting a baby girl. In February 2021, Meghan and Harry participated in a Spotify event, promoting their podcasting venture, Archwell Audio, per Express. Meghan wore her hair long and curly and looked stunning in an Oscar de la Renta wrap dress, Town and Country noted.
Keen-eyed fans were more focused on her accessories, though. Besides her wedding band, Meghan wore another ring: a pink solitaire, sapphire on her right middle finger. The six carrot ring comes from a sustainable brand called Ecksand and retails for a cool $1,346, per Us Weekly. Pink is, of course, often the color choice when celebrating baby girls, and fans became convinced that the pink ring was a nod to the unborn baby's gender. Ecksand posted a photo of Meghan wearing the ring on their Instagram, and Meghan lovers were all over the comments claiming the ring as proof of a baby girl. "Thank you for the confirmation," wrote one fan. "Wow, thanks! Now we know, it's a girl," commented another.
Do we know for sure it's a girl, though? Of course not. It's unclear whether the parents even know the sex of the unborn child. It's more than likely we'll have to wait a few months until the baby is born before we can confirm whether or not the pink ring means anything. Until then, we can keep ourselves busy placing bets on baby names.