What A Regular Night At Home With Harry And Meghan Is Really Like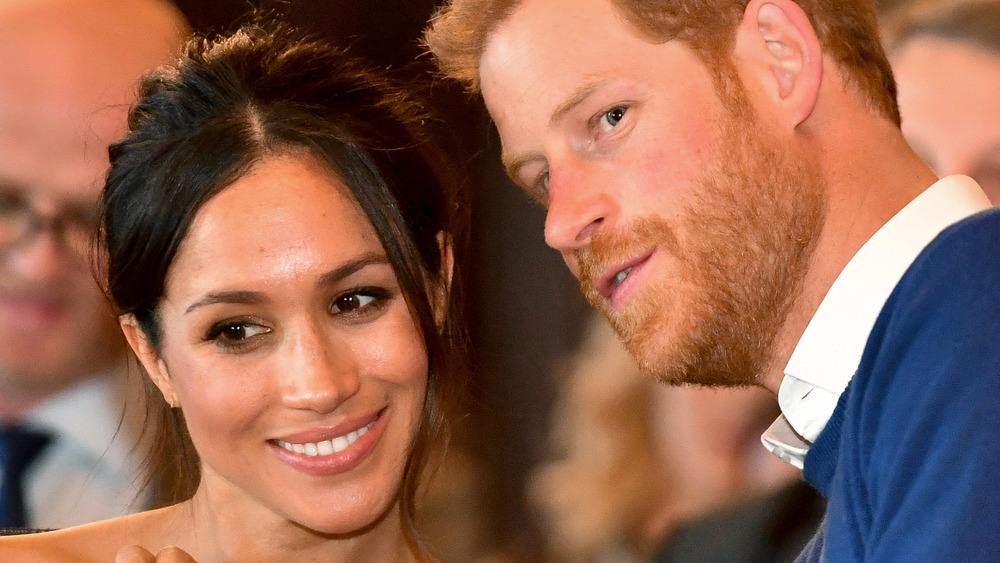 Wpa Pool/Getty Images
The world has been captivated by Prince Harry and Meghan Markle's romance since long before their 2018 fairy-tale wedding. According to Glamour, the two lovebirds had the gossip world a-frenzy over dating speculations even in 2016, ever since Meghan wore an identical bracelet to Harry's in public (per People). Unfortunately, confirmation of their relationship arose out of ugly circumstances. Due to Meghan receiving a barrage of harassment, Kensington Palace issued an official statement via Twitter in November 2016, warning trolls to leave Harry's "girlfriend, Meghan Markle" be.
After the romance was outed, the fascination only got more intense. Within a month, Meghan had become the most googled actor of 2016, per Glamour, and made headlines for simply wearing a dainty necklace with the letters "H" and "M" dangling from it. By September 2017, the demand for more Meghan and Harry had even spread to their social network. Deadline announced that Meghan's ex-husband, film producer Trevor Engelson, was working on a since-canceled Fox comedy about a man who is divorced for a British prince.
After the couple retired from their royal duties in 2020, they agreed to a March 2021 Oprah Winfrey interview about their personal lives, and thus, the fascination continues. For example, what do the pair get up to on a regular night? Prince Harry revealed the answer in a February 2021 interview.
Prince Harry and Meghan Markle watch Jeopardy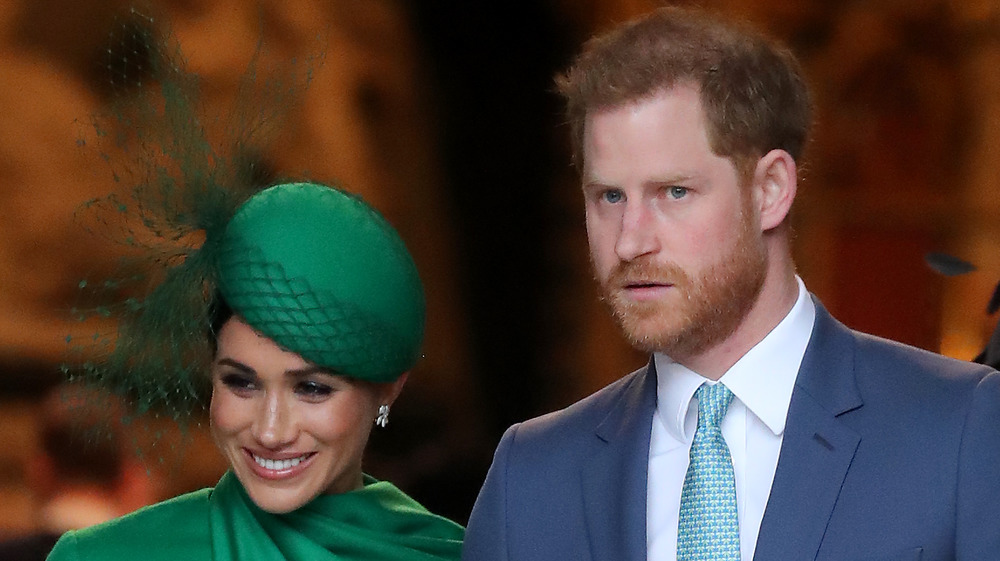 Chris Jackson/Getty Images
In a Feb. 25, 2021 episode of The Late Late Show titled "An Afternoon with Prince Harry & James Corden," Prince Harry shared details from his day-to-day routine with wife Meghan Markle and son Archie — and they are surprisingly banal. "Depending on how the day's been, we do Archie's tea, give him a bath, read him a book, put him down, go downstairs," Harry told Corden. The royal also said that he and his wife like to "watch some Jeopardy!" or "maybe... a little bit of Netflix."
Speaking of Netflix, the usually private prince shared his feelings about the streaming platform's depiction of the British royals on its semi-biographical series The Crown. In short, Harry loves the show's focus on the stress of being a high-profile royal. "It gives you a rough idea of what that lifestyle... of putting duty and service above family and everything else, what can come from that." The prince even admitted he was "way more comfortable with The Crown than I am seeing the stories written about my family or my wife or myself," as The Crown "doesn't pretend to be news."
Prince Harry further shared he would love actor and fellow redhead Damian Lewis of Homeland fame to portray him on future seasons. As The Crown was confirmed, per Elle, for a fifth and sixth season, with its fourth already containing a young Prince William and Harry, we hope the prince's casting choice does come true!