The Real Reason Lisa Rinna's Daughter, Amelia Hamlin, Is In Hot Water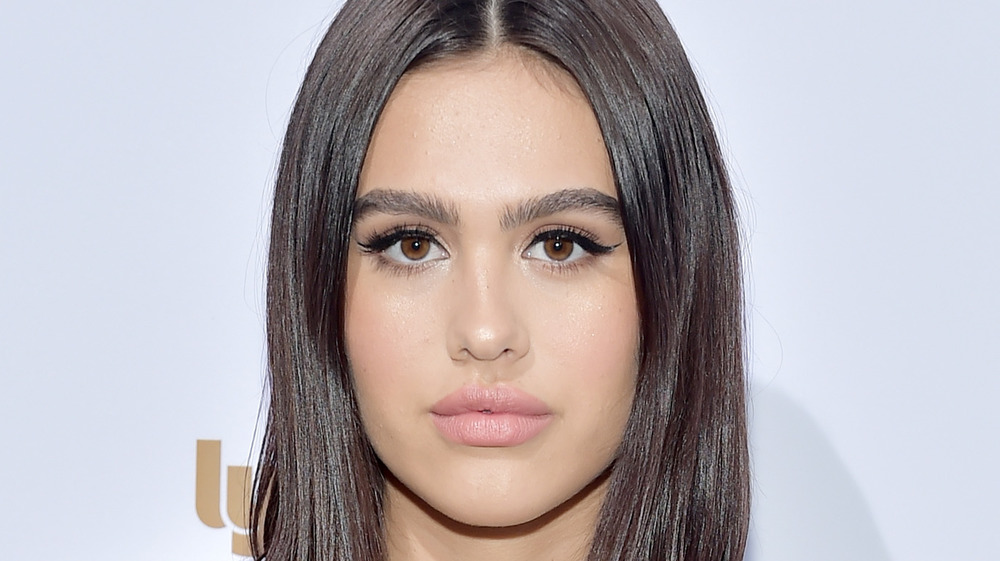 Stefanie Keenan/Getty Images
Amelia Hamlin may not be the most famous figure around, however, she has managed to create some buzz over the years. Along with stepping into the spotlight thanks to mom Lisa Rinna's role on The Real Housewives of Beverly Hills, she's made a name for herself as a model. Of course, she also happened to stir up opinions — including from Rinna — when she found herself in a relationship with Kourtney Kardashian's ex Scott Disick, "who casually happens to be a whole 18 years older than she is," as pointed out by Cosmopolitan. On top of that, Cosmo notes that Hamlin also "received hate for posing in lingerie on Instagram ... which got so bad that her mom, Lisa Rinna, had to defend her in the comments."
Hamlin, for her part, used Instagram (via Us Weekly) in December 2020 to address the criticism of her actions in the past, specifically her relationship with Disick, by saying that people can be "extra weird and judgemental [sic]." She added, "People can embrace themselves however they feel fit for them at that moment in time. People grow. People learn to love themselves more and more."
However, in February 2021, Hamlin found herself responding directly to people who were offended by something else that she had done.
Amelia Hamlin responded to the blackfishing backlash
While Ariana Grande, Rita Ora, Addison Rae, and the Kardashian-Jenner sisters have all been accused of blackfishing, it was Amelia Hamlin who was called out for the problematic practice in February 2021. But what is blackfishing? The term "describes the phenomenon of non-Black influencers and public figures using bronzer, tanning, Photoshop, or even cosmetic surgery to change their looks to appear Black or mixed race," according to Health.
As for Hamlin, she found herself facing accusations of blackfishing after she took to Instagram to post a trio of pictures of herself. As Cosmopolitan noted, the photos made her appear "more than a few shades darker than her usual complexion." The images also showed "her wearing large hoop earrings and her hair in a long braid." She added a caption that reads: "Whiplash got me like..."
When Hamlin's followers mentioned the fact that it looked like she was blackfishing, she turned off the comments on her post and instead used her Instagram Stories (via Cosmo) to respond to the backlash. "I'm receiving a lot of comments in regards to my latest photo. I am being told that I am 'Black fishing' — thank you all for educating me on this topic," she noted. Saying that she had been on a sunny vacation and tans easily because of her "Italian heritage." She added that she had "no ... intention of looking darker than [her] own natural skin color." Fans will have to decide for themselves whether they believe her or not.