What Dwayne Johnson Really Looked Like In College
Jon Kopaloff/Getty Images
Dwayne "The Rock" Johnson is, without a doubt, the most successful professional wrestler-turned-Hollywood icon. Johnson has crafted his own niche as his particular brand of an action hero, with box office smashes spanning the likes of the 2017 Jumanji reboot to the Fast & Furious franchise. As of 2014, he was confirmed, per Screen Rant, to be playing popular DC supervillain Black Adam in the highly anticipated titular flick, which has a release date of Dec. 22, 2021, according to Men's Journal. 
Now, the ex-athlete is adding the realm of television to his acting repertoire with his semi-biographical NBC sitcom Young Rock. The show follows a youthful Johnson from childhood to his 1990s rise to WWE superstardom. As Johnson told The New York Times, "The fun thing... is everything that people see in this first episode and throughout the season, everything happened."
The show cast fresh face Uli Latukefu as the 18-20-years old Johnson who played collegiate football, albeit to little acclaim. According to Men's Health, Johnson reportedly "had seven dollars in his pocket" when he left college to strike gold in the wrestling arena. Did the series get the former University of Miami football player's looks right as far as Latukefu's casting?
Young Rock star Uli Latukefu looks just like college-age Dwayne Johnson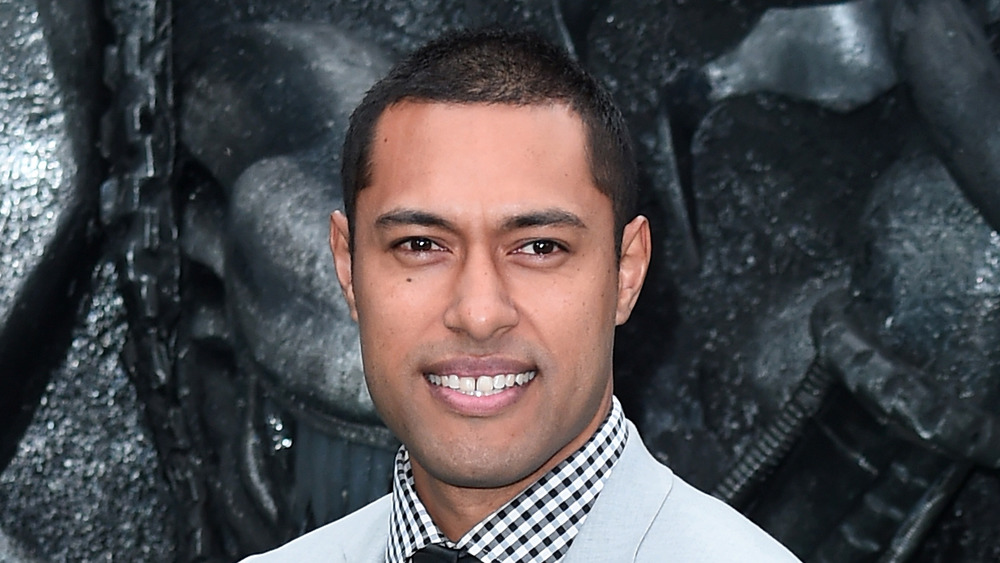 Eamonn M. Mccormack/Getty Images
One glance at Hollywood up-and-comer Uli Latukefu and it's easy to see why the actor was cast as college-age Dwayne Johnson in Young Rock. In Latukefu's own side-by-side Instagram comparison of his headshot with Johnson's face on his college football card, the two share the same broad-shouldered build, deep-set brown eyes, and cherubic face. After all, the two share Polynesian blood (Johnson is half-Samoan and "proudly" identifies as such, per his own 2019 tweet, and Latukefu is of Tongan lineage, according to his interview with The Coconet).
The two also share a towering height, with Latukefu standing at 6'5". According to Men's Health, even the Young Rock crew saw the striking resemblance from the beginning. "I was like, 'I think I've got this one,'" Latukefu recalled of his post-audition reaction, adding he was told that day, "You look exactly like him." Physical resemblance aside, Latukefu still put in the work to pull off some of Johnson's more challenging athletic feats. "I had to do like 36 reps [of a bench press], 10 times, so 360 reps in total. I woke up the next morning very sore," the actor remarked to Men's Health on his training for a scene of Johnson as a University of Miami Hurricanes recruit.
Latukefu was previously known for his role on the Netflix series Marco Polo, but will surely see new opportunities out of playing a young Johnson.