The Truth About Ethan Hawke's Wife
Dominik Bindl/Getty Images
The truth about Ethan Hawke's wife is a little complicated. The actor and his wife Ryan Hawke have been married since 2008. The couple shares two daughters Clementine and Indiana (via The Daily Mail). The Training Day star was married to Uma Thurman from 1998 until 2005, and he has a daughter Maya and son Levon with her.
Ryan and Ethan's history is convoluted because she was the nanny while he was married to Thurman. In 2010, a New York Magazine reporter asked about his break-up with the Pulp Fiction star and whether his divorce was due to an affair with his nanny. Hawke told New York Magazine, "I wasn't prepared for [this event] to be a public thing. But I'll tell you this: I liken my situation to The Sound of Music, not to Jude Law." The actor mentioned Law because of his affair with his nanny. Keep reading to find out more about the wife of the Before Sunrise actor. 
Ryan Hawke got a tattoo with her husband Ethan's initials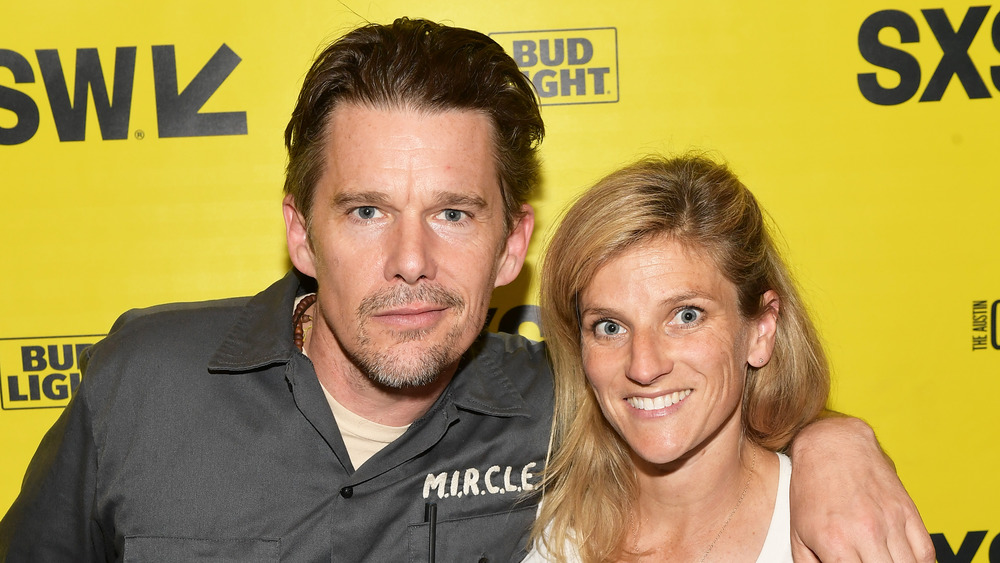 Matt Winkelmeyer/Getty Images
Ryan Hawke was the nanny for Ethan Hawke's daughter Maya and son Levon when they met. In 2008, Just Jared reported that Ryan got a tattoo with the initials EGH, which stands for Ethan Green Hawke. Ryan and Ethan were not yet married at the time, and she was pregnant with their oldest daughter Clementine. Getting a tattoo while pregnant? That is love y'all!
Ryan's devotion to her husband is epic, considering Ethan's views on monogamy. In 2013, Ethan said that "people have such a childish view of" monogamy and fidelity. Ethan explained that people rush to judge those who have affairs. The actor told Mr. Porter (via HuffPost), "'He's cheated so he's bad, she's cheated so she's bad,' as opposed to a recognition that our species is not monogamous." Color us cynical but saying that the "human species is not monogamous" sounds a little shady.
Ryan is listed as a producer for two films, First Reformed (2017) and Blaze (2018). She also had a small part in a movie her then-boyfriend Ethan directed in 2006, The Hottest State (via IMDb).