Al Pacino Looked Barely Recognizable At The Golden Globes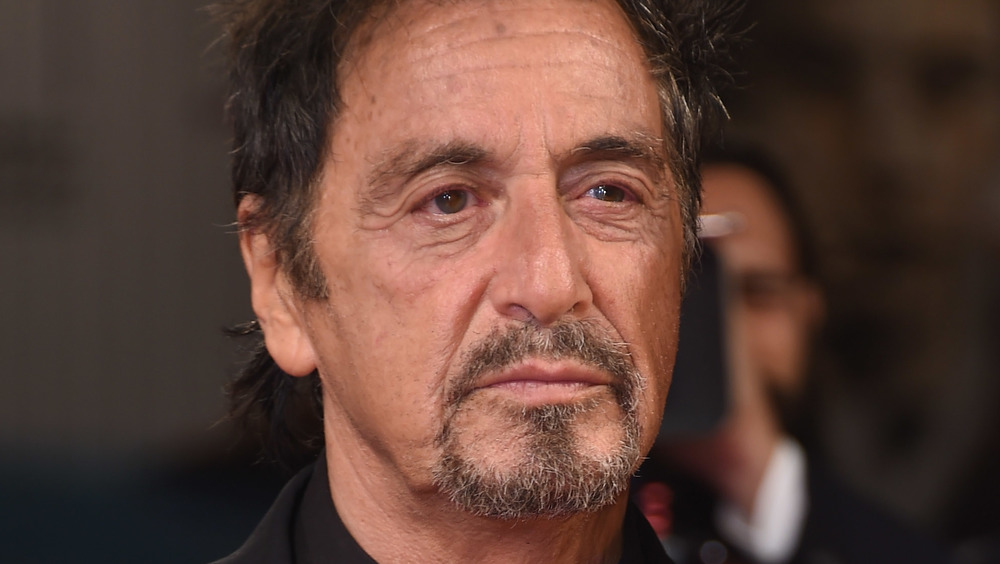 Ian Gavan/Getty Images
Legendary actor Al Pacino got nominated for a Golden Globe award for his work in the TV series Hunters. Thanks to the pandemic, he couldn't physically attend the award show, but he did partake in the night via video chat. It's always a big deal when Pacino makes an appearance, but this time around, some viewers couldn't help cracking some jokes at his expense. One Twitter user remarked, "Al Pacino stayed up for this and didn't win. I'm assuming he's thrilled." Someone else said that she appreciated the actor's "just-let-me-go-to-bed-already vibe."
Other people were just a little confused by his appearance, with one fan admitting, "I did not recognize Pandemic Al Pacino." She wasn't the only one, though. Someone else said, "Did anyone recognize Al Pacino? I would never have guessed that was him." One person tweeted, "al Pacino simply giving charlie and the chocolate factory grandparents." 
Of course, no one can look the same forever. But many social media users didn't even feel like Al Pacino looked like (any version of) Al Pacino, with some throwing out some comparisons to other pop culture figures.
Al Pacino's appearance inspired a lot of questions on Twittter
When Al Pacino appeared at the 2021 Golden Globes, his hair had some grey streaks and some mile-high volume. He even seemed to have a bit of a tan and some possible cosmetic tweaks. Although that's merely speculation, there were a lot of people who hinted at that sentiment. 
One person remarked, "I glanced at the screen and I thought Jimmy Page was nominated for best actor. I was then told it was Al Pacino." Another viewer posted, "I hope this doesn't sound mean, but when did Al Pacino start looking like Liberace? Seriously, I didn't recognize Michael Corleone." Someone else tweeted, "Wow! Al Pacino looks like Wayne Newton #badplasticsurgery." Ouch. However, that comparison seemed to be the popular consensus since someone else posted, "Was that Al Pacino or Wayne Newton?" A Golden Globes viewer shared, "My mom just called me into her room so I could look at Al Pacino."
Of course, how Pacino looks is arguably no one's business. But that didn't stop people from giving the legendary actor a double-take.