Giannis Antetokounmpo's Net Worth Is Higher Than You Think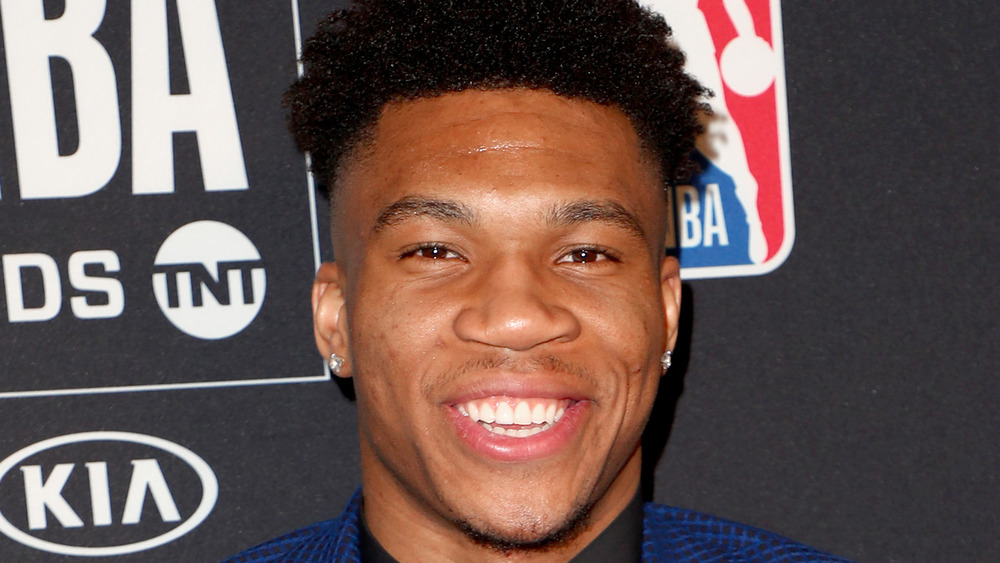 Joe Scarnici/Getty Images
Nicknamed "The Greek Freak" by Milwaukee Bucks fans, Giannis Antetokounmpo has made quite the splash in the NBA after he was drafted 15th overall in 2013, as per Bleacher Report. The Athens-born giant has become one of the best players in the NBA, winning both the Most Valuable Player Award and the NBA Defensive Player of the Year in 2020 (via ESPN). According to Forbes, Antetokounmpo is the only player alongside Michael Jordan to have won both awards by age 25.
Antetokounmpo's successes on the court has made him one of the richest players in the NBA — a far cry from his upbringing in Greece. During his childhood, Antetokounmpo's parents weren't able to find steady work. He, along with his older brother, would help his parents make money by selling watches, bags, and sunglasses on the streets of Athens. "Sometimes, our fridge was empty," Antetokounmpo told The New York Times in 2013. "Some days, we didn't sell the stuff and we didn't have money to feed ourselves."
Although Antetokounmpo's journey from rags to riches was a long one, he's now living the dream and making big bucks. Keep scrolling to find out how much the NBA superstar is worth.
Giannis Antetokounmpo has the richest contract in the NBA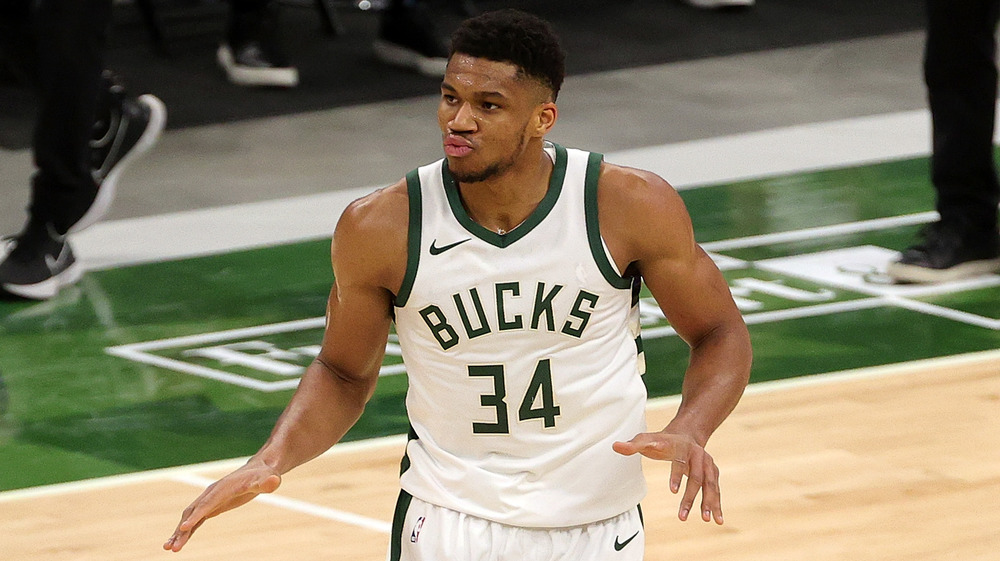 Stacy Revere/Getty Images
After having a stellar season in 2019-20 that saw Giannis Antetokounmpo win big at the NBA Awards, fans of the Milwaukee Bucks were eager to find out if the player would sign a contract extension with the team during the off-season. Antetokounmpo announced in December 2020 that he signed a multiyear extension with the Bucks which was worth a whopping $228 million, ESPN reported. "This is my home, this is my city," Antetokounmpo posted on Twitter. "I'm blessed to be able to be a part of the Milwaukee Bucks for the next 5 years."
According to Forbes, Antetokounmpo's contract extension was the biggest in terms of money for an NBA player at the time of signing and he's guaranteed to earn "a grand total of $256 million over the next six seasons in Milwaukee." The deal sees the team pay Antetokounmpo an average annual salary of $45 million, while his total net worth is approximately $70 million, Celebrity Net Worth estimated.
In addition to his NBA contract, Antetokounmpo makes money through various endorsement deals, including with apparel giant Nike. As per Bleacher Report, Antetokounmpo renewed his contract with Nike in 2017, which saw him earn $9 million in his first year and gave him the opportunity to release his own shoe line. In 2020, Antetokounmpo also inked a deal with Disney to create a live-action film about his life, adding to his fortune, per Deadline.