Why Donald Trump's Closing Remarks At CPAC Are Causing A Huge Stir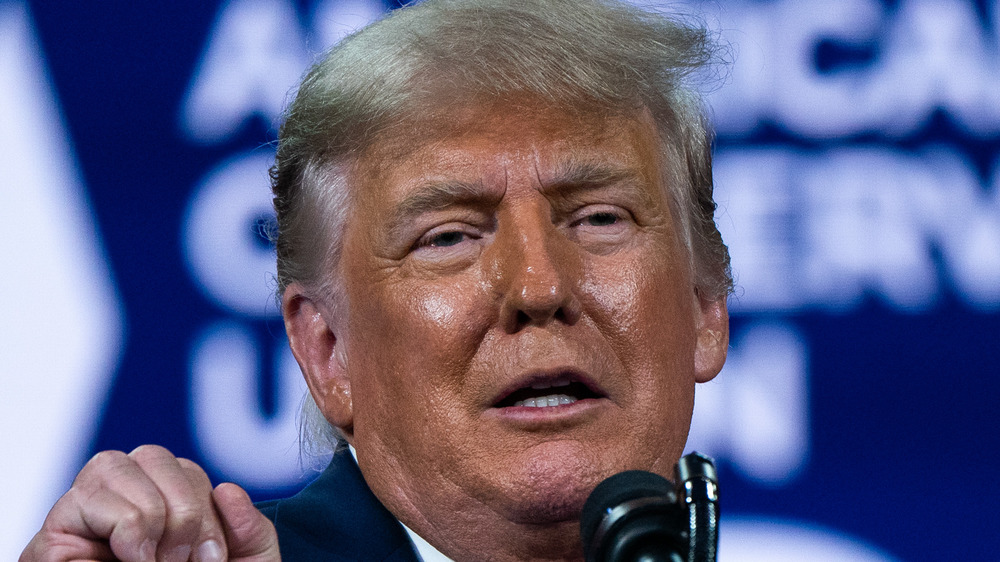 Bloomberg/Getty Images
Former President Donald J. Trump is likely to go down as one of the most quotable POTUSes in U.S. history. Trump has made his stamp as America's 45th president for his stream-of-consciousness hot takes on his Twitter account (which was permanently suspended as of January 2021 for said "hot takes") and his many off-script press conference quips (who can forget 2020's Bleachgate?).
Trump has never seemed shy of uttering the first thoughts to cross his mind. In 2016, a 2005 recording recovered and leaked by the Washington Post of a casual conversation between him and Access Hollywood host Billy Bush caught pre-presidential Trump remarking on the relationship between his status quo and the female sex. "I just start kissing them," Trump told Bush in the off-mic exchange. "It's like a magnet... I don't even wait." Then, in a quote that defined some of his public image since, Trump added, "When you're a star... You can do anything. Grab 'em by the p***y."
Following that leaked tape, Trump offered an apology via video, per The New York Times. The then-presidential candidate said, "Anyone who knows me knows these words don't reflect who I am. I said it, I was wrong, and I apologize." Despite the controversy, Trump was still elected into office for his first term that same year.
And it's no surprise that now — after losing his incumbent presidential bid to Joe Biden in 2020 — he's still been making headlines with his various verbiages. Trump's comments at the 2021 Conservative Political Action Conference, for example, were no exception.
Donald Trump heavily hinted at a 2024 presidential run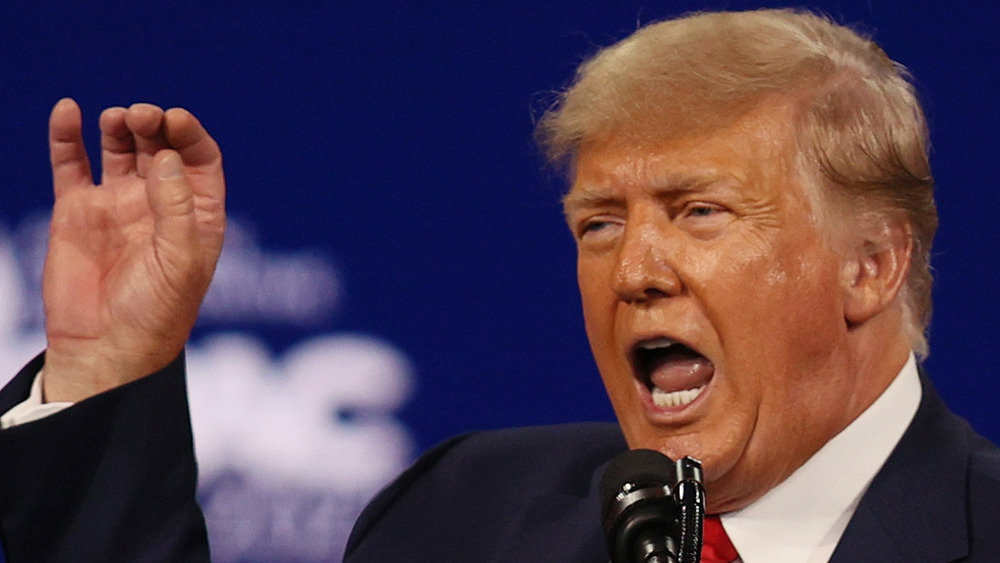 Joe Raedle/Getty Images
"Donald Trump still has grievances to air," declared a Politico piece dissecting the ex-president's first public address since his 2020 presidential election loss to now-President Joe Biden. At a Conservative Political Action Conference (CPAC) in Maryland on Feb. 28, 2021, Trump reiterated, per NBC News, his disproven claims that he only lost the 2020 election due to widespread voter fraud. "Actually they just lost the White House... This election was rigged," Trump re-proclaimed to a loudly cheering audience at CPAC (via Variety). 
Then, Trump focused his aim at the Supreme Court, claiming they refused to hear his aforementioned grievances about the so-called "rigged" election. "And the Supreme Court and other courts didn't want to do anything about it," Trump quipped. According to Insider, Trump and his team had filed upwards of 40 lawsuits protesting the election results after Biden's declared victory on Nov. 7, 2020. As the publication noted, all 40 were either dismissed or withdrawn by Trump's team. 
This did not stop the former POTUS from making the boldest declaration of them all at the 2021 CPAC. "It is far from being over. We will be victorious and America will be stronger and greater than ever before," Trump stated, according to CNN, before adding tantalizingly, "Who knows, I may even decide to beat them for a third time." We suppose we can expect a 2024 presidential run from No. 45 again?
Donald Trump may have slim odds of winning a 2024 presidential bid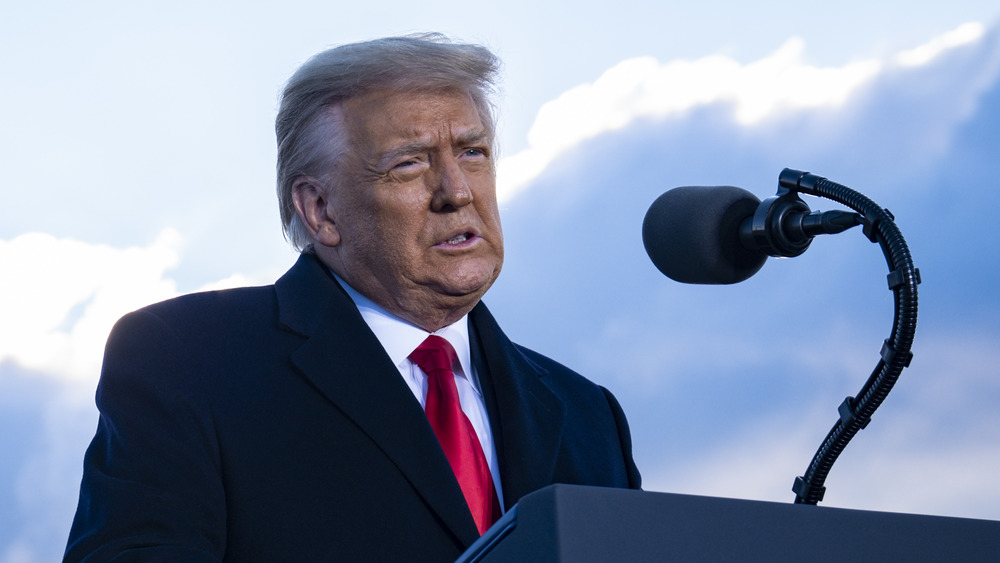 Pool/Getty Images
Donald Trump is only the 11th president in U.S. history to lose an incumbent election and the first in almost three decades, per Insider. According to Good Morning America, he declared at the 2021 Conservative Political Action Conference that Republicans will "take back the House" and "win the Senate," before adding that a Republican will also make a "triumphant return" to the Oval Office again in 2024. He then teasingly said — in true Trump fashion — "And I wonder who that will be. I wonder who that will be. Who? Who? Who will that be? I wonder."
If Trump's (very obvious) hint that this "who" is indeed himself, then he faces some awfully stiff odds in 2024. Grover Cleveland was the only example of an incumbent president who lost reelection only to win on a subsequent bid, per Insider. After losing reelection to Benjamin Harrison in 1888 while he was the 22nd president, Cleveland succeeded in 1892 in defeating Harrison to become the 24th U.S. president. 
There is some mildly encouraging news for Trump, however. As Sports Betting Dime reported, 2024's incumbent candidate, President Joe Biden, might not be the one he would have to defeat to win. In their most recent poll, the betting website tracker has Biden and Vice President Kamala Harris at even odds of winning the 2024 presidency. As the website remarked, this may have to do with Biden's age, which by that year will be 81.