How Nikki Haley Just Changed Her Tune On Donald Trump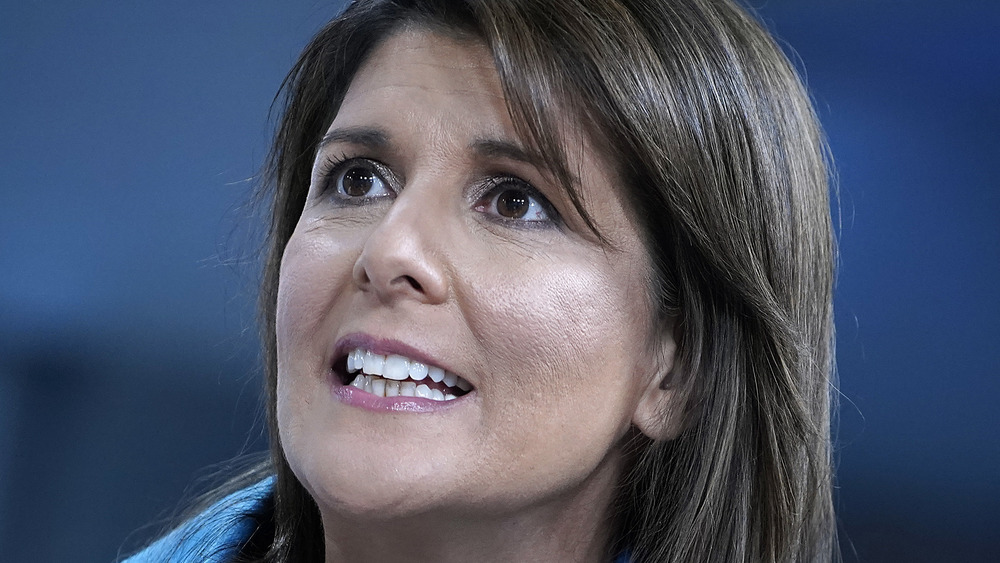 John Lamparski/Getty Images
Former UN ambassador Nikki Haley had another change of heart about Donald Trump after he spoke at the Conservative Political Action Conference (CPAC) on Feb. 28, 2021. "Strong speech by President Trump about the winning policies of his administration and what the party needs to unite behind moving forward," the South Carolina politician tweeted. "The liberal media wants a GOP civil war. Not gonna happen."
Twitter users were quick to point out how her opinion about the former president seemed to have shifted once again. One online critic simply called Haley "a vacuous, power-hungry imbecile," while another tweeted that she was "a bigger flip-flopper than Mitch McConnell."
Haley, who had previously called Trump a "friend," per Politico, publicly turned on him after the deadly Capitol building riots. "We need to acknowledge he let us down," she said on Feb. 12, 2021. "He went down a path he shouldn't have, and we shouldn't have followed him, and we shouldn't have listened to him. And we can't let that ever happen again." Haley also denied that the former president had any future in the Republican party, claiming that he would not run for federal office ever again. "I don't think he's going to be in the picture," she straightforwardly told Politico. "I don't think he can. He's fallen so far."
During his CPAC speech, Trump appeared to contradict her when he hinted at a possible presidential run. "Who knows, who knows, I may even decide to beat them for a third time," he commented, per The Guardian.
Nikki Haley has been warned that she can't 'play both sides' anymore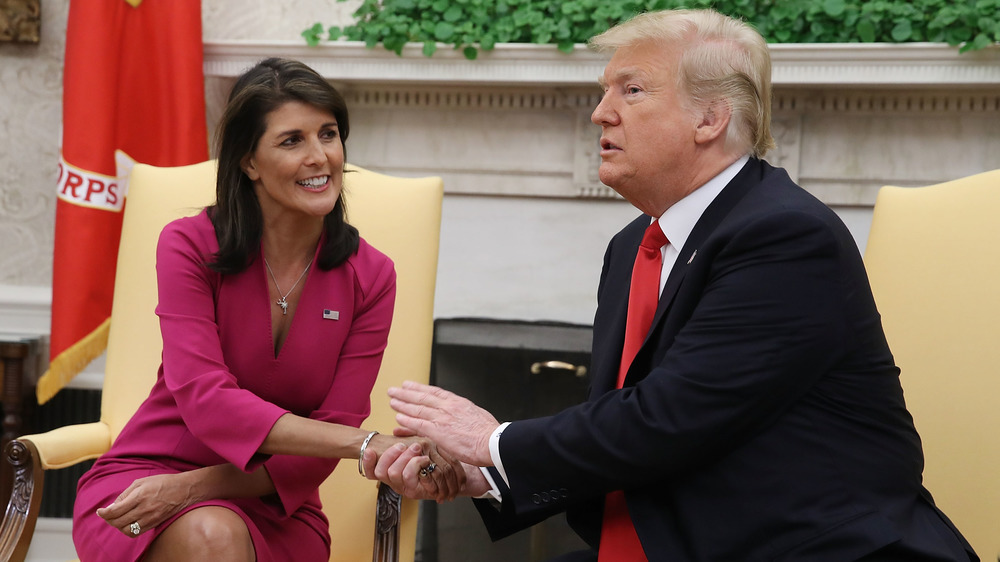 Mark Wilson/Getty Images
As The Hill reported, Nikki Haley's comments about Donald Trump earned swift backlash from her own party. 
"You can't play both sides anymore Governor," Adam Kinzinger, one of the few House Republicans who crossed party lines and voted to impeach Trump, warned. "Pick Country First or Trump First." The former president also reportedly turned down her request to talk face-to-face at Mar-a-Lago, his current residence in Florida.
Per Bloomberg, Haley was notably missing from the CPAC lineup, alongside outspoken Trump critics like Elizabeth Cheney. Former vice president Mike Pence, who has also become a target of hatred for Trump supporters since he certified Joe Biden's win, declined, and Mitch McConnell and Mitt Romney were not invited at all. Haley reportedly received an invite, but turned down the opportunity, citing a "scheduling conflict." These absences led to CPAC becoming an overwhelmingly pro-Trump event, as NBC News reported, dominated by false claims of election fraud.
Haley and Trump do still have one thing in common, however, as his speech proved: a distrust of China. The former president revived his old talking point by warning about the nation's power, per The New York Times. Haley recently called for a boycott of China's Winter Olympics, as the Economic Times reported. "We cannot sit back and watch China use the Olympics to cover up its horrific human rights abuses," she insisted, claiming that the Olympics would be used as part of the country's "massive communist propaganda campaign."