Inside Lil Uzi Vert's Relationship With JT Of The City Girls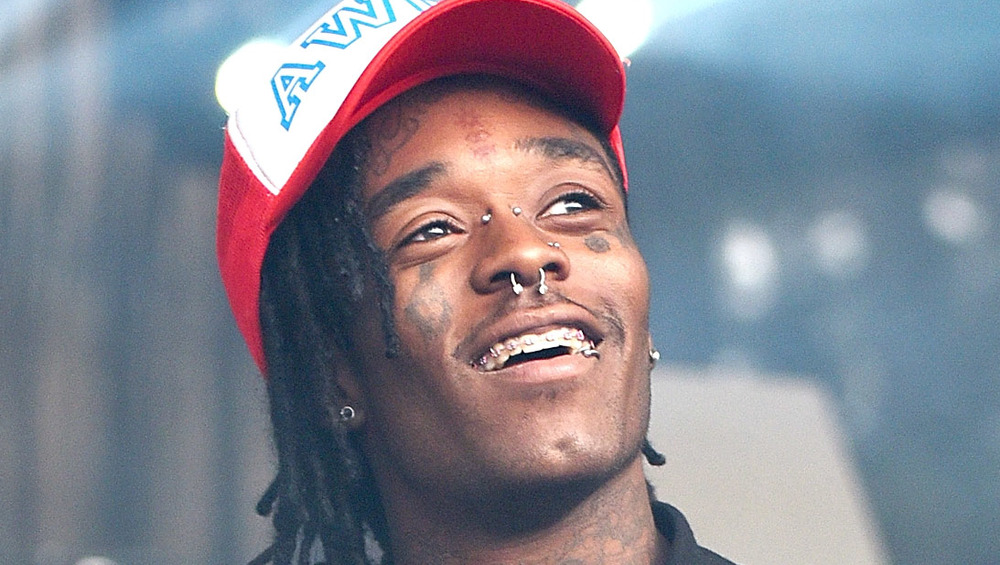 C Flanigan/Getty Images
Hollywood is no stranger to unlikely couples, so it's only right we expect the same from the music industry. Although we've seen some eyebrow-raising rap couples in the past, Lil Uzi Vert's relationship with JT of the City Girls duo is even more puzzling for some fans. The two rappers have been romantically linked to one another on-and-off since early 2020. Although Uzi isn't the most candid about his relationships, he mentioned JT's name in the "Lo Mein" track from his 2020 comeback project, Eternal Atake (via Genius): "Took JT out the city (Yeah)/ I can make a h* get way too sticky." Clearly, Uzi isn't the most romantic in his lyrics.
After months of flirting (and arguing) over social media, it looks like the two aren't hiding how they feel for one another anymore. In late February 2021, JT posted a set of selfies on Twitter wearing a ring similar to the pink Eliott Eliantte diamond implanted on Uzi's forehead. Additionally, the two had an interesting, since-deleted Twitter exchange (via Complex). "Turnt a h** to a house wife," Uzi tweeted. JT responded with a similar tweet, "Turnt a trick to my husband." The on-and-off couple continued their PDA, making their relationship social media official. "I had 2 be real with myself I love JT and y'all will 2," Uzi tweeted in early March 2021. The two later dropped some cute couple pics on Instagram wearing matching Moncler x Rick Owens boots. Read on to get all the deets about Uzi and JT's relationship.
Lil Uzi Vert and JT have a complicated relationship
Despite the two not initially confirming their relationship, Lil Uzi Vert and JT's tumultuous interactions on social media were more than enough for social media sleuths to speculate. In a since-deleted Instagram Live (via DJ Akademiks), JT went on a lengthy rant about how her man was being "toxic" to her. "It's like, get the f*** on. Every day, you wanna start with me. You wanna bring me down. You wanna break me down. You wanna see me cry like every day," JT said. She continued her since-deleted rant on Twitter, writing, "F*** that dog ass n***a Forever I mean it toxic ass b***h." Per HotNewHipHop, Uzi retweeted the post and responded with an emoji sticking its tongue out.
Things seemed to get better for the hot-and-cold lovers afterwards. Uzi quickly posted and deleted a selfie with the "P***y Talk" rapper in November 2020 (pictured above), leaving fans to wonder what's really going on between them. The Shade Room reposted the deleted pic on Instagram, and famed boxer Gervonta Davis wrote an interesting comment: "This what he was rushing back to after the fight." JT later addressed the buzz around the picture, insisting that the picture was old despite fans pointing out her hair and nails matching the picture at the time. 
In February 2021, the two seemed to be back on the outs following Uzi's subliminal tweets. "You really gonna leave me like that," the "Futsal Shuffle" crooner wrote. He followed up with another tweet, "It's okay just know I still love you."
Lil Uzi Vert's ex isn't too happy about the relationship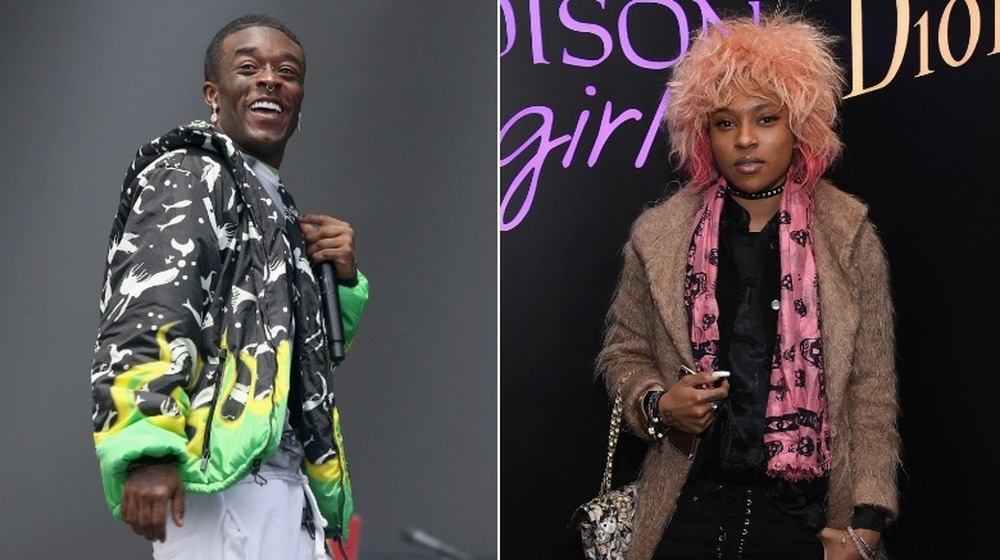 Gary Miller, Dimitrios Kambouris/Getty Images
For the most part, fans seem supportive of the unlikely relationship except one person — Lil Uzi Vert's ex, Brittany Byrd. Byrd — who is depicted as a cartoon on the rapper's Lil Uzi Vert vs. The World album and frequently mentioned on his earlier songs — has been linked to Uzi on-and-off since 2014, per Genius. Although the two are not together, Byrd previously gave her stamp of approval for Uzi's Eternal Atake album in a since-deleted post on Instagram (via HotNewHipHop).
After Uzi fulfilled JT's craving for crab legs in a flirty Twitter exchange, Byrd took to Instagram to post a screenshot of text messages her ex allegedly sent her, attempting to expose him for trying to mend their relationship and denying being with anyone else. "My grandma want me to be with you forever I do too," one alleged text from Uzi read, per The Jasmine Brand. The date of the alleged messages is still unclear, however JT addressed the screenshot in since-deleted posts on Twitter, claiming that Byrd hasn't seen the "Myron" rapper since October 2020. "Why b****** be acting like this the first time they got cheated on?" JT wrote (via VladTV). "Might be the longest but not the first! Hold your breath!" 
Yikes. We'll have to keep our eyes on this love triangle as it unfolds. On the bright side, things are looking up for the City Girl and Baby Pluto.