Why Michelle Obama Was 'Concerned' At Biden's Inauguration
Jim Bennett/Getty Images
Michelle Obama has opened up about attending Joe Biden's inauguration, and is revealing the fears she had on that day.
As The Hill noted, this is the first time Obama has been interviewed since Inauguration Day. Speaking to Robin Roberts on the March 3, 2021 episode of Good Morning America, the former first lady described it as a "glorious day."
Obama also praised the poet Amanda Gorman for her inaugural address. Gorman broke records by becoming the "youngest poet in recent history to perform at a presidential inauguration," per ABC News.
"I was proud and moved almost to tears to hear, not just her words, but the confidence with which she delivered," Obama said. "I know there are many, many Amanda Gormans. I'm just proud when one of them gets a chance to be seen and the rest of the nation and the world gets to see, yup, a lotta Black folks contribute to this country," she continued. "A lot of Black folks have made this country what it is today."
Obama also spoke positively about having the chance "to watch our friend Joe Biden and Jill stand there with their beautiful family, to see [Vice President Kamala Harris] and her family standing there, brave and bold, knowing that they were taking on a massive amount of responsibility to get this country back on track."
Still, she had some real worries that day.
Michelle Obama was 'concerned about more riots'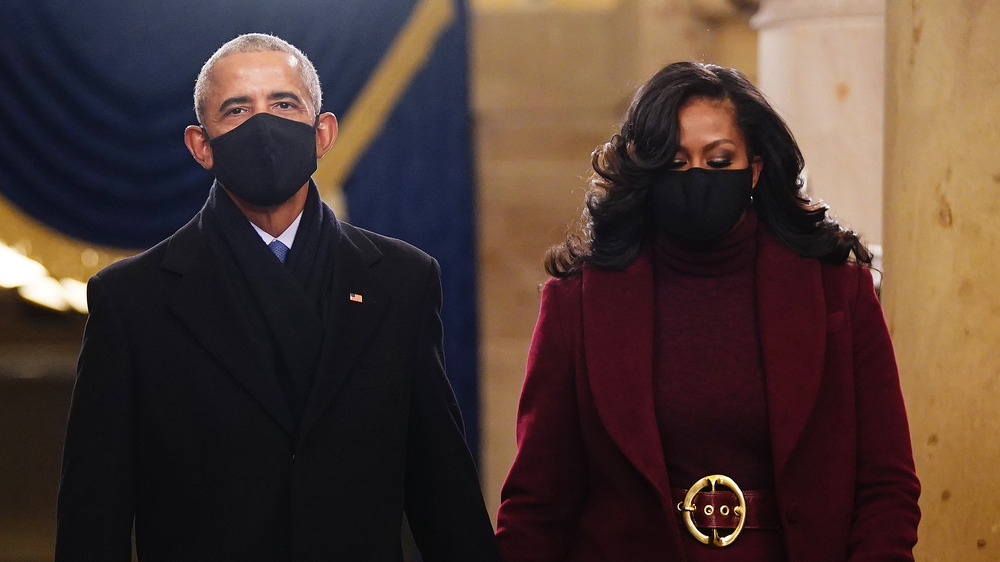 Pool/Getty Images
Michelle Obama described Joe Biden's Jan. 20, 2021 inauguration as a beautiful day. "The sun was shining. The mood was wonderful. But it was also mixed," she admitted in her interview with Robin Roberts. "I think everyone was concerned about more riots [after the deadly riots at the Capitol on Jan. 6, 2021], but we were assured that things were under control." Obama observed that everyone's memories of the riots were still fresh. "When you see fellow Americans storming the Capitol, that sits with you," she told Roberts. "That reality was with us on that stage."
Obama recently released a Young Reader edition of her 2018 memoir Becoming, which sold millions of copies across the world. In her interview with Robin Roberts, she expressed her hope of being "someone that is comfortable getting out of the way, so the next generation can take the seat that I'm sitting in."
She went on to discuss the importance of encouraging younger generations, including her own daughters Malia and Sasha. "If you sit around the dinner table, me and Barack, we can't get a word in edgewise and we like it like that," said the former first lady. "We want to hear their thoughts and their opinions, and that's where it begins."