Inside Dua Lipa's Relationship With Anwar Hadid
Gareth Cattermole/Getty Images
Dua Lipa has quickly become one of pop music's most talked-about stars in recent years. Along with her infectious pop songs, her relationships have also caught people's attention. The Grammy Award winner has been dating model and singer Anwar Hadid for some time and appears to be very happy with him.
According to Harper's Bazaar, Lipa first started talking to Hadid shortly after splitting up with her then model-turned-chef boyfriend Isaac Carew in June of 2019. Lipa and Carew had been dating on-and-off for five years but called it quits soon after attending the Met Gala in May. Meanwhile, Hadid had previously been dating actress Nicola Peltz for over a year. Her rep claimed they split amicably in May 2018, per Page Six. The following month, Hadid was photographed making out with Kendall Jenner. However, their fling soon came to an end after Hadid and Lipa reportedly went on a string of dates together that same month, per The Sun. In July 2019, the pair attended the Nordoff Robbins O2 Silver Clef Awards and were seen getting cozy with one another. As time went on, Lipa and Hadid grew closer and were spotted hugging at festivals and taking trips to New York and L.A.
By September 2019, The Sun reported the pair moved into an apartment together in Manhattan. Two months later, they made their red carpet debut on Nov. 24 at the American Music Awards and showed off their love for the world to see.
Dua Lipa is 'very comfortable' in her relationship with Anwar Hadid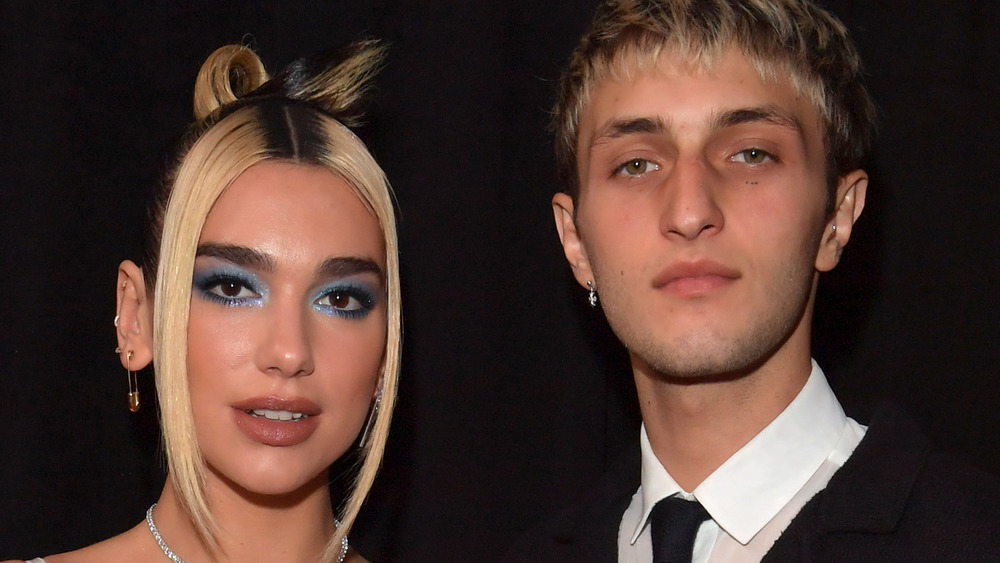 Lester Cohen/Getty Images
Dua Lipa and Anwar Hadid's relationship looks to have gone from strength to strength. On June 14, 2020, Lipa celebrated their one-year anniversary on Instagram with the caption: "nothing sweeter than 365 days joint at the hip with you."
On August 1, 2020, they adopted an adorable puppy named Dexter, who has featured on their Instagram accounts, per Harper's Bazaar. The duo have yet to collaborate on music together. However, Hadid appeared in Lipa's video for the remix of "Levitating."
In January 2021, Lipa kicked off the new year with a Rolling Stone cover story. Within the interview, she opened up about their relationship. "I'm very comfortable in the relationship, more so than any others," Lipa revealed. "[We] wake up around 9:00, 9:30, shower, get dressed, have a bit of breakfast, take the dog out on a really nice long walk, maybe do some yoga, make some lunch, hang out, watch a movie, play with the animals." It seems Lipa and Hadid have one cute bond and a whole lot of love for one another.