This Is What Gisele Bundchen Asked Tom Brady Right After He Won The Super Bowl Again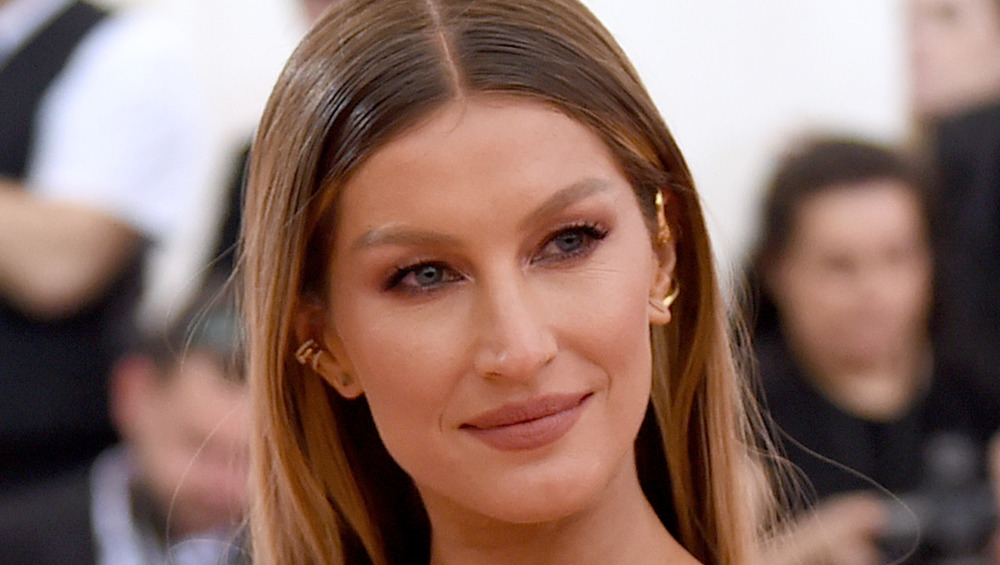 Jamie Mccarthy/Getty Images
On Feb. 7, 2021, the Tampa Bay Buccaneers won Super Bowl LV, with quarterback Tom Brady leading the team to victory. The feat alone was impressive enough — it was Brady's first year playing with the Buccaneers, and it was the first time that a team would play at their home field for the big game, according to NBC Sports. Most impressive of all, however, is the fact that this wasn't Brady's first Super Bowl win... or his second, third, or fourth. 
Brady made history by locking down his seventh Super Bowl win, and much like his past Super Bowl Sunday experiences, he didn't celebrate the victory alone. The athlete's wife, model Gisele Bündchen, watched on from the sidelines during the big game, along with the couple's two kiddos, Vivian and Benjamin, as well as the son Brady shares with ex-girlfriend Bridget Moynahan, Jack. 
About a month after Tom Brady's latest Super Bowl win, the NFL star recalled the moment when his family ran onto the field to join him after the game — and the surprising thing that Gisele Bündchen asked him.
Gisele Bundchen asked Tom Brady an interesting question after his Super Bowl LV win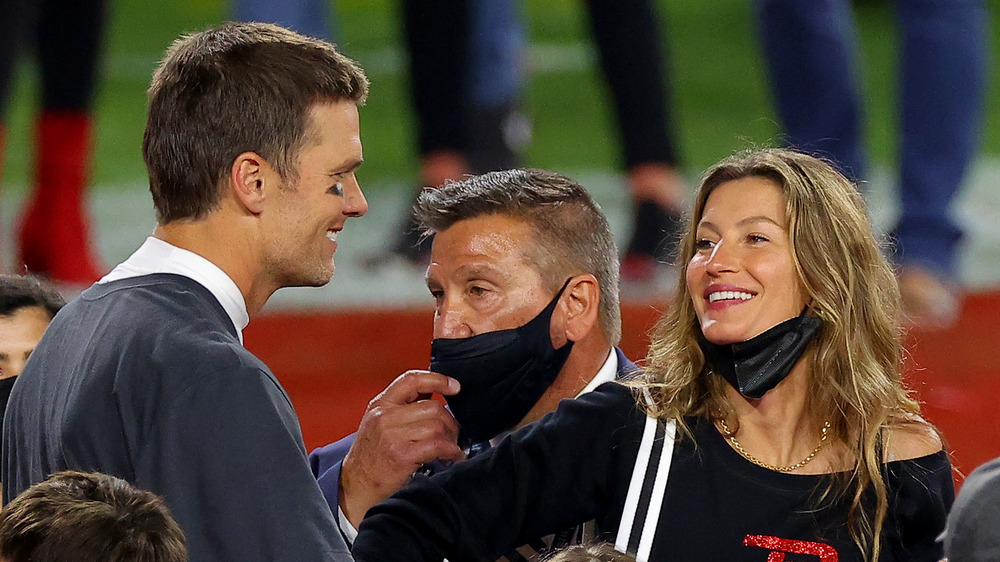 Kevin C. Cox/Getty Images
Tom Brady sat down for a (virtual) interview with James Corden on The Late Late Show on March 2, 2021. The British host asked the NFL star how he'd been doing now that football season is over — and the topic naturally veered to how his family greeted him right after his big Super Bowl win. 
"I was looking for my family," Brady recalled. "... All the sudden I see my oldest son run over to me, 'Dad!' You know, and I gave a big hug. I saw my two little ones, and then all of the sudden I saw my wife, and I gave her a big hug." While his family's greeting was full of joy and excitement, Brady did admit that Gisele Bündchen asked him a perplexing question: "What more do you have to prove?" The quarterback admitted that he tried to "change the subject" and "moved onto something else pretty quickly."
Bündchen has talked about her desire for Brady to retire in the past. During a 2018 interview on The Ellen DeGeneres Show, the model admitted that she "wouldn't want to have his job," saying that she gets "concerned" about her husband and the dangerous aspects of his career. However, she did also acknowledge that Brady loves playing football, adding, "You've got to let him do what he loves."
Only time will tell when Tom Brady decides to retire, but as of 2021, the 43-year-old quarterback has never been stronger in his career.