What Eddie Murphy Was Forced To Do In Coming To America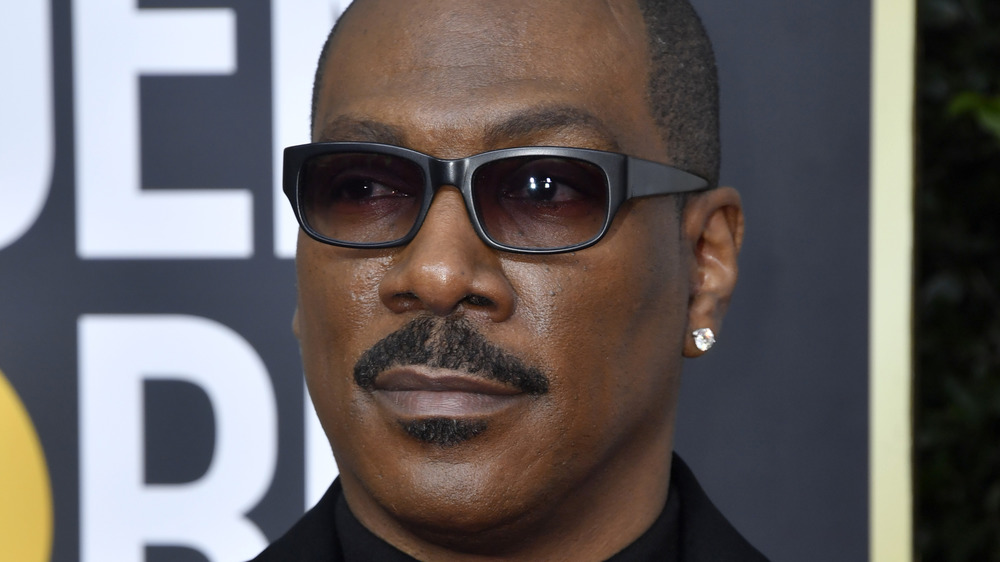 Frazer Harrison/Getty Images
Eddie Murphy may have been one of the biggest comedians during the 80s, but the actor said he still had to share the screen with a white person. During their March 2, 2021 appearance on Jimmy Kimmel Live!, actors Murphy and Arsenio Hall revealed that the studio "forced" them to cast a white man in Coming to America in the form of comedian Louie Anderson. The pair, who were promoting the film's highly anticipated sequel, Coming 2 America, said that, while they "love" Anderson, they did not envision the comedy having a white central character. 
"I love Louie, but I think we were forced to put Louie in it," Hall began after Kimmel asked how Anderson sealed the deal. Murphy, who plays an African prince looking for an American bride in the film, agreed and explained the studio was concerned about having an all-Black cast then. The rom-com — which was a box office success — was released back in 1988. "Paramount was like,'There has to be a white person in the movie.' I was like, 'What?' So who was the funniest white guy around? We knew Louie was cool, so that's how Louie got in the movie." 
But Hall also admitted they could not exactly hand-pick their co-star — instead they were given a list of three guys to choose from. "I had a list. They gave me a list with three white guys. They said, 'Who would you rather work with?' I said Louie," Hall said. Kimmel cheekily asked whether Hall remembered the two rejected actors, to which Hall laughed and said, "Oh yeah, but I can't say it."
Louie Anderson was shocked to learn he was forcibly cast in Coming to America
After Eddie Murphy and Arsenio Hall admitted that Louie Anderson was only cast in Coming to America to fill a blank white page — no pun intended — the comedian took to Twitter to express his shock. Anderson wrote: "Wait, what?" and shared a clip of Murphy also explaining the casting decision on the Today show. Might make things a little awkward for Anderson who reprised his role of Maurice, the burger-flipping worker at the film's comic version of McDonalds — McDowell's — in the sequel. 
Hall may have also been confused by the revelation, as he previously thought he buttered up Murphy when paying for his lunch. While Anderson did not exactly buy his way into the film, he revealed on radio in 2017 that he won the popular comedian's attention after he took care of his restaurant bill, per the New York Post. 
Anderson recounted on Sway in the Morning that he was dining at Beverly Hills institution The Ivy back in the late 1980s when he spotted Murphy and his entourage. He casually told the waiter to put Murphy's table's tab on his credit card, but the Minnesota native urged the waiter not to tell the actor until he had left since he was not "doing it to be a big shot." The next day, Anderson received a call from Murphy, who thanked him and told him about a "a little movie called Coming to America" — and the rest is history. Anderson joked and called the experience the "best $660 I ever spent."