Who Is Luka Doncic's Girlfriend, Anamaria Goltes?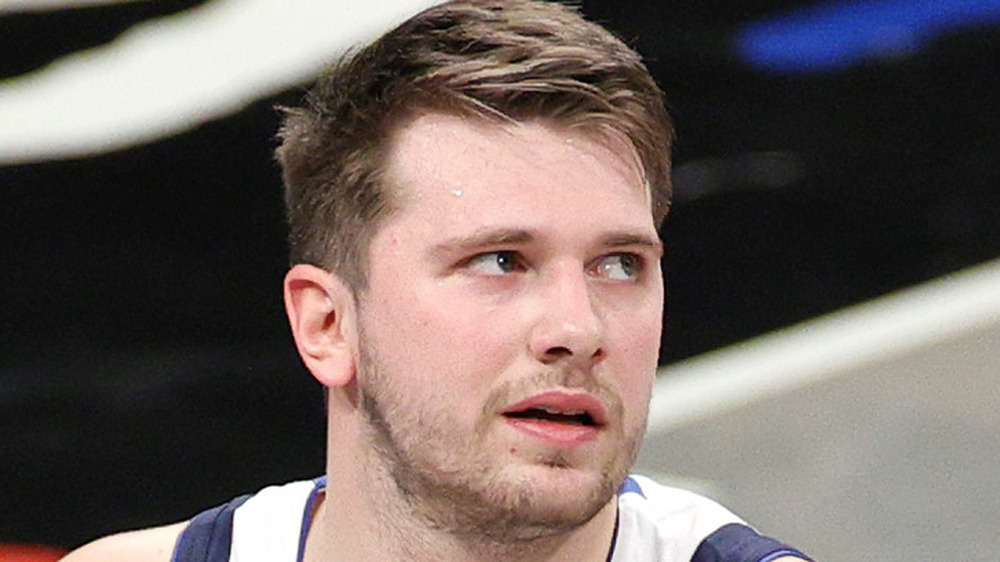 Sarah Stier/Getty Images
Luka Doncic, guard for the Dallas Mavericks, has been making a name for himself on and off the basketball court. The Slovenian athlete has become quite popular on social media for various reasons. In March 2021, Doncic became an ambassador for sports nutrition company Biosteel, which came with a deal to acquire an equity stake, as per CNBC. Doncic quickly capitalized on his new executive role by showcasing his work experience and skills on a new LinkedIn account. As reported by TMZ, Doncic assumed the role of "Global Chief Hydration Officer" in BioSteel and listed "magic" as one of his skills.
Fans were impressed and reacted on Twitter about LinkedIn's newest user. "Having a great time on LinkedIn dot com with my new connection and best friend @luka7doncic," one user tweeted, whereas another wrote, "I'm very much enjoying Luka Doncic creating an official LinkedIn page and still not having enough experience to be considered for a manager position."
Doncic's foray into different social media platforms isn't new, but he might've been inspired by his girlfriend Anamaria Goltes, who is an Instagram influencer. The couple has captured much attention from basketball fans about their relationship. Here's what you should know about Goltes.
Anamaria Goltes and Luka Doncic met when they were kids
Also hailing from Slovenia, Anamaria Goltes met Luka Doncic when they were 12 years old, as per The New York Post. "We met when we were 12 years old at the seaside in Croatia," Goltes said on an Instagram Live in 2020. "Fun fact: We still have the same group of friends we had at that time. You keep the real ones, am I right?"
The two have dated for nearly five years and often show their appreciation for each other through Instagram posts and stories. Goltes works as a lifestyle and fitness instructor and offers personalized workouts for people looking to stay fit. "I fell in love with movement and being active at a very young age," Goltes wrote on her website. "Growing up I always enjoyed going to the gym and working out, and now I love motivating people to put their health first and teach them that working out can be fun too!"
The Slovenian beauty also revealed that she danced professionally for 10 years before transitioning to become a "model, entrepreneur, influencer, and student." She posts what she wears and her dogs whom she shares with Doncic on Instagram daily. Goltes also shows support for her boyfriend by documenting herself watching Mavericks' games. However, Goltes might prefer chilling at home with Doncic the most as she revealed on Instagram during the modified NBA season in 2020, according to the Post.