Who Is Damian Lillard's Fiance, KayLa Hanson?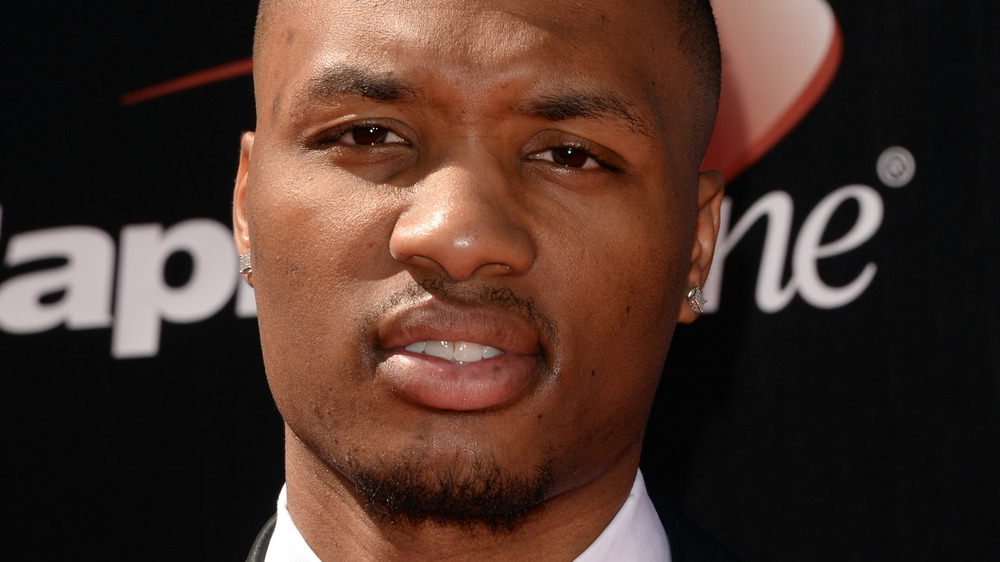 Jason Merritt/term/Getty Images
Damian Lillard has acquired quite the fanfare in his eight seasons playing for the NBA. The 2013 Rookie of the Year (via ESPN) works hard on and off the court as a point guard for the Portland Trailblazers and father of three alongside his fiancee KayLa Hanson. The Oakland native met his future wife while they were students at Webster State University in Utah, via Heavy. And the two began making memories together years before Lillard made his 2012 inception into the NBA, via Player Wives.
Hailing from Las Vegas, Hanson was a pre-med student around the time she met the pro athlete. But she has since transitioned to co-owning an Oregon-based nail salon called Dipped. Lillard and Hanson dated for years before he decided to pop the big question during All-Star Weekend in February 2020, via Oregon Live. They celebrated their engagement with a private party that included a special performance by rapper Common. Their engagement came almost two years after the couple welcomed their first child together, Damian Lillard Jr. 
Ahead of Damian Jr.'s third birthday, the engaged pair birthed a set of fraternal twins, via Blazers Edge. "Just call me Daddy Dame from now on," Lillard captioned a post that introduced Kali Emma Lee Lillard and Kalii Laheem Lillard to the social media world. He and Hanson wore face masks while holding their newborn babies. Like her fiance, Hanson uses her social media to share adorable moments highlighting their family of five.  
KayLa Hanson is Damian Lillard's No. 1 fan
Damian Lillard brought his entire family with him when he was drafted to the Portland Trailblazers, via Heavy. In addition to having KayLa Hanson join him in Portland, Lillard also relocated his mother and siblings to the city in an effort to get comfortable with staying on the team and winning a championship, via the Portland Tribune. As a mother of three — especially one with two newborn twins! — Hanson highlights her motherly pride on Instagram. "And just like that we're a family of 5!! My team is the best team & I love it!," she captioned a family photo with Lillard and their three kids. 
As an NBA All-Star player, Lillard is used to hearing fans scream his name in the crowd. But no one praises his skill on the court more than his wife-to-be. "Yall are witnessing the hardest working man in the league," she captioned a photo of Lillard on the court. "There's no slack, complain, or give up in him. He shows up 1st and leaves last. The true definition of playing your heart out," she added, before highlighting the family man role Lillard takes on when he is not playing basketball. "All while keeping that same energy & mentality for his family. I know it's draining but you never show it," the salon owner said in the post's lengthy caption. Lillard and Hanson's social media PDA solidifies them as couple goals.