Why Donald Trump's Trip Back To NYC Is Turning Heads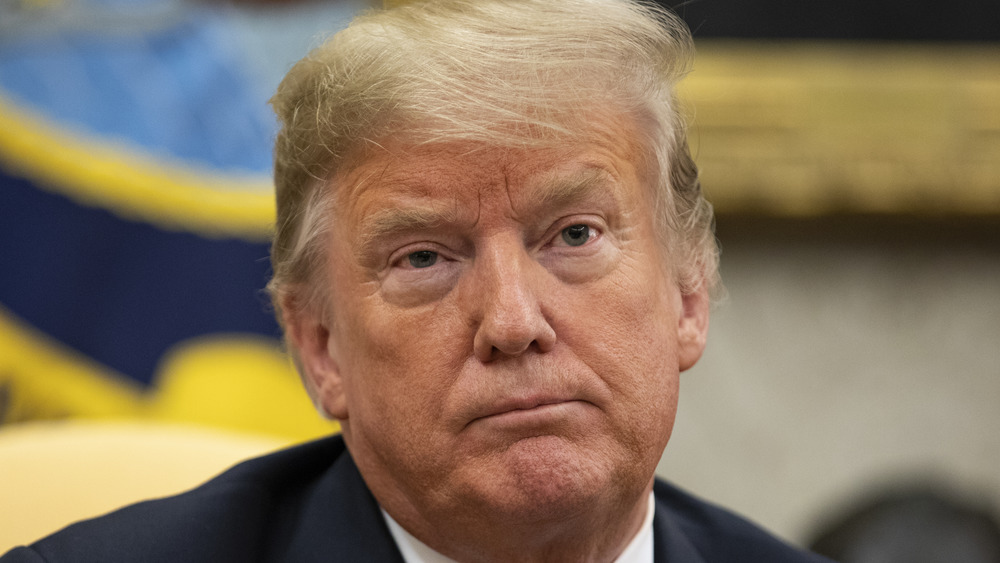 Pool/Getty Images
Since leaving the White House on Jan. 20, 2021, Donald Trump has been historically silent. Aside from making few appearances here and there, Trump and his wife Melania have been cooped up at their Mar-a-Lago club in Palm Beach, Fla.
Trump, who was born, raised, and lived the majority of his life in New York City before entering the White House in January 2017, declared himself a Florida resident just before the 2020 election. According to documents filed with the Palm Beach County Circuit Court, Trump and his spouse changed their primary residence from Manhattan to Palm Beach in September of that year (via The New York Times).
However, there was a bit of a commotion when Trump permanently moved into the Mar-a-Lago resort, which he purchased in 1985 (via The Guardian). The ex-commander-in-chief's neighbors were not so thrilled, pointing out how Trump's lengthy stay violates an agreement that no one can permanently live on the grounds of Mar-a-Lago unless they work there — including himself. A council meeting was held on Feb. 10, 2021, and it was ultimately determined that Trump can remain on the premises (via BBC).
Now that Palm Beach Town Council is allowing Trump to stay at Mar-a-Lago, it appears he has no plans on leaving. Despite the circumstances, however, Trump still owns his home at Trump Tower in New York City, and he's returning to the Big Apple for the first time since exiting his presidency. Keep scrolling to find out why his NYC return is turning heads. 
Donald Trump's visit to New York City comes amid criminal investigations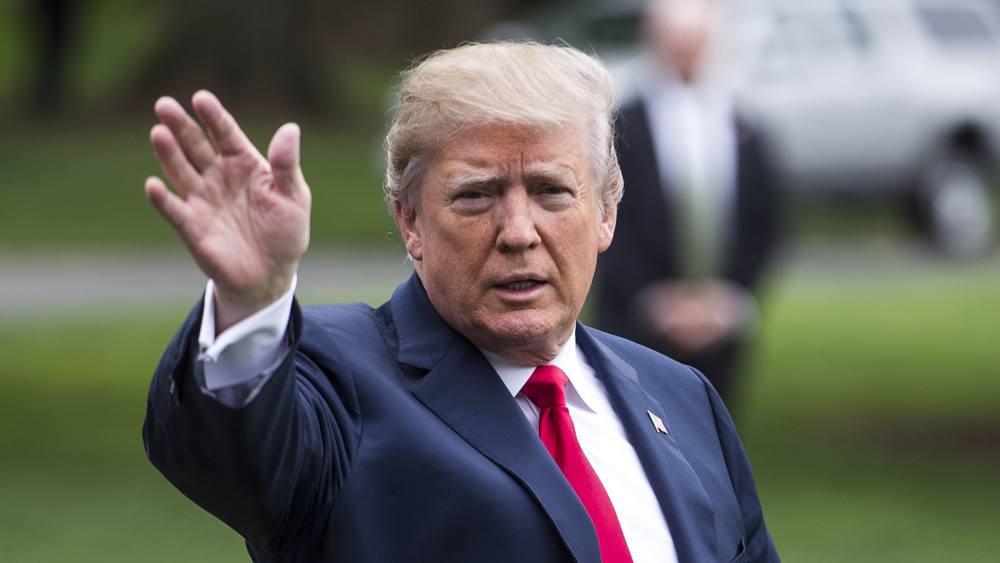 Zach Gibson/Getty Images
After weeks of seeking refuge at his luxurious Mar-a-Lago resort in Palm Beach, Fla., Donald Trump is returning home to his stomping grounds of New York City. The ex-president is expected to arrive in Manhattan on Sunday, March 7, 2021, marking his first visit since leaving the White House, according to the New York Daily News.
Trump's return to the Big Apple comes amid the early stages of an investigation into his business dealings. Per the outlet, "Manhattan District Attorney Cy Vance Jr. and State Attorney General Letitia James are probing Trump and his namesake company over potential [tax] fraud." On Feb. 19, 2021, Reuters reported the Manhattan District Attorney's Office subpoenaed a New York City property tax agency as part of the criminal investigations.
Trump's visit to New York City does not appear to be connected to the investigations, and his spokesman Jason Miller kept a tight lip when divulging any details. "Sorry to be a broken record here, but I do not have any additional information on this one," he said, per the New York Daily News.
Though the TV star-turned-politician's spokesman did not have much to say about the visit, Trump's former lawyer Michael Cohen believes Trump is coming back to town so he can "stand in and be put on display for the multitude of NYC followers desperate to rub the belly and pray at his feet" (via New York Daily News).