Jada Pinkett Smith's Red Table Talk Instagram Post With The Queen Has Everyone Hysterical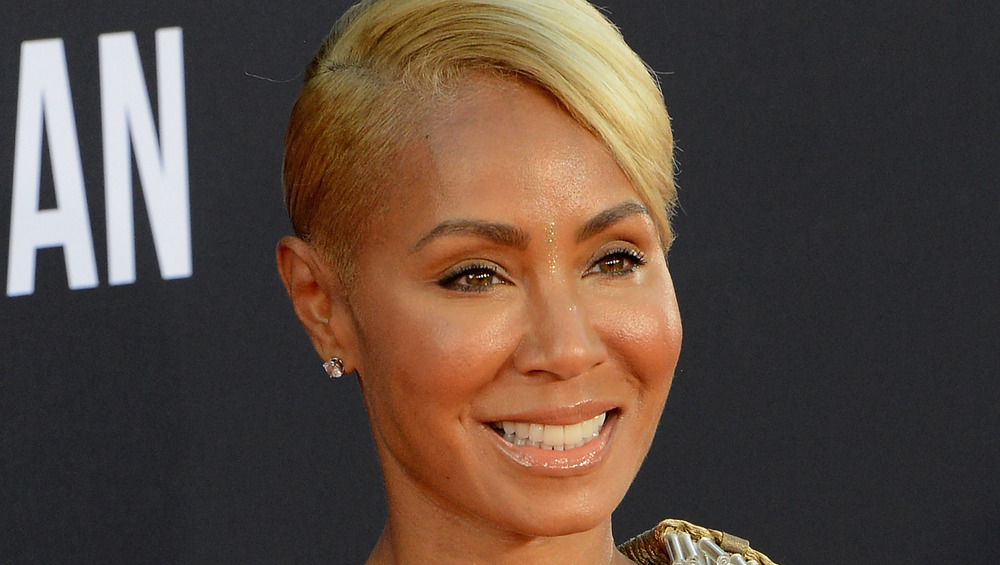 Albert L. Ortega/Getty Images
Meghan Markle and Prince Harry were the center of the media's attention after sitting down with Oprah Winfrey for their revealing interview about life in the royal family. One of the most incendiary reveals during the two-hour discussion was that there apparently were discussions among the royals about the color of Archie's skin tone prior to his birth.
Oprah pressed the Duke and Duchess of Sussex to reveal who made such a comment, but Harry said he would not name the person. "That conversation, I am never going to share. But at the time, it was awkward. I was a bit shocked," he explained (via The Cut). The couple did clarify that the off-side comments about Archie's skin color were not made by Harry's grandparents, Queen Elizabeth II and Prince Philip.
Both Meghan and Harry spoke kindly of the queen, but Harry worried about some of the people in her ear. "When you're head of 'The Firm,' there [are] people around you that give you advice," he told Oprah, as per Glamour. According to Harry, he and Meghan were set to have a talk with the queen after they announced to the family that they were stepping away from their royal duties, but those plans were nixed at the last minute. Although they were unable to visit her before moving to the United States, Harry said, "She's always been warm and inviting and really welcoming."
This insight caused many to want to hear the queen's side of the story.
Fans want Queen Elizabeth to answer questions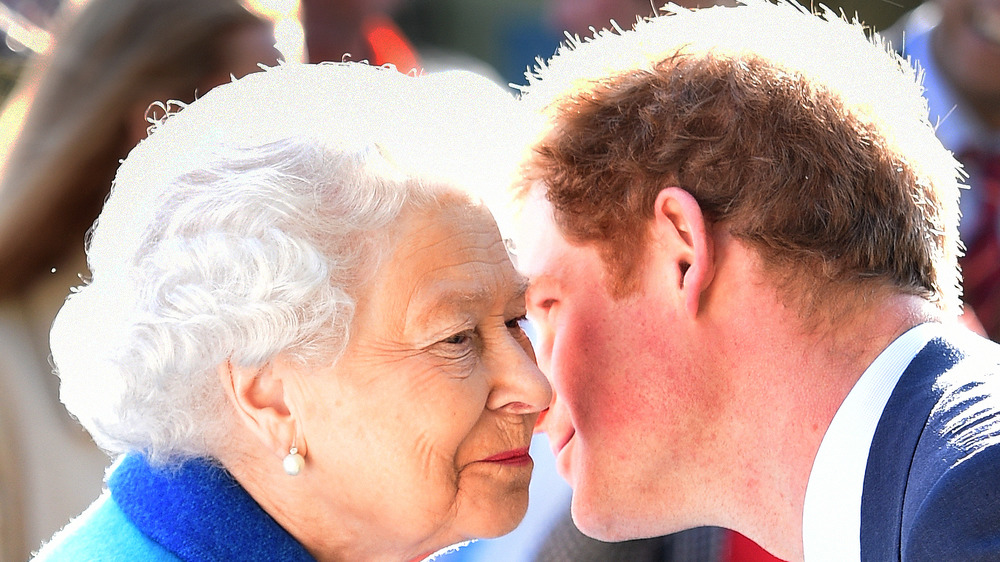 Wpa Pool/Getty Images
The internet was flush with memes following Meghan Markle and Prince Harry's interview with Oprah Winfrey. In one, a fan photoshopped a snap of Jada Pinkett Smith and Willow Smith on their show, Red Table Talk, to make it appear that Queen Elizabeth dropped by the show. (ICYMI, Red Table Talk is a popular platform for celebrities to clear the air when they find themselves in controversy.)
Jada re-shared the comical pic on her Instagram and captioned the photo, "I can't wit ya'll!!!!" alongside a crying-laughing emoji. Her mother, Adrienne Banfield-Norris, had been replaced by a stoic Queen Elizabeth II, as Jada and Willow leaned on the table.
Fans flooded the comments with replies to the hysterical post. "Yes!!! Bring Grandma to the table!! She got some explaining to do!!!!" one follower wrote. Several users mentioned wanting to hear Jada's mother grill the queen. "[W]e have questions! [I] need Gam at this table," another replied. "She got some explaining ta do! Who asked Meg what color her baby's skin was going to be?!?!" one fan commented. An eagle-eyed fan joked about Queen Elizabeth's photoshopped footwear. "Her toes are out....this can't be the Queen!!!" they wrote.
More celebrities showed their support for Meghan by making heartfelt Instagram posts. "I am so proud of you for being so brave ...," Serena Williams wrote in the caption of her touching upload, in which she described Meghan as "my selfless friend."