Inside Jason Statham And Rosie Huntington-Whiteley's Relationship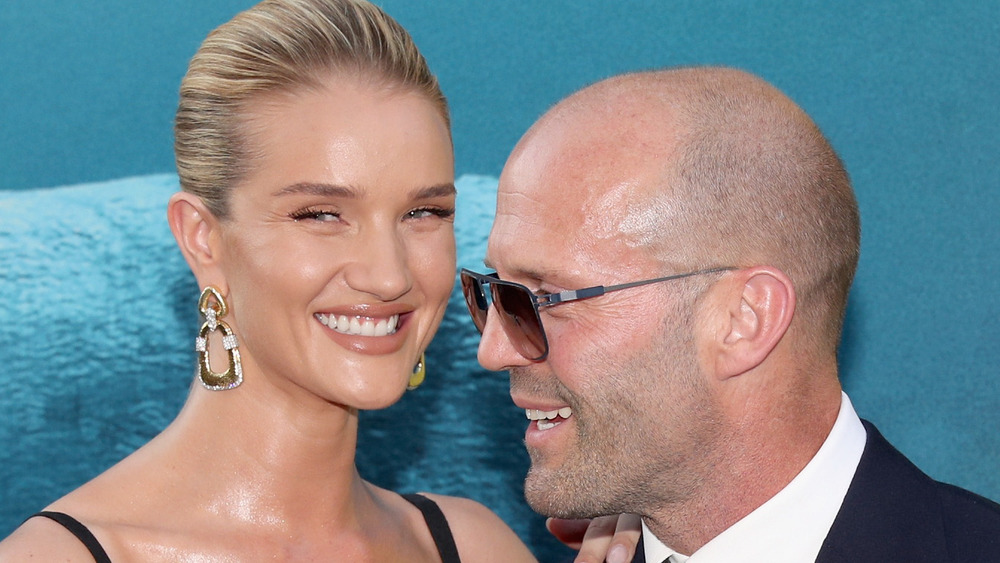 Christopher Polk/Getty Images
One thing is for sure — Jason Statham and Rosie Huntington-Whiteley make one of Hollywood's best-looking couples. The pair has a long, romantic history, and according to The Knot, they first met on the set of Transformers: Dark of the Moon in 2010. After five years of dating, Statham popped to question in 2016. One year later, Huntington-Whiteley took to Instagram to share a stunning shot of her baby bump at the beach while announcing her pregnancy. "Very happy to share that Jason and I are expecting!!" she exclaimed. She made sure to credit her baby daddy for snapping the shot. Then, on July 24, 2017, they welcomed their first son, Jack Oscar, into the world.
Despite their 20-year age difference, the two have managed to make their relationship work. In a February 2019 interview with Elle Australia, the model shared that she does not post a ton of photos with her man on social media because it's not realistic. "We just kind of get on with things. We're pretty normal — we're not leaving restaurants separately," she dished on their relationship. "People want to live on camera 24/7, but that's not us."
Even though the pair can be quiet on the relationship front at times, that has not stopped them from raving about one another in the press from time to time.
What's it really like inside Rosie Huntington-Whiteley and Jason Statham's marriage?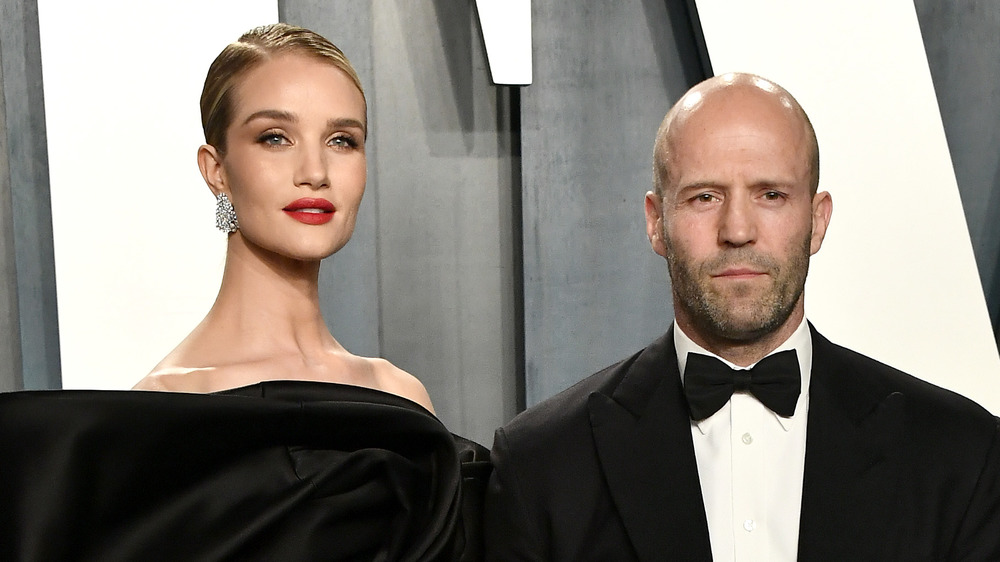 Frazer Harrison/Getty Images
According to The Things, it's not entirely clear if the pair has ever walked down the aisle, though there have been whispers that they tied the knot in a secret ceremony. The couple most certainly has their hands full raising a young son, and according to Rosie Huntington-Whiteley, Jason Statham is an incredible father. "[Jason is] the best dad," she told Harper's Bazaar UK in January 2018. "I can't even put it into words ... It's really a beautiful thing to watch." Huntington-Whiteley shared the same sentiments in an interview with Extra in October 2018. "He is very happy to get up at five in the morning and do daddy duty and let me sleep an extra hour. He's very hands-on; he's a brilliant dad," she gushed. "I am very lucky. He's a great partner." 
The couple put their family roots down in London after leaving California (per the Daily Mail.) According to the publication, the pair purchased three investment properties, including a seven-bedroom mansion that they had planned to renovate. "Rosie and Jason loved LA but as the saying goes, home is where the heart is," a source told the Daily Mail of their move across the pond. "They knew it was time to return, especially as they were starting to think about school for Jack."
It seems like the family of three is living the picture-perfect life together!