Rupert Grint Reveals The Hardships Behind The Harry Potter Filming Process
Sylvain Lefevre/Getty Images
Rupert Grint has become a sort of cousin to entire generations for playing the lovable Ron Weasley in the Harry Potter series, alongside Dan Radcliffe as the franchise's namesake and Emma Watson as Hermione Granger. As enchanting as the books and movies were for many, they weren't always fun and magic for the British actor. Now a full-blown adult who welcomed a baby girl with girlfriend Georgia Groome in 2020, Grint can speak more freely about his experience filming the eight installments of the beloved saga. Grint was only 12 years old when he starred in the franchise's first film, Harry Potter and the Sorcerer's Stone, in 2001, as CNN detailed.
At the time, only four of the seven books had been released and only two films were planned. When the last movie came out in 2011, a whole decade had gone by, defining pretty much Grint's life — well, if not his life, at least his entire career.
As fans will surely know, Grint told the New York Daily News in 2019 that he has never watched any of the films aside from the first one. So, how did Grint really feel while making the movies? Keep reading to learn more.
Rupert Grint felt filming Happy Potter was 'suffocating' at times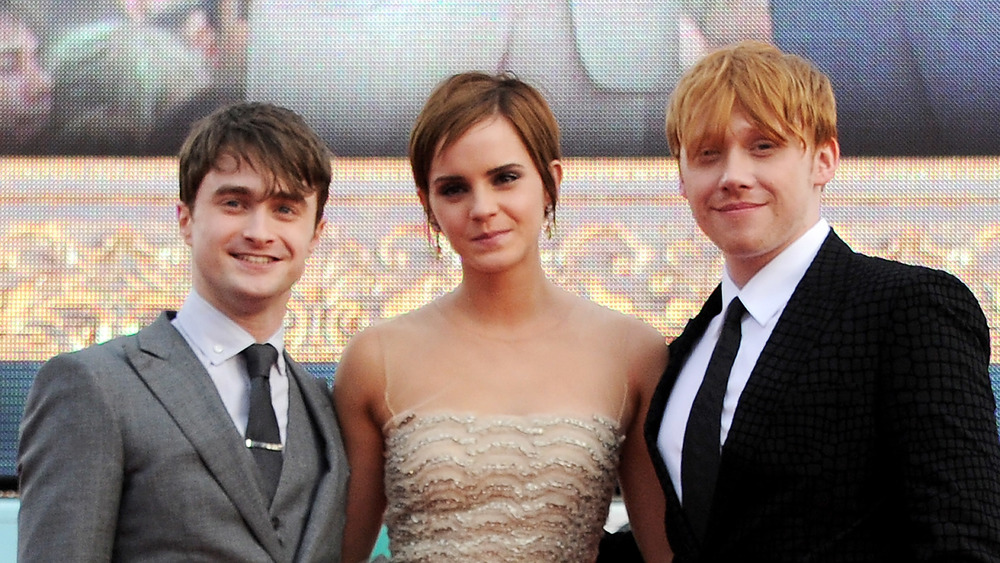 Dave M. Benett/Getty Images
Because Rupert Grint spent 10 years doing the same job, he sometimes felt the experience was "quite suffocating," he recently revealed on Dax Shepard's Armchair Expert. As he shared on the podcast, Grint realized fairly early that he would spend years on end playing the same character alongside the same people. "It just never ended," he said. "Every year, we came back. And it was kind of like Groundhog Day because it was the same sets, it was the same people."
However, the aspect that made the experience difficult was also one that brought Grint a lot of joy, telling Shepard that he "loved it." Because he went back to the same set every year to film with the same people, the place and actors became a sort of home and family to him, he shared. "It was a great experience. Such a nice kind of family atmosphere ... It was a great place to be, but sometimes it definitely felt like, 'I want to do something else. See what else is out there,'" the actor said. 
Even though Grint opened up about the hardships that come with playing the same role for a decade, he also showed how attached he is to the franchise by explaining why he doesn't feel ready to watch the movies. As he said on Armchair Expert, "It still feels too soon. I can't detach myself fully. I can't face it."