Here's How Much Robin Thicke Is Really Worth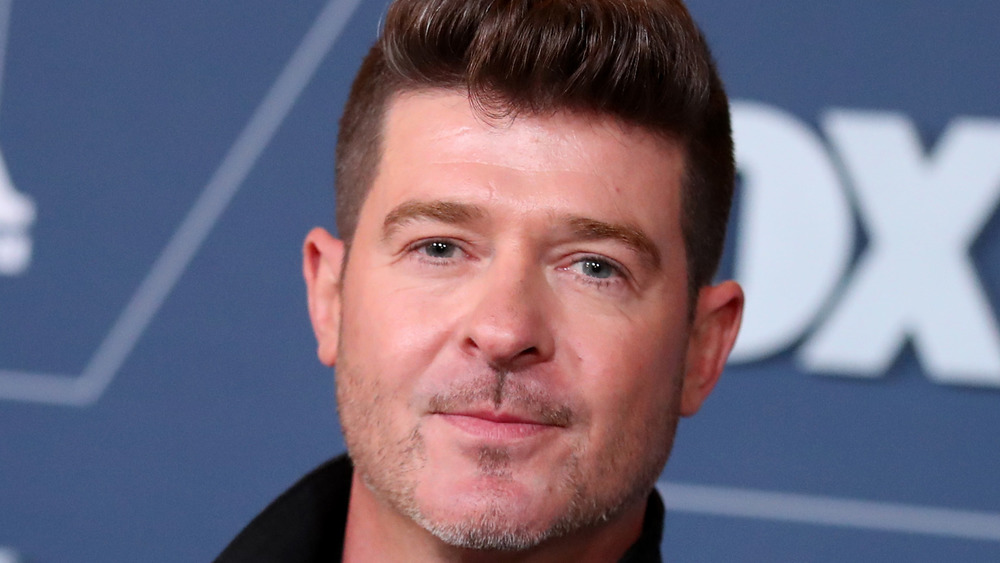 Rich Fury/Getty Images
"Blurred Lines" crooner Robin Thicke is used to being in the headlines. From the NSFW seductive music video featuring Emily Ratajkowski to controversial lyrics to battling a copyright lawsuit over allegedly using Marvin Gaye's "Got It Going On," "Blurred Lines" was only the tip of the iceberg for Thicke's drama. 
The singer had a nasty split from longtime love Paula Patton amid rumors of infidelity, all while losing his father, actor Alan Thicke, in 2016. Thicke also had to pay upwards of $5 million after losing the "Blurred Lines" suit, per The Guardian.
Now, Thicke has moved on, for better or for worse. The Masked Singer judge is releasing a new album in 2021, and has found love with fiancée April Love Geary. The couple also have three children together, with youngest son Luca born in December 2020, per Page Six. "In many ways I don't think I've ever been this happy," Thicke told People in February 2021.
So after his past tumultuous decade, how much is Thicke really worth today? Keep scrolling to find out! 
Robin Thicke still has a fortune after legal battles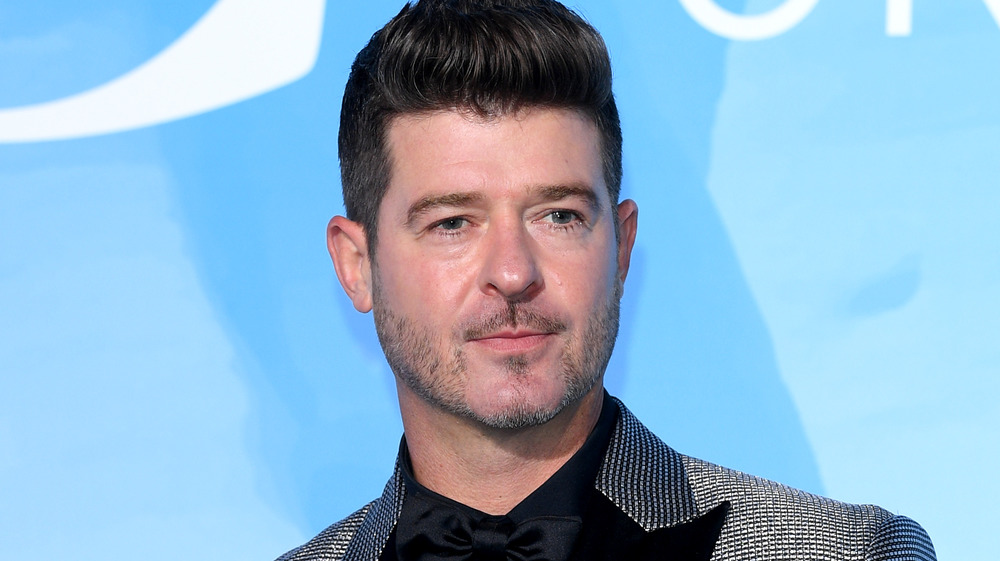 Daniele Venturelli/Getty Images
Singer-songwriter Robin Thicke revealed to People that he doesn't look back fondly on his infamous time in the limelight. "I was so arrogant that I thought I could handle it all," he revealed. "That year was a whirlwind of fame, and overindulgence all coming to a head," he continued. "Fame ... got to me. I was in a bad place. I'm happy to have closed that chapter." 
Of course, his hit "Blurred Lines" did come with a large paycheck. Aside from having to settle with Marvin Gaye, the single track brought in over $16.6 million in profits for Thicke and his producing partners, per Vanity Fair. Thicke also sued later father Alan Thicke's third wife Tanya Callau over his inheritance, winding up with 20% (about $3 million) of his dad's $15.7 million estate, as per The Blast. Despite the legal battles and his divorce, Thicke is estimated to be worth $10 million today by Celebrity Net Worth. And according to The Things, Thicke reportedly makes $100,000 per episode for judging on The Masked Singer. Plus, with his new album slated for release, Thicke's fortunes will only go up from here.