The Real Meaning Behind Mickey Guyton's Black Like Me
Amy Sussman/Getty Images
Mickey Guyton's hit single "Black Like Me" packs an emotional punch on several levels. The song borrows its title from the 1961 book Black Like Me by journalist John Howard Griffin who underwent radiation and intense treatment to darken his skin and pass as a Black man in the deep South during segregation. Speaking to Variety, Guyton said the song was inspired by the book. "[T]his song is just saying: step outside of your shoes for a second and see what it is like to be someone else," she told the outlet.
The single was released June 2, 2020, and was written with the help of three writers with varying backgrounds. "All of the writing came from all of us ... it was a unity moment," Guyton told The Boot. Although the single was dropped as the Black Lives Matter movement exploded, it was not released as a PR move. "There was no media strategy to get me to this point," she told Variety, "It's like God aligned all of this; he put this music on my heart."
Guyton opens the track by singing about her difficult childhood. "Broke my heart on the playground, mm / When they said I was different," (via Genius). In the chorus, she belts: "If you think we live in the land of the free / You should try to be black like me." Besides detailing the difficulties of growing up Black in a mostly white area, Guyton's lyrics also have another personal meaning.
The song was not just about her difficult childhood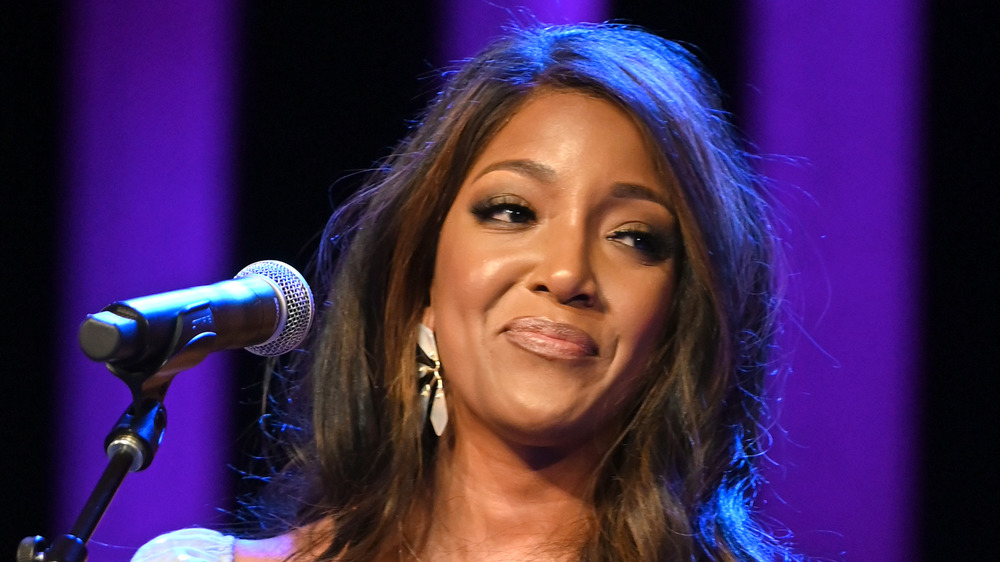 Jason Kempin/Getty Images
During the bridge of "Black Like Me," Mickey Guyton sings, "Oh, I know I'm not the only one / Oh, yeah / Who feels like I, I don't belong," (via Genius). The singer told Billboard that this isolated feeling also applied to being a Black female country singer. "That's kind of what I've only ever seen in country music," she said, "I mean, I've always been the only one [like me] in a room."
Guyton elaborated on the song's meaning in an interview with NPR: "I did Nashville the Nashville way for so long ... with very little results, and that's kind of how I felt within my own life as being a black woman." The singer said she felt her songs were over-scrutinized. "Well, if I went too country, if I went traditional, it was not current enough," she said. "And then if I made it poppier, then I was too pop."
Even though she was singing about her own experience, she wanted to add a universal element to the track. "The bridge is where I wanted to address that I know I'm not the only one and that it's not about me," she told NPR.
"Black Like Me" has heavy subject matter but ends on a hopeful note as Guyton sings, "Oh, and some day we'll all be free." One of the song's writer's, Emma Davidson-Dillon, told Billboard, "We wanted it to be positive ... Even if people are [just] talking about it, that is positive."