Best And Worst Dressed At The 2020 CMT Awards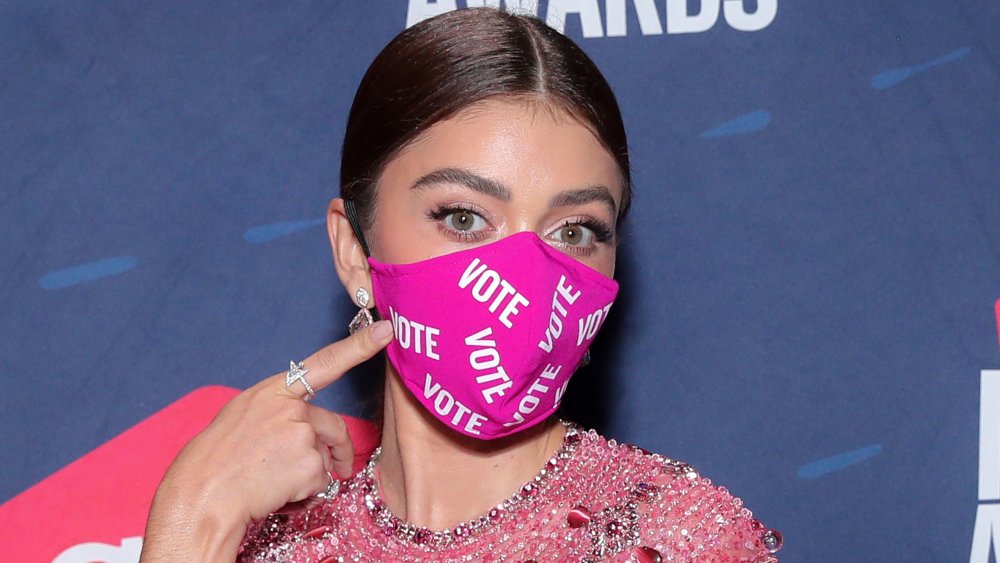 Rich Fury/cmt2020/Getty Images
The 2020 CMT Awards gave fans a chance to celebrate their favorite country stars. The big winner of the night was, of course, American Idol alum Carrie Underwood, who took home both the female video of the year award and the coveted video of the year for "Drinking Alone." The award show also included notable performances by Kane Brown, Ashley McBryde, Maren Morris, Dan + Shay, and more. Fans were especially excited to see Taylor Swift, Demi Lovato, and even Kelly Clarkson join the fun as presenters.
Despite the night's partially pre-recorded (thanks COVID!) footage and socially-distanced outdoor audience, country music fans got a small taste of a red carpet for the 2020 show, and with it, a few fashion surprises. Here's a roundup of the best and worst looks at the 2020 CMT Awards.
Best: Sarah Hyland hosts in HOT pink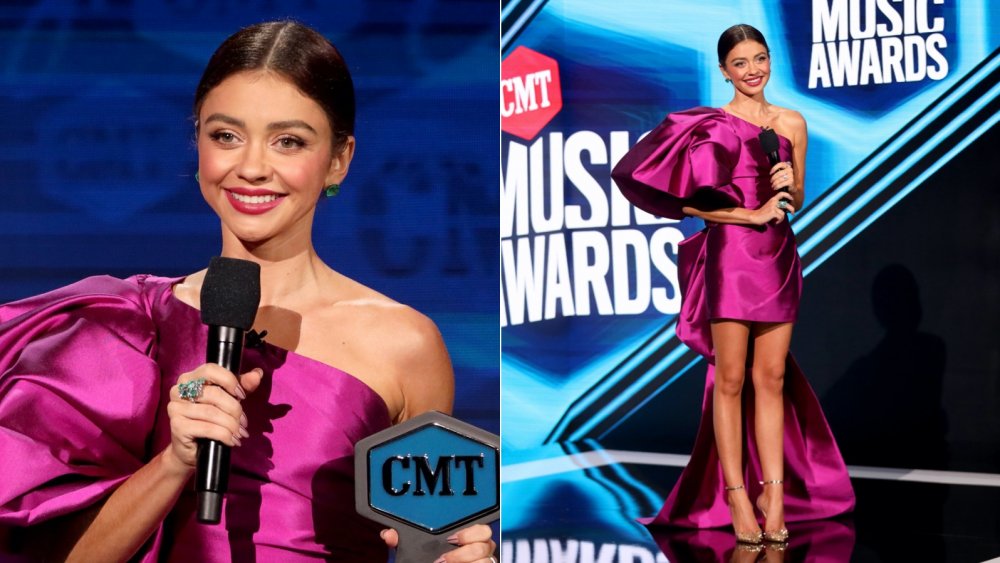 Rich Fury/cmt2020, Rich Fury/cmt2020/Getty Images
The 2020 CMT Awards host, actress Sarah Hyland, stunned in a few stellar looks throughout the evening. The Modern Family star even got a little political on the red carpet with a pink mask that read "VOTE" all over it, which designer Christian Siriano shouted out on Twitter.
Hyland later took the stage in a hot pink stunner of a gown. The mini dress featured one huge sleeve and even a train, which she paired with a pointed toe heel with rhinestones on the tip. That fuchsia train might be the only one Hyland gets to sport this year, as the star had to reschedule her nuptials due to COVID-19 and stick her own wedding gown back in the closet for a bit.
Worst: Noah Cyrus dishes out the demin -- a lot of denim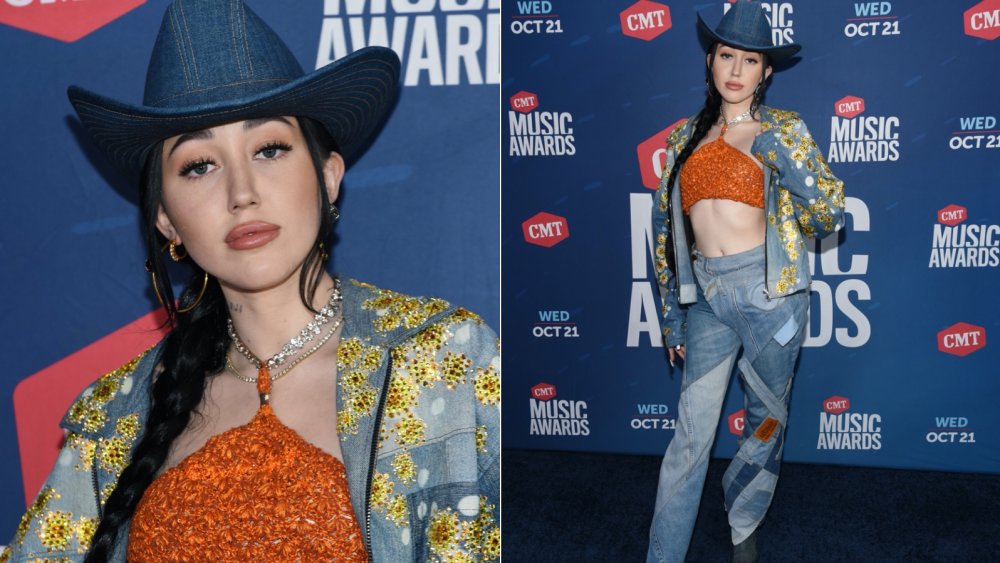 John Shearer, John Shearer/Getty Images
Ahead of her performance with Jimmie Allen at the CMT Music Awards, Noah Cyrus walked the red carpet in an outfit that wasn't too shy to go overboard on the denim. Her cowgirl-next-door look featured an embellished jacket, patchwork jeans, a dark denim cowboy hat, and an orange glitter crop top. Cyrus' boots sported a different color denim with a black patent cap toe. Although the patchwork pants had potential, the mix of denim looked like Cyrus didn't know what color denim she wanted to wear for the night. Although some fans on Twitter gushed and said she looked "extremely beautiful," others were not so flattering. One critic tweeted, "She looks horrible."
Fortunately for Cyrus, she had a second chance to redeem herself with her performance outfit later in the show, and just when we thought her first outfit was a head turner, Cyrus' duet attire made it even harder to keep eyes off of her.
Best: Mickey Guyton glitters with a baby bump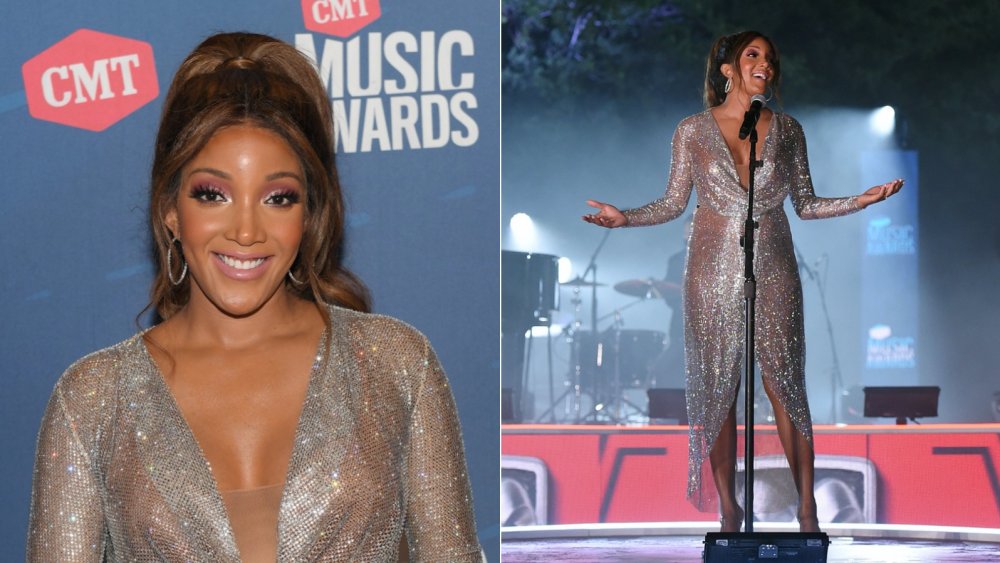 Jason Kempin/cmt2020, John Shearer/cmt2020/Getty Images
Country singer Mickey Guyton glowed during the evening, showing off her baby bump in a long-sleeve glittering gown. The low-cut wrap dress hugged the star beautifully, and although sheer, the artist remained classy with nude undergarments and a nude sandal pump. Guyton topped off her glow with an effortless ponytail, glitter hoop earrings, and a pink shadowed eye.
Although she dressed to impress, what really got fans talking was her baby bump. Guyton and husband Grant Savoy were expecting their first child. "Even in times of darkness, like the ones we as a society find ourselves in today, God always finds a way to shine His light on the beautiful side of life, like the miracle of life itself," the country star wrote on Instagram in August 2020. "I'm so excited to announce that I'm having a baby!"
Worst: Noah Cyrus performs as a scantily clad cowgirl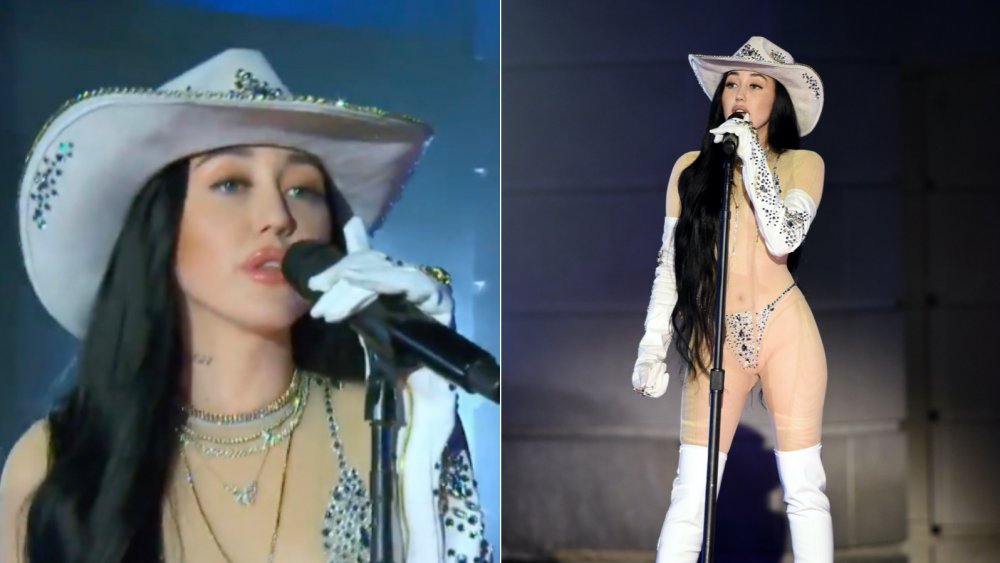 CMT, John Shearer/Getty Images
We hate to put someone in the worst-dressed category twice, but Noah Cyrus forced our hand. She performed her hit duet, "This Is Us," featuring Jimmie Allen, in a rather shocking outfit that had some viewers clutching their pearls and wondering if perhaps she'd left her clothes in the dressing room. 
Cyrus rocked a nude bodysuit with sequins forming a thong embellishment, a white cowboy hat, long white gloves, and some tall white boots. Plenty of folks criticized Cyrus on social media for her outfit — or lack thereof. One viewer remarked: "Does Noah Cyrus pole dance as a side hustle? Yikes!." Another wrote, "Does Noah Cyrus know this is country music and they don't wear that type of outfit?"
Despite Cyrus and Allen delivering some amazing vocals on the CMT stage, viewers could not get over that cowgirl getup, and many compared her risque look to her sister, Miley Cyrus. Although this style would fit right in at the MTV VMA Awards, the country music crowd was not feeling it.
Best: Kimberly Schlapman rocks a LBD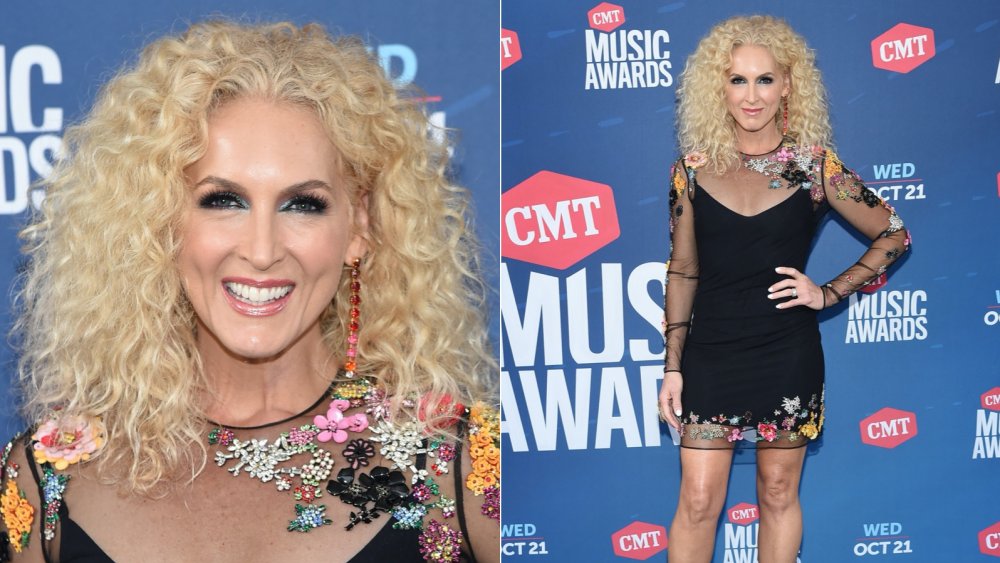 John Shearer/cmt2020, John Shearer/cmt2020/Getty Images
Little Big Town's Kimberly Schlapman was a fashion winner during the 2020 CMT Music Awards. The country music singer hit the red carpet in a black mini dress with sheer long sleeves and colorful flower embellishments. Paired with red dangle earrings, Schlapman rocked her signature big blonde curly hairdo and a light blue eyeshadow that subtly coordinated with the beaded floral design in her dress.
Little Big Town was nominated for two awards: video of the year for "Sugar Coat" and group video of the year for "Wine, Beer, Whiskey." Although the group didn't take home any awards, Schlapman takes home a win for this ensemble. The look was safe, but you know what they say — better safe than sorry!
Worst: Fans could not get over Jimmie Allen's sparkly performance outfit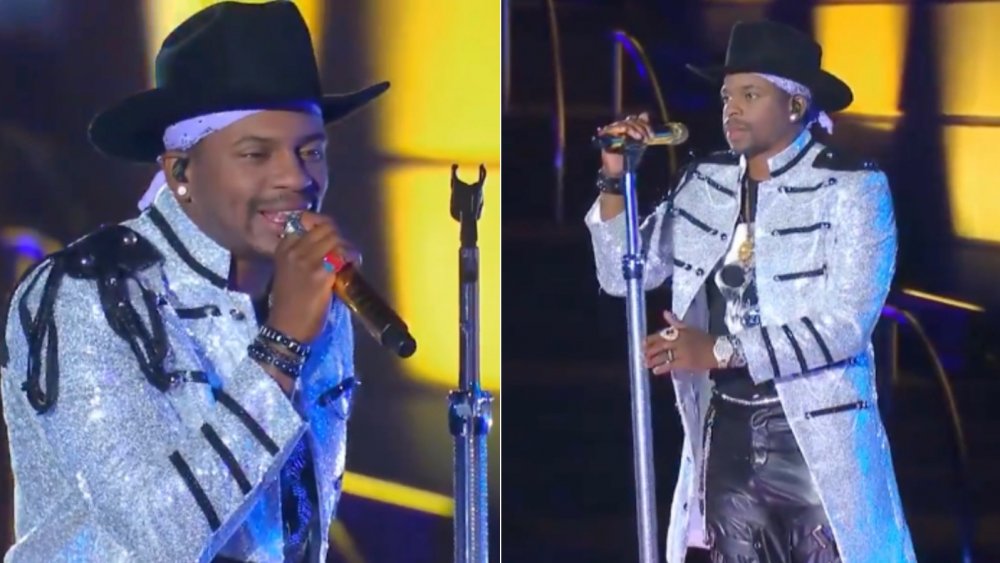 CMT
Much like Noah Cyrus, Jimmie Allen's outfits for the CMT Music Awards had, um, interesting range. Allen's red carpet outfit featured a black sweater under a Bel-Air Academy Jersey, jogger pants, and Timberland boots. The chill, casual outfit contrasted from his performance attire — which seemed to wow the audience with its flashiness. Alongside Cyrus, Allen wore a glittering trench coat, a black embellished skull tee, and some textured leather pants. On top of the singer's head sat a purple bandana and a black cowboy hat.
Even with all that sparkle and shine, Allen arguably came off looking a little lackluster throughout the show. Maybe Cyrus is partially to blame for that. However, he did receive high praise from some viewers. One fan tweeted: "Jimmie Allen has the best wardrobe. I'm 100 percent not being snarky." 
Best: Caylee Hammack goes disco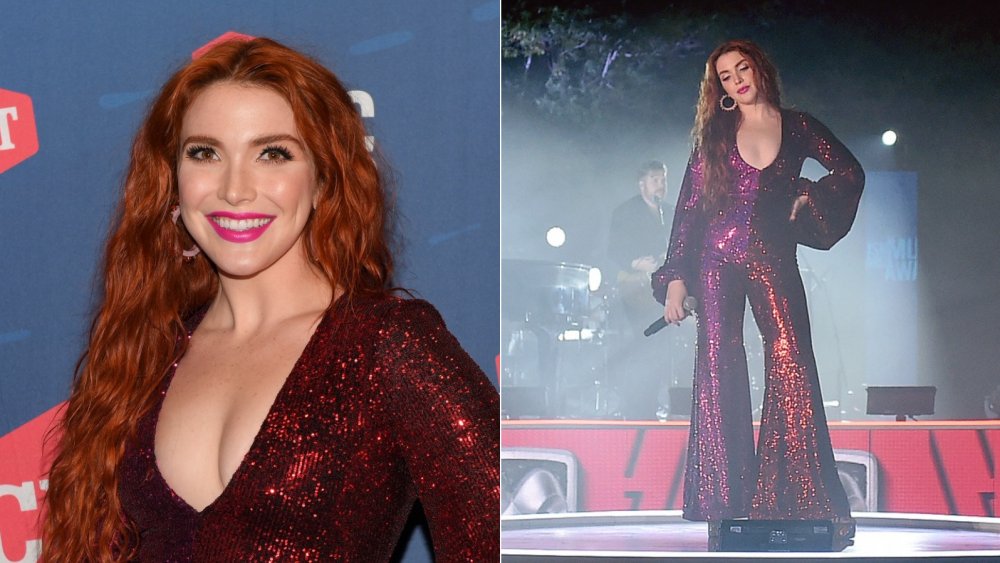 Jason Kempin/cmt2020, John Shearer/cmt2020/Getty Images
Country singer Caylee Hammack is having a breakout year. The star released her debut studio album, If It Wasn't For You, in August 2020 and was nominated at the 2020 CMT Awards for breakthrough video of the year for her single "Family Tree."
To top off the success, the country artist broke through the country music night with a disco look. The glittered jumpsuit featured balloon sleeves and was paired with a bright pink lip. The red-headed country singer let her locks down and even gave fans a fun hair-flip in a fan cam video, admitting, "I put too much hairspray in it." She also revealed that her own beauty necessity at an award show is "glitter obviously." We're here for it.
Worst: Shania Twain's outfit was a serious snooze fest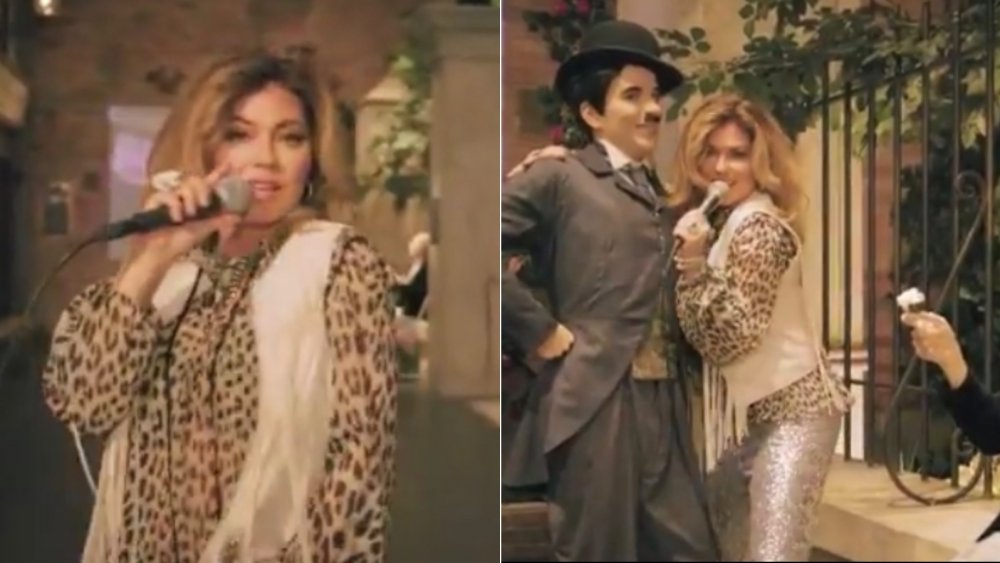 CMT
Although Twitter users deemed her a "queen," best-selling artist Shania Twain still managed to become a topic of discussion with her questionable outfit for the 2020 CMT Music Awards. Twain sported a white fringe vest over an animal print blouse, sparkly pants, and glittering block heel boots. Even while singing her heart out — from a Charlie Chaplin museum in Switzerland — the legend's look had more of a Tiger King vibe than a country queen. 
Twain's outfit became a hot topic of discussion on Twitter. "I've always been a huge fan of Shania Twain but this performance was awful & her attire was horrendous," one critic tweeted. Another joked, "Shania Twain wearing glitter pajama pants to perform at the CMT Awards is very relatable." Even while doing what viewers described as the "strangest" performance they've ever seen, it seemed like Twain was comfortable doing it in her best quarantine attire.