The Truth About Jimmie Allen And Noah Cyrus' Relationship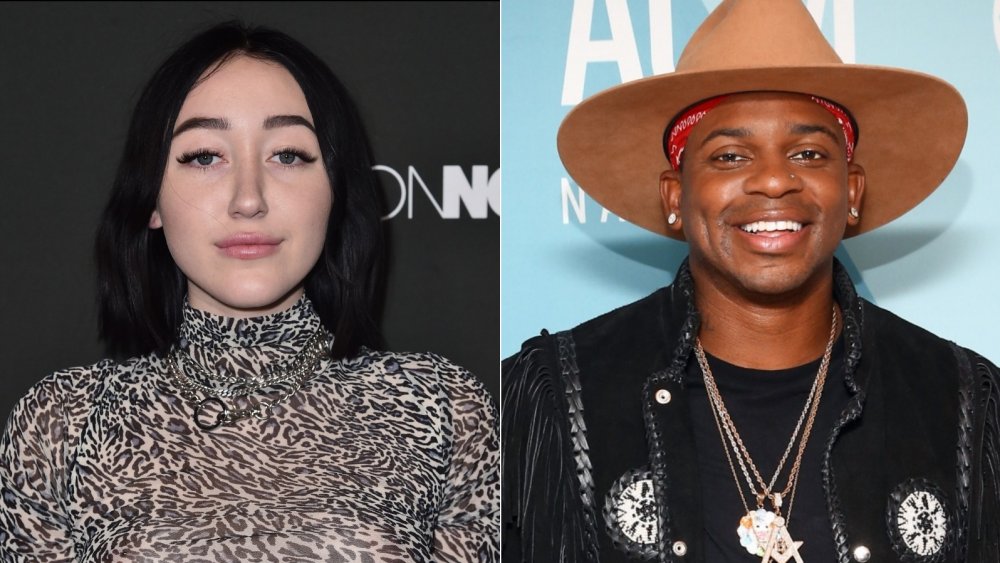 Alberto E. Rodriguez, Terry Wyatt/acma2020/Getty Images
Country singer Jimmie Allen dropped a catchy collab with pop singer Noah Cyrus, "This Is Us," in February 2020. The love song is a crossover of both of the singers' genres and has turned some heads. People reported that the song follows a couple that met years before when things "could've been better," but now they're ready to rekindle the love that once was. Cyrus — daughter of famous country singer Billy Ray Cyrus and sister to pop icon Miley Cyrus — wrote the song with Florida Georgia Line's Tyler Hubbard, Jordan Schmidt, Ilsey Juber, and Dernst "D'Mile" Emile II, according to Taste of Country.
Allen's collaboration with the youngest in the Cyrus family has been in the works for some time now, as he teased the duet back in November of 2019 at the SESAC Nashville Music Awards, per People. The duet between two very different artists is quite surprising, to say the least, which has many people wondering what the connection is between the pair and what sparked this musical team-up.
So how do the two musicians know each other? Read on to learn more about Jimmie Allen and Noah Cyrus' relationship.
Noah Cyrus marks a new chapter for Jimmie Allen
As it turns out, Noah Cyrus was the one who approached Jimmie Allen about collaborating. Allen told Taste of Country in February 2020 that he was game to do the song, as it fits with his mix of country, pop, and R&B influences. He also admitted to being a big fan of the Cyrus family, so he was excited to work with Noah. "Her dad was and still is one of my favorite country artists of all time," he said, referring to Billy Ray Cyrus. "And she has an older sister that has a huge career."
For Allen, this collaboration marks a new chapter of music where he will push boundaries and blend genres. "I have so many people that will comment on my stuff all the time and say, 'You're a country artist. Do this more country, do that more country,'" he told the outlet. "And I always tell every artist and songwriter, 'Make the music you love. Let everyone else worry about labeling it.'"
His joint effort with Cyrus was not his first crossover collaboration, though. Allen has also worked with Matchbox Twenty frontman Rob Thomas and Fugees member Wyclef Jean. He even hinted at possible collabs with Keke Palmer and Kelly Price during a September 2019 conversation with The Boot. As for his dream collab? He'd love to work with 90s idol Shania Twain. Till that happens, fans will be listening to "This Is Us" on repeat, which proves there is no genre Allen can't do.