The Real Meaning Behind Dua Lipa's 'Don't Start Now'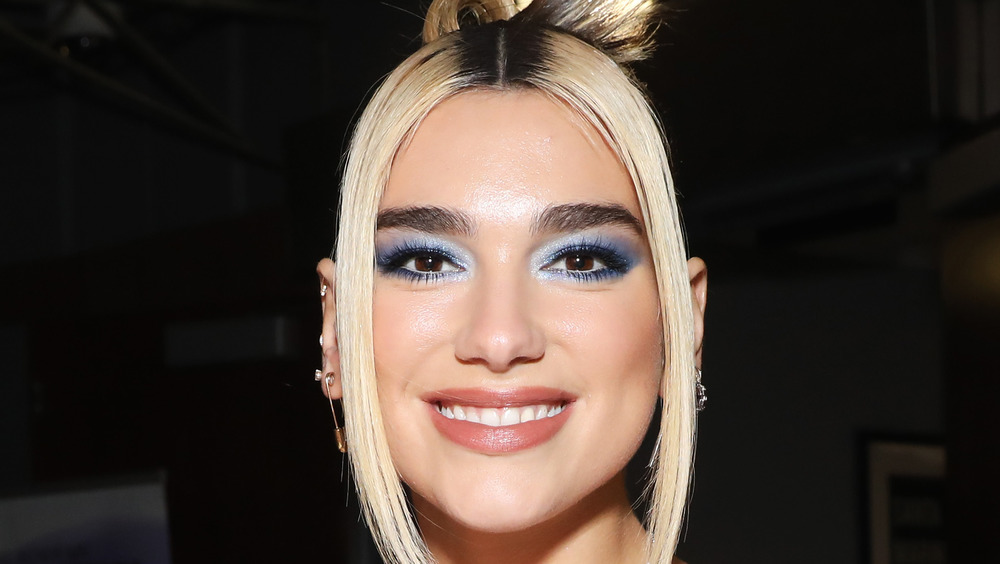 Robin Marchant/Getty Images
Dua Lipa has a good chance of winning a Grammy for her hit "Don't Start Now": the song, which dares her unnamed ex to "walk away" if he doesn't want to see her move on, is up for three nominations at the 2021 awards show.
The defiant disco-influenced single was her first release from her second studio album Future Nostalgia, per Rolling Stone. "I chose to put this song out first so I could close one chapter of my life and start another," Dua Lipa explained in a statement to the magazine. "Into a new era with a new sound! It's about moving on and not allowing anyone to get in the way of that. It also felt like a natural first song choice as I made it with the brilliant same crew I made 'New Rules' with."
Similar to "New Rules," her first breakthrough hit, "Don't Start Now" covers a contentious breakup. The lyrics announce that she's happier without him: "Though it took some time to survive you / I'm better on the other side," Dua Lipa, who is currently dating Anwar Hadid, sings.
In the music video, which has racked up over 400 million views, the pop star dances around a pub, a nightclub, and a masquerade ball. "If you don't wanna see me dancing with somebody," she warns the song's subject, "Don't show up, don't come out / Don't start caring about me now."
Dua Lipa has earned an impressive amount of Grammy nominations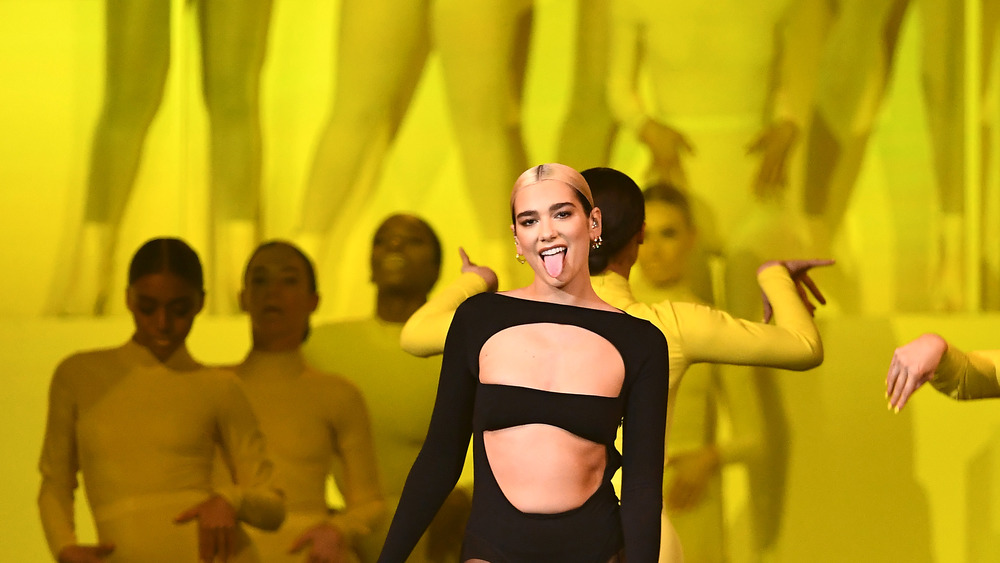 Jeff Spicer/Getty Images
Dua Lipa wrote "Don't Start Now" alongside her "New Rules" crew: Caroline Ailin, Emily Warren, and Ian Kirkpatrick. Ailin told Variety that the songwriting team was inspired by a night out at a "cowboy bar" in Wyoming, where they played Gloria Gaynor's "I Will Survive." They brought the idea of a disco song to Lipa, who "took it and just really brought it to life," Ailin said.
"Don't Start Now" has a chance at winning Record of the Year, Song of the Year, and Best Pop Solo Performance at the 63rd Grammy Awards. Future Nostalgia has overall earned Dua Lipa six nominations, making her the second most-nominated artist at the 2021 Grammys.
In an exuberant tweet, the pop star wrote: "This doesn't feel real!!!!! 6 GRAMMY NOMS!!! WHAT IS THIS LIFE!!!! I CAN'T BELIEVE IT!!! 6!!!!! MY HEART IS RACING AND IM IN TOTAL SHOCK! IM BEAMING AND FIZZING!!!!!! THANK YOU SO MUCH FOR ALL THE LOVE AND THE SUPPORT!" The wealthy singer also shared a screenshot of her emotional reaction to the news.
The pop star thought fans needed her album in 2020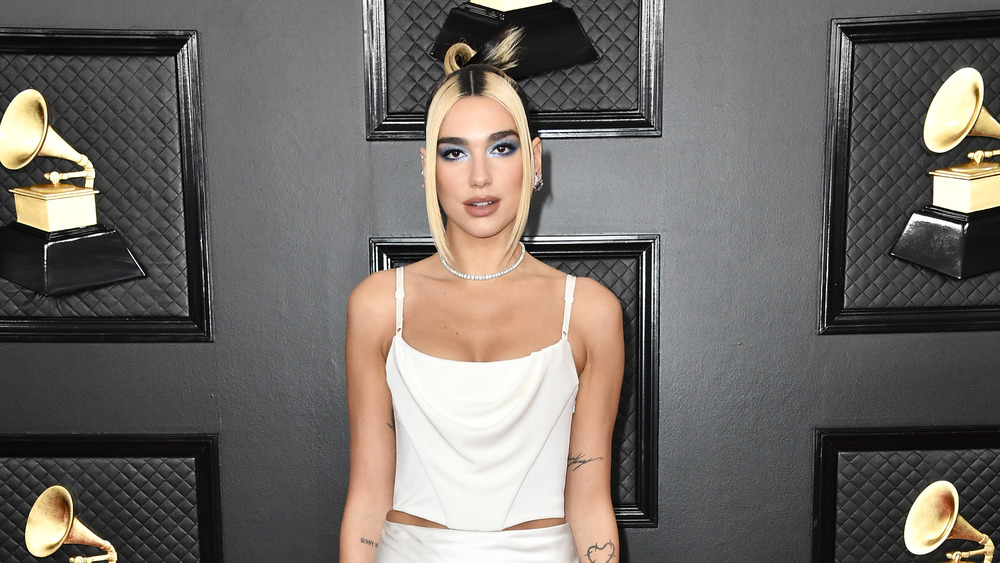 Frazer Harrison/Getty Images
The song "Don't Start Now" also marked her transition into a new disco-inspired sound, which continued throughout her second album.
In an interview with Variety, Dua Lipa shared that Future Nostalgia was a "very happy" album. "I feel like on my first record, the easiest thing for me to tap into and felt I could write about was my sadness, really. Like those are the memories that linger longest. With this record, I felt like I could get out of my comfort zone, almost, and tell myself that it's okay to write happy things and really write about how I feel in the moment," the musician revealed.
"This album is purely about dancing and having fun and being free and being in love," she added, describing how artists like Jamiroquai, Moloko, Blondie, and Prince had inspired her new sound. "I hope it will brighten people's day. We're all staying at home, or the majority of us are, and hopefully we can get the rest of the people to stay home too."
Dua Lipa also reflected on her decision to release the record during a worldwide lockdown. "I was just kind of thinking about maybe to put it out at a happier time," she admitted. "But I then also decided that I've already been waiting for so long to put this record out, and I think the fans are really excited for me to put the record out. And so I just thought I'd be doing them a disservice to delay it, especially during this time."