Trump Just Got A Major Travel Downgrade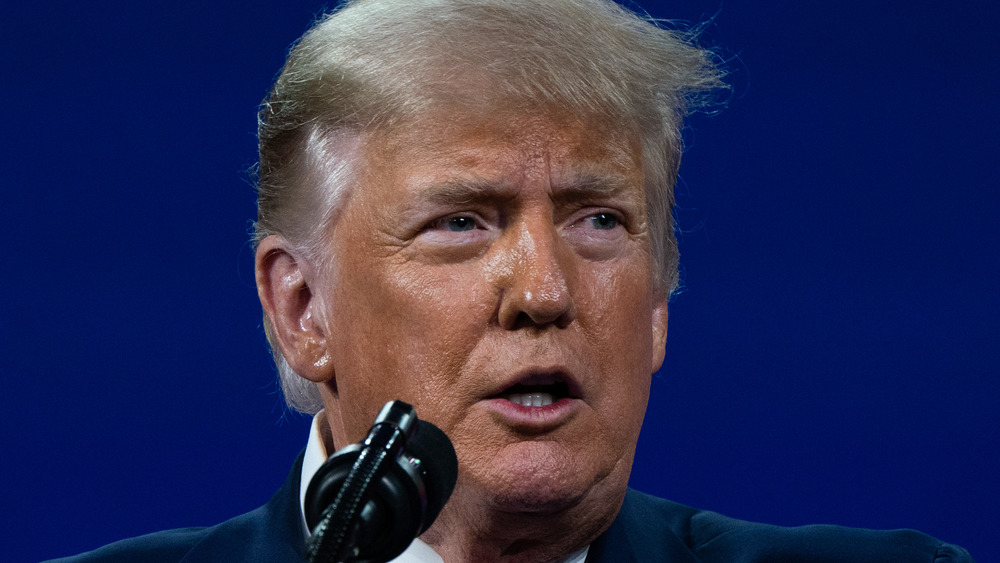 Bloomberg/Getty Images
We all know Donald Trump likes to travel in style, especially considering his revamp of Air Force One, however, it looks like he's had to cut back since leaving office. According to photos obtained by the Daily Mail, the real estate mogul was spotted boarding a 1997 model Cessna Citation X, which TMZ described as "a super-midsize jet that's the envy of all social media influencers but a basic bird for your average CEO." According to the outlet, Trump was traveling from New York back to his home in Florida when he was seen taking flight on March 9, 2021.
While the aircraft is still impressive to us common folk, it's nothing compared to Trump's 757, which seats 43 and, of course, boasts his name on the side. As for Trump's ride on the Cessna, he definitely had less leg room in the 8-seater and even had to duck to enter the cabin with his 6-foot-3 frame since the aircraft's interior stands at 5-foot-7. However, this isn't the first time we've seen the Trumps cut back on their travel expenses since leaving office. Keep scrolling for more details.
The Trumps have been spotted in coach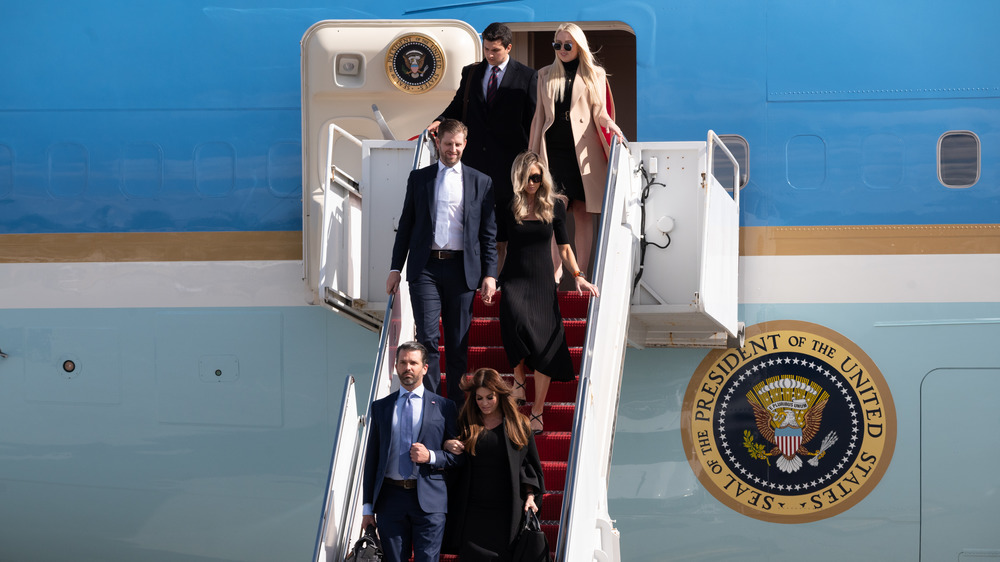 Noam Galai/Getty Images
With Air Force One no longer at the Trump family's disposal, we've seen the clan take a more modest approach to transportation. In January 2021, Eric Trump and his wife, Lara, were spotted flying coach on a Delta flight from Palm Beach, Fla. to New York City, according to TMZ. The parents were accompanied by their two children and eyewitness said the kids were "well behaved." While they might be sitting in coach like most of us, they haven't lost all their luxuries and were seen being escorted onto the aircraft by Secret Service agents.
Additionally, the Trump son hinted at financial woes in March 2021 when he revealed the Trump organization was selling one of their properties in Palm Beach for a whopping $49 million. At the time, people on Twitter criticized the home's price point, with one person tweeting, "I'm sure a typical Trump supporter can afford this."