What Harry Styles' Chest Tattoos Really Mean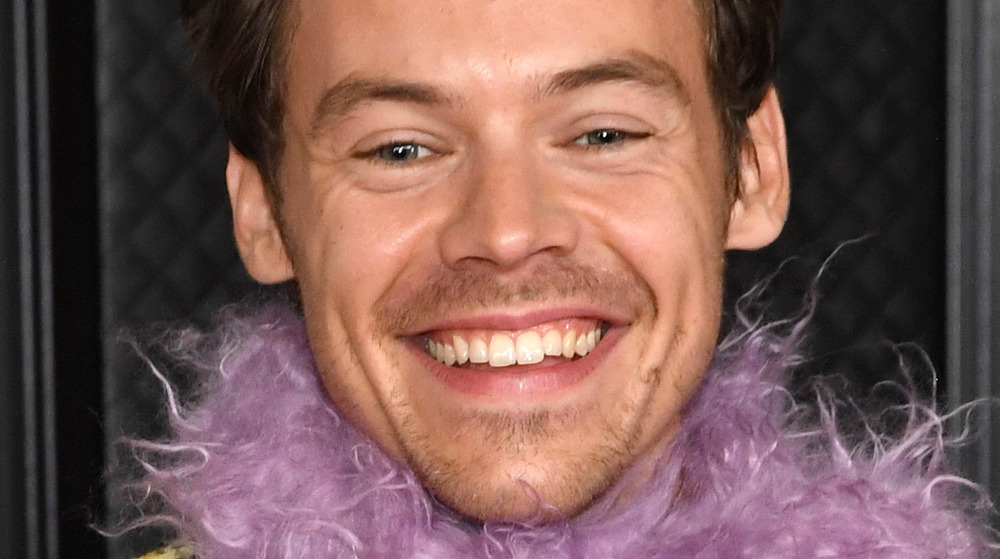 Kevin Mazur/Getty Images
On music's biggest night of the year, singer Harry Styles was the lucky pop artist chosen to open the 63rd Annual Grammy Awards on March 14, 2021. Styles performed a rendition of his hit single, "Watermelon Sugar," which went No. 1 on the Billboard Hot 100 in the summer of 2020. The former boy band-er took the stage in a black leather suit with a lime green feathered boa, staying true to his gender-fluid style and revealing his many many tattoos.
Fans of the former One Direction bandmate know that if there is anything Harry Styles loves, it's tattoos. The artist reportedly has 52, with the tats covering almost every part of his body. Although Styles doesn't always reveal the meaning behind each tattoo, fans have theories of what they all mean. The pop artist's chest tattoos include the abbreviation SMCL, two theatre masks, a lowercase "g," a capital "A," a half-broken heart, one HUGE butterfly, and SO. MUCH. MORE., as Refinery29 noted.
So, can you guess which tattoo has to do with one very famous movie? Keep on reading for all the deets on Styles' chest tattoos.
Harry Styles paid tribute to his parents with two tattoos
When you have more tattoos than the United States has states, sometimes it can get a little hard to keep track of the meaning behind all of them. Lucky for Harry Styles, he has fans that keep track of their backstories. Among Styles' many chest tattoos are two dates tied to the two people closest to the star, his parents. The years "1957" and "1967" are tattooed on the artist, honoring his father and mother's birth years, respectively.
The most eye-catching of Harry Styles' tattoos might be the two shallows that face each other across his chest. The pop singer told Us Weekly in November 2012 he simply liked the design. "I like that kind of style of tattoos, like the old sailor kind of tattoos," said Styles back when he was touring with his former bandmates of One Direction. "They symbolize traveling, and we travel a lot!"
Styles is said to have paid tribute to the James Bond movie with a tattoo located on the left side of his chest. "17 BLACK" was one ink the pop artist got after being referred to celebrity tattoo artist Kevin Paul. The man responsible for Styles' tattoo told GQ, "Basically, Harry lost money gambling – I think it was in Australia – and he lost it on 17 black. This was in the early days, the first few years of One Direction."