Phoebe Bridgers' Unique Grammys Outfit Explained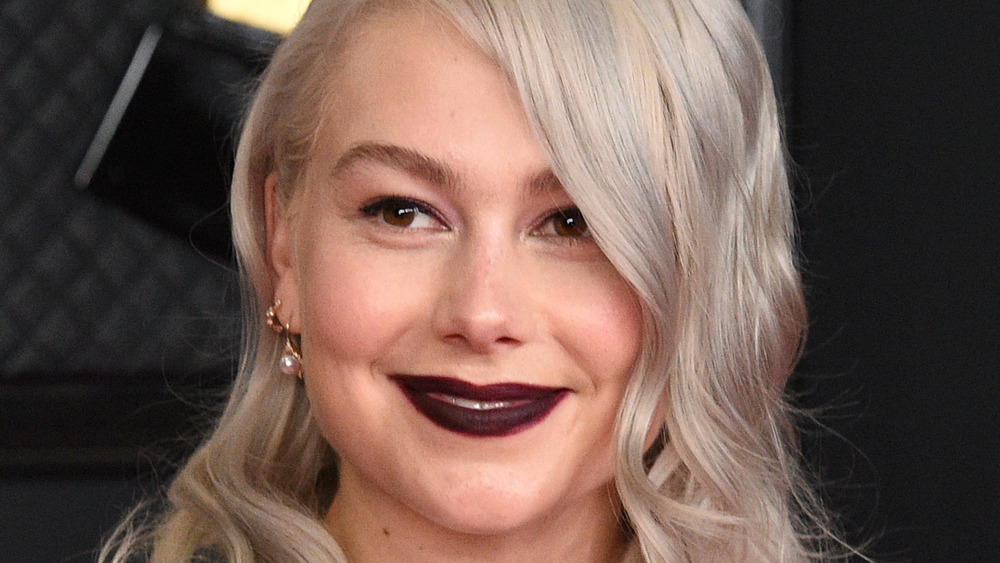 Kevin Mazur/Getty Images
It's scary how gorgeous Phoebe Bridgers looks at the 2021 Grammys! The "Kyoto" singer hit the red carpet of the 63rd annual ceremony in a stunning skeleton-designed gown by Thom Browne (via Page Six). The sheer black dress is embellished with sparkling crystals and pearls to create a 3-D skeleton silhouette.
It's no surprise Bridgers chose an alluring ensemble for music's biggest night considering she is nominated for four awards, including Best New Artist. The Los Angeles native is also up for awards in the categories for Best Rock Performance, Best Alternative Music Album, and Best Rock Song, according to the Grammys website.
While award shows like the Grammys are all about honoring the most notable singers and musicians in the entertainment industry, they are also the perfect place to dress to the nines and show off your fashion sense. Bridgers especially loves "dressing up" because she feels like a "superhero" in her over-the-top outfits — especially when she's performing. "It's very freeing. I feel like some people, their identity is wrapped up in not dressing up," she told Interview in July 2020. "They think it's corny to dress up for stage. But I actually love the ritual of putting something on, and it's like, 'Now I'm on stage.'"
When Bridgers hit the red carpet at the 2021 Grammys, she revealed her dress was not only unique, but it holds sentimental value. For more on the "I Know the End" signer's skeleton-inspired gown, keep scrolling. 
Phoebe Bridgers' 2021 Grammys look symbolizes her journey in music
Kevin Mazur/Getty Images
There's no ifs, ands, or buts about Phoebe Bridgers killing it at the Grammys. The "Smoke Signals" singer stunned in a rhinestone skeleton-eque ensemble, but the freaky frock was more than just an eye-catcher on the red carpet. If you are a fan of Bridgers, then you are familiar with the singer's pattern of wearing ghoulish garbs.
The guitarist's Grammys look is symbolic of her journey in music as Bridgers first donned a skeleton suit — which she paid a whopping $10 for — to promote her latest album, Punisher, according to HelloGiggles. The alternative-indie artist experienced a full-circle moment, wearing a much more expensive version of her look at the award show. Bridgers' record, which was released in June 2020, earned her several nominations.
While walking the red carpet, Bridgers revealed her look was inspired by the glitzy gown created by American fashion designer Thom Browne. "I wear a skeleton costume all the time, but one of the reasons I do is because I saw this Thom Browne dress forever ago and thought it was so cool and I asked for it," she told Giuliana Ranic of E! News. "I basically stole it."
In addition to the 63rd annual award show and the Punisher press tour, Bridgers has been spotted countless times in skeleton-themed clothing. For her performance on Saturday Night Live in February 2021, the blonde beauty sported a pearl-embellished ribcage. It's clear there's not one unfashionable bone in Bridgers' body!