Expert Reveals Why Megan Thee Stallion's Grammy Outfits Are Getting Attention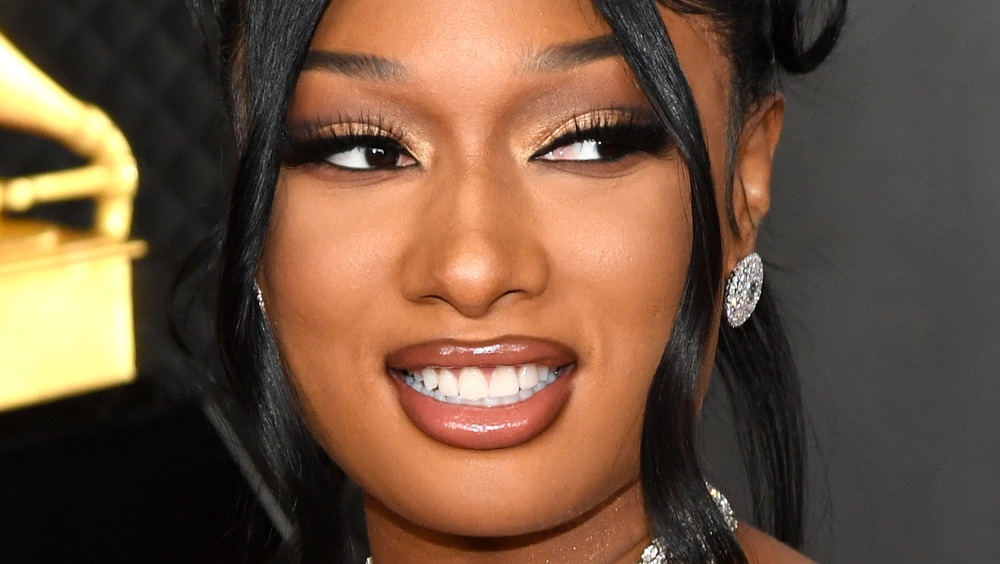 Kevin Mazur/Getty Images
Megan Thee Stallion had a whirlwind of a night at the 63rd Annual Grammy Awards. The rapper took home Best New Artist, plus Best Rap Song and Best Rap Performance for "Savage," her first Grammy awards ever. According to Pitchfork, the rapper's Best Rap Performance win was the first time two women took home the award.
The Houston native also took the Grammy stage to perform her "Savage" hit in a 1920s-inspired sparkly bodysuit, and then joined Cardi B for a TV-appropriate performance of their No. 1 single, "WAP." As fans took to social media to celebrate Megan Thee Stallion's wins, the "hotties," as the singer calls them, took notice of the rapper's super bright, and super attention-grabbing orange gown that she rocked on the red carpet.
"It's my first time at the Grammys and I just really wanted to pop," said the artist to E! News' Giuliana Rancic during the Grammy pre-show. "I wanted to look like a Grammy, so I manifested this." The manifestation clearly worked for the now Grammy-winning artist, but what did the experts think about her look? Here's what a fashion guru shared with Nicki Swift.
Megan Thee Stallion wowed in sparkly one-piece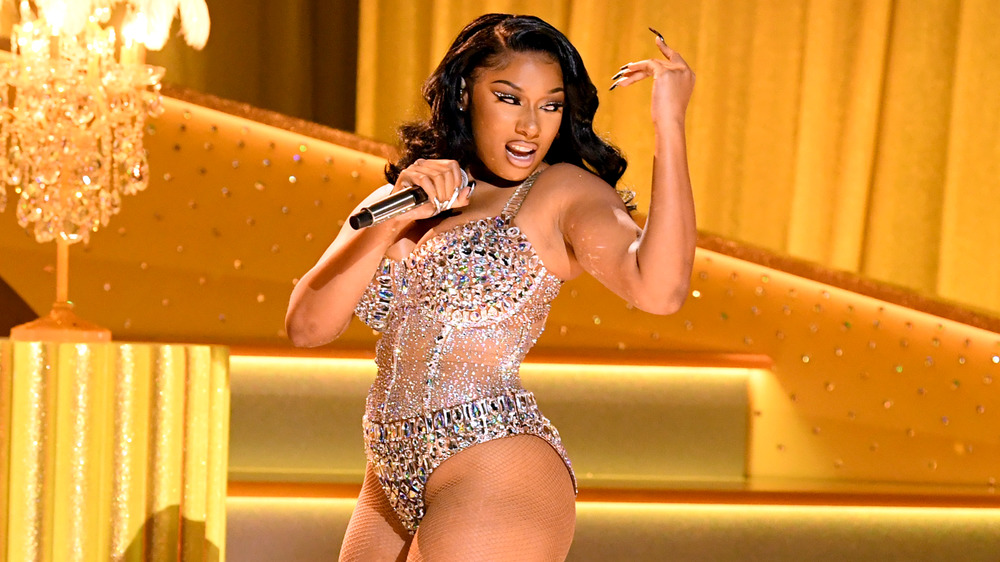 Kevin Winter/Getty Images
If catching the attention of fans and style critics alike was the goal, Megan Thee Stallion achieved just that. The Grammy-winning artist dressed like the winner she expected to be, stunning in a strapless bright orange Dolce and Gabbana gown with a high leg slit and big bow on the back.
"She has been my favorite new artist and seeing her bask in her acceptances tonight was inspiring," Cachita Hynes, fashion stylist at Style On The Spot, exclusively told Nicki Swift. "Her Dolce and Gabbana orange dress and back bow was as bright and exuberant as her personality. I loved her humble love for Beyonce who stood by her side in her acceptance speech." 
Beyoncé joined the Houston rapper on stage for the acceptance of Best Rap Performance for their single "Savage" which previously earned Megan Thee Stallion her first Hot 100 No.1. Stylist Cachita Hynes took note of how the rapper embraced her sparkling personality on the Grammy stage in an equally catching silver bodysuit. "Megan Thee Stallion's intro was inspiring. Even on the days you feel like quitting, don't quit because it is possible to achieve your dreams," said Hynes alluding to the rapper's continued confidence despite the ups and downs of her last year. "Her sparkly one piece as she performed was reminiscent of Britney Spears' Toxic, and Megan Thee Stallion did not disappoint as the show went on with more sparkle and shine throughout her performance."