Carrie Fisher's Mom, Debbie Reynolds, Dies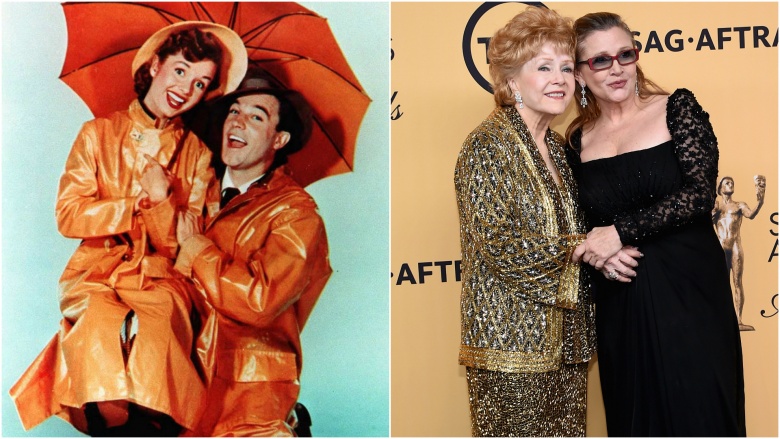 Getty Images
One day after the death of Star Wars icon Carrie Fisher, her mother, acclaimed actress Debbie Reynolds, passed away after a stroke.
TMZ reported that Reynolds, 84, was at son Todd Fisher's home discussing funeral plans for Carrie when someone at the home called 911. She was rushed to Cedars-Sinai hospital, where she died on Dec. 28, 2016. Todd later told TMZ that Reynolds' last words were, "I miss her so much, I want to be with Carrie." He believes Carrie's death, at age 60, was too much for Reynolds to bear. Family sources told the tab Reynolds had suffered from several strokes earlier in the year and had been in ill health for some time.
Todd told ABC News, "[Reynolds] was very peaceful and quiet [when she died]. It happened very gently. She loved taking care of my sister more than anything. So, she gets to do that, and that's what she wanted to do. I don't think she really meant it quite like that, but...she went to go see her again."
Others have speculated Reynolds, best known for her starring role in Singin' in the Rain (1952), may have died from a broken heart. A report from the American Heart Association notes that takotsubo cardiomyopathy, or stress-induced cardiomyopathy, also called "broken-heart syndrome," is a condition in which extreme stress can lead to severe or short-term heart muscle failure. The condition "can strike even if you're healthy," the report notes, and women are more susceptible to the illness than men because of hormones that can be onset "by an emotionally stressful event."
In a joint interview with Oprah in 2011, Reynolds opened up about her relationship with her daughter. "My lowest point in Carrie and my relationship was probably when we discovered that she was ill, or that she had this mental health problem, and that it was going to be with her forever. There have been a few times when I thought I was going to lose Carrie. I've had to walk through a lot of my tears, but she's worth it."