What A Body Language Expert Noticed In BTS' Grammys Interview
The 2021 Grammys was one for the books, especially considering it got televised amid a global pandemic. Alas, the show must go on — and that goes for the highly anticipated interviews, too. 
Dr. Reneé Carr, a.k.a. "The Problem Solver," dished to Nicki Swift exclusively about K-Pop boy band, BTS, and their 2021 Grammys interview with E! News' Giuliana Rancic. Dr. Carr gave her expert analysis on the chat, noting, "Overall, each of the members was impeccably dressed and exuded a natural ease being on the camera even though some were more comfortable than others." The body language expert and psychologist continued, "This is likely due to their true individual personalities and the main reason, Jin, V and Suga are often in the back row during interviews." But despite their differences, BTS "is a very organized machine" in general, "with its members having been expertly groomed for their personas, performances, and interviews," Dr. Carr noted. "They are 'on' and cautious of ensuring they are 'picture perfect.'"
But which members did Dr. Carr believe were more comfortable speaking on camera than others? And what specific blunder did she note? Keep reading after the jump to find out!
Did RM struggle during his interview?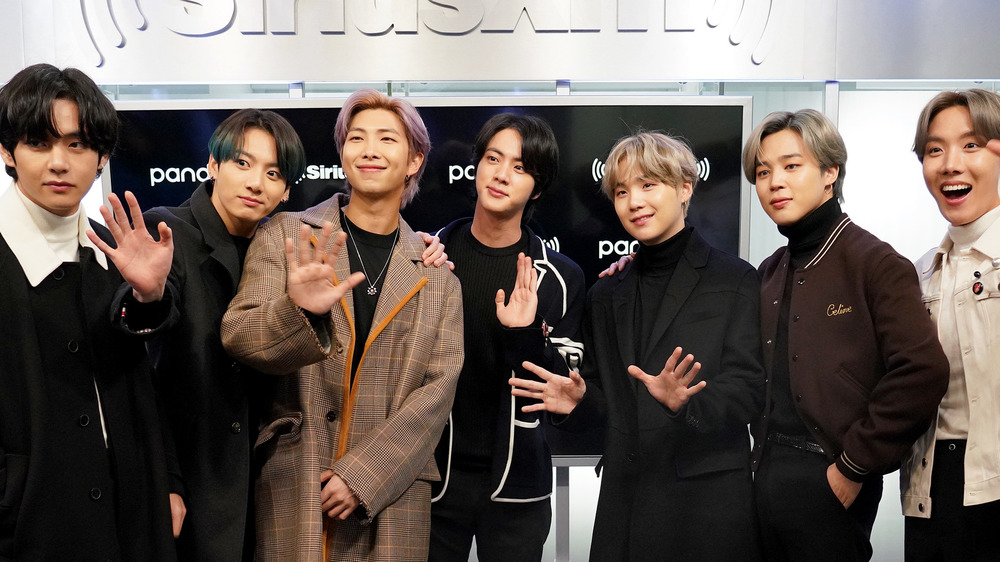 Cindy Ord/Getty Images
According to expert body language expert and psychologist Dr. Reneé Carr, BTS band member RM appeared a little out of character for the on-air awards' interview with E! News correspondent, Giuliana Rancic. "RM stumbled for words as he tried to explain his feelings about being on the Grammy stage. His stumbling is unusual in that he is usually not at a loss for words and he is the most English-proficient member of the group," Dr. Carr pointed out to Nicki Swift. "He tried to display discomfort with his earphone and others walking in the background as a way to mask his less than ideal response as if, 'I couldn't give a better answer because I could not really hear' when, in fact, his translator's voice was very audible in the room with him," she added. Still, Dr. Car described RM as the group's "natural spokesman."
But what about the other members? "J-Hope gave a more authentic answer and was not short on words to describe his emotions. He was relaxed and comfortable as he spoke and did not fidget. While others were speaking, Jimin was mainly focused on his appearance and continually adjusted his poses and face as the camera moved." Dr. Carr added, "Jungkook continued to display his professionalism by deliberately giving another thumbs up while Giuliana spoke so he could communicate to her and the audience that he was listening although he could not fully understand her language."
Although their Grammys interview might have been touch and go — it's safe to say their performance was nothing short of epic!