When Did Meghan And Kate's Relationship Start To Sour?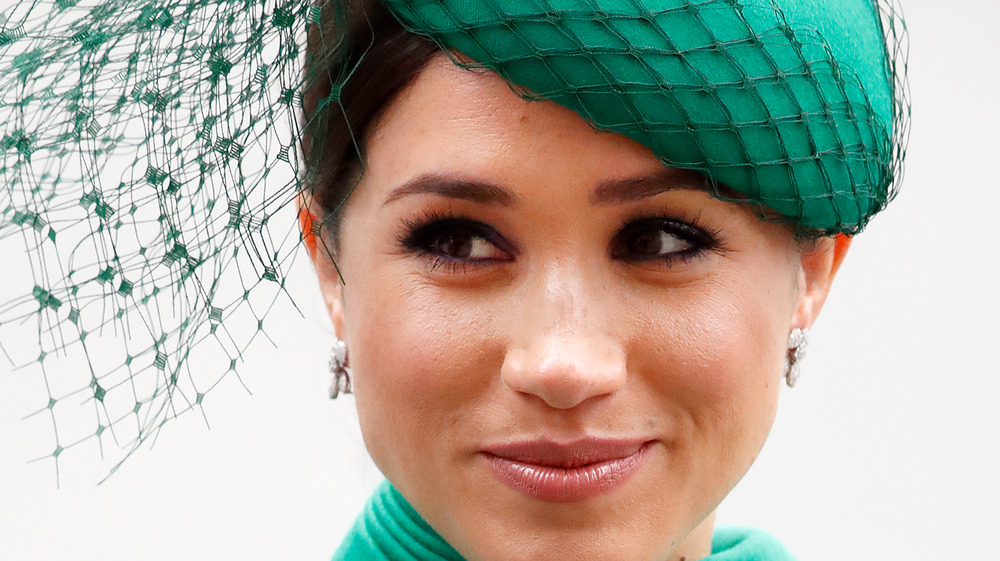 Max Mumby/indigo/Getty Images
On May 19, 2018, Meghan Markle and Prince Harry said "I do." However, in November that year, rumors started circulating that there had been a conflict a few weeks before the big day between Meghan and Prince William's wife, Kate Middleton.
The initial details of the day's event were sparse, but it was the understanding of news outlets at the time that Kate was "left in tears" after a fitting for Princess Charlotte's bridesmaid dress, according to People. Although it wasn't initially known what upset her, sources said that there was a lot of "stress" within the wedding party — and all eyes shifted to Kate and Meghan. Reports of the incident occurred shortly after rumors that Harry and Meghan and William and Kate were "considering breaking up their joint 'court' in favor of separate offices," the outlet reported.
Later that month, Kate wished Meghan — who was expecting her first child — warm wishes. They appeared to have no bad blood.
"Yeah, absolutely, [I'm excited for Meghan and her new baby]," Kate said (via Elle). "It's such a special time to have all the kiddies and a cousin for George and Charlotte as well as Louis so it'll be really special."
At the time of crying incident, the royal family did not deny the veracity of the reports — but Meghan Markle had a different story to tell.
Meghan Markle set the record straight about her feud with Kate Middleton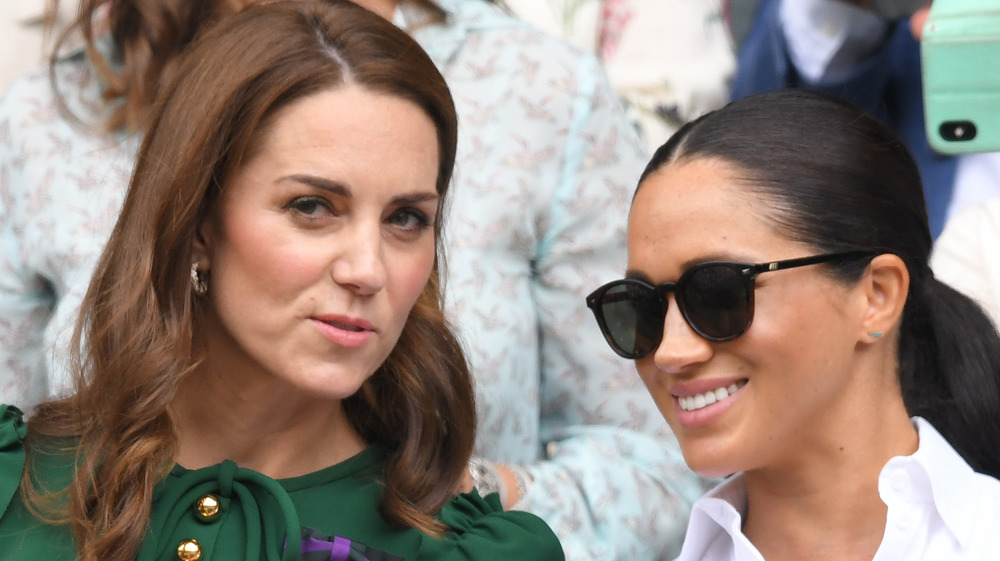 Karwai Tang/Getty Images
On March 7, 2021, during the tell-all Oprah interview, Meghan Markle explained her version of what happened at that fitting between her and Kate Middleton. Meghan said that it was she, and not Kate, that ended up crying.
"A few days before the wedding, she was upset about something — yes, the issue was correct, about the flower girl dresses — and it made me cry and it really hurt my feelings," Meghan told Oprah. Still, "there wasn't a confrontation," Meghan told Oprah (via Page Six), adding, "I don't think it's fair to her to get into the details because she apologized, and I've forgiven her."
Megahn also said she was hurt by the lack of attempt on the royal family's part to set the situation straight. "Everyone in the institution knew it wasn't true," Meghan told Oprah. Following this, Oprah questioned her about why nobody in the royal family spoke up in that case, to which Meghan responded, "That's a good question."
Since the Oprah interview aired, royal expert Katie Nicholl said, per Express, that "Kate felt it was all sorted, so to have it brought up again was mortifying." She added: "Behind closed doors she has been saddened, disappointed and hurt."
Additionally, there were rumors that the alleged feud between the sisters-in-law began earlier than the bridesmaid dress fiasco, when the Daily Mail reported that William reportedly questioned if Meghan was really a good fit for Harry.