The Real Reason Eddie Cibrian And LeAnn Rimes Won't Return To Reality TV
Aaron Davidson/Getty Images
Actor Eddie Cibrian and singer-songwriter LeAnn Rimes have been somewhat busy since leaving their reality TV show, LeAnn & Eddie, behind in 2014. Cibrian has had recurring and small roles in three TV shows between 2015 and 2018: ABC Family's (now Freeform's) Baby Daddy, police procedural Rosewood, and crime comedy-drama Take Two. Unfortunately, it seems that as soon as he's cast in something, the show's respective network cancels it.
Meanwhile, Rimes has experienced a different work life. Even though she's recorded songs and released albums, the two-time Grammy-winning artist has taken her recording artistry in a different direction since the release of Rimes: Live at Gruene Hall in September 2019. Between acting in TV movies and winning Season 4 of The Masked Singer (she was the Sun), Rimes made a meditative album titled Chant: The Human & The Holy in 2020, and her most recent album, God's Work, is set to debut in May 2021. 
But even with the couple's work in other areas of entertainment, fans have often wondered if Eddie Cibrian and LeAnn Rimes will ever return to reality TV. Let's here what the married pair has to say.
Here's why Eddie Cibrian and LeAnn Rimes' reality TV return seems unlikely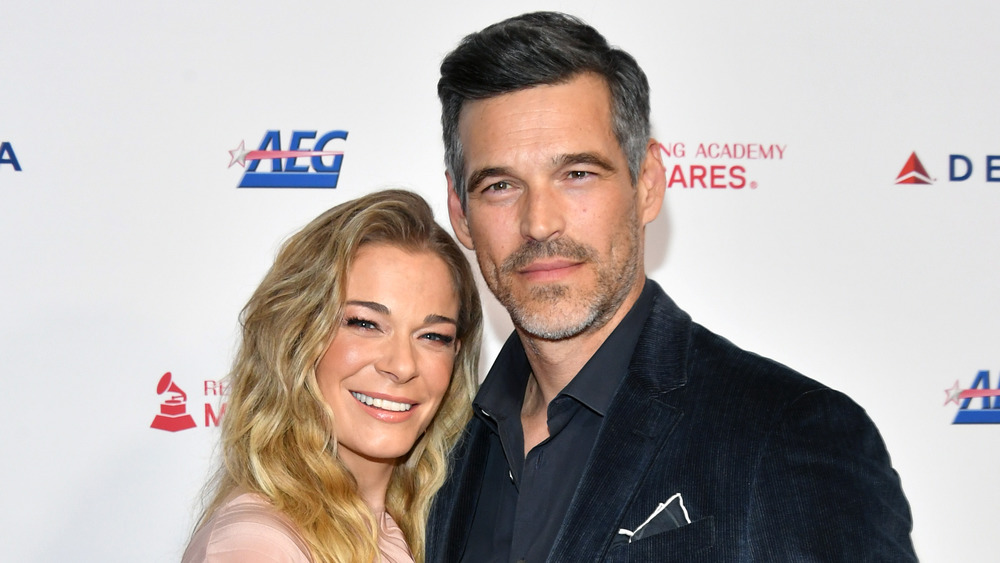 Amy Sussman/Getty Images
Unfortunately for fans, it looks as though Eddie Cibrian and LeAnn Rimes probably won't ever return to reality TV. That said, their stance is totally understandable, considering their last foray into the reality TV genre followed the explosive affair-fueled divorce between Cibrian and his ex-wife, Brandi Glanville, who's best known for her time on The Real Housewives of Beverly Hills.
"I don't think so," Cibrian said when asked about a return to reality TV on Us Weekly's "Watch With Us" podcast. "I mean, back when we decided to do something like that, you know, we wanted to do something a little tongue-in-cheek — kind of poke fun at some things. That was fine for that time, but I don't see it happening again with us. Although, in other genres, maybe." But fans are right in continuing to hope, as he added, "Maybe there's, like, something for HGTV or something in those lines, you know? Maybe go helping other people do certain things or stuff like that. Maybe come up with some ideas and produce some stuff." Basically, let's keep our fingers crossed.
In the meantime, the good thing is that Cibrian and Rimes are constantly seeking scripted acting roles. The couple's latest joint-ish gig will be on the upcoming Netflix show, Country Comfort, in which Rimes guest stars as herself while Cibrian plays a cowboy in need of a nanny for his five children (via Forbes). Country Comfort is set to premiere on March 19, 2021.