Jennifer Lopez Spent New Year's Eve With Drake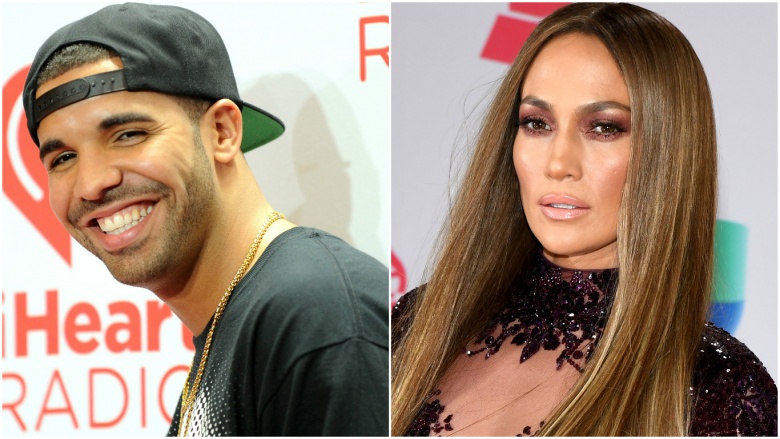 Getty Images
Drake and Jennifer Lopez seem committed to convincing the world that they're dating. The pair spent New Year's Eve together in Las Vegas, despite Lopez previously canceling a scheduled performance in Miami for "personal and family time." E! News reported that Lopez attended Drake's show at Hakkasan in Sin City, with witnesses claiming she sat with the rapper in a VIP booth behind the stage, rocking a black dress and fur stole.
Sources say Drake, 30, didn't outwardly acknowledge Lopez's presence during his performance, but he did allude to being done with his ex. During a performance of his and former flame Rihanna's hit "Work," Drake cut the song short and announced, "Alright, that was the vibe for 2016...you've got to give it up to my new music." After the night was done, Lopez, 47, and Drake reportedly left the club holding hands.
A source close to the quasi-couple told Us Weekly, "Jennifer watched and had the best time at Drake's show. [They] had dinner first at Hakkasan restaurant with a large group." The Daily Mail snagged photos of Lopez wearing Drake's gold chain in her own cleavage while sporting a sexy burgundy jumpsuit. TMZ cameras caught the pair gambling at a high roller table on New Year's Day at the same hotel where Drake performed, so it's safe to say that there may be a true romance brewing if they play their cards right.
Other than the hand holding when the pair left the party, there were no reports of PDA between the maybe-couple, which may give credence to skeptics who allege the relatioship is just a ploy to promote their single. However, E! News sources noted that witnesses were prohibited from photographing the couple, which could mean they're the real deal. An insider previously told E! News that DraLo are "100 percent legit, and not a professional ploy to promote any type of business like many are assuming."
Though there's debate over how serious J. Lo and Drizzy may be, a source told People, "Jen is looking forward with excitement to the new year. She keeps hanging out with Drake, and he has visited her house. She has nothing but nice things to say about Drake....[They] do work on music together [but] clearly enjoy each other on another level, too." The source continued, "Jen loves the attention and she seems very happy to be spending time with him. Drake is very charming. He treats Jen with lots of respect. She seems very smitten." Another insider told E! News that while Lopez is happy for now, Drake shouldn't get too comfortable, noting, "She's having fun...[but] I think she and [ex-boyfriend Casper Smart] will get back together. He's a great guy and she knows it. They just need a break right now."