Does Britney Spears Have A New Boyfriend?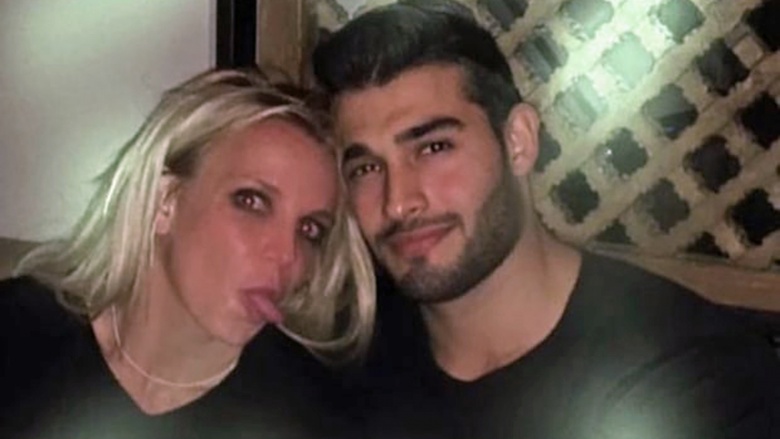 Britney Spears may have a new man! The "Baby One More Time" singer has reportedly been getting close with dancer Sam Asghari. Spears, 35, posted a photo on Instagram with Persian model Asghari, captioning the snap, "Happy New Year!"
Asghari co-starred with Spears in her "Slumber Party" music video, and the pair have been spotted getting cozy ever since. On Dec. 20, 2016, the duo was spotted on a date at Japanese restaurant Gyu-Kaku in Los Angeles. A source told People at the time that Asghari and Spears had been on three dates so far and were getting to know one another better. In November 2016, Asghari posted a selfie with the starlet before deleting it—but screencaps are forever! The pair also spent Christmas Day together. A source told E! News, "They went on a few dates. It's not as big as people think it is, but you never know. Who knows what will happen in the New Year?"
It seems like 2017 may be the end of Spears' single life. An insider told the Daily Mail, "This is the longest Britney has ever been out of a serious relationship and she's made no secret of the fact that she's been desperately lonely. She's been quietly dating for the past year, but Sam is the first man she's met who has swept her off her feet and she's totally smitten. Britney doesn't want to go public with Sam until the boys have met him properly."
Asghari would be Spears' first serious boyfriend since dumping TV producer Charlie Ebersol in June 2015. In 2013, she started dated everyman David Lucado until scrapping him for allegedly cheating in early 2015, which he denied. Spears was engaged to agent Jason Trawick before calling it quits in January 2013.
In late September 2016, the pop star griped on the Jonathan Ross Show, "A lot of men are about games...It's just the mind game with guys, the calling back and texting, it's just too much, it's silly." She added, "Actually, I'm not looking for men right now, I'm really happy with myself. I'm not looking for anything, I'm fine with the way I am." If she had to choose a guy, she explained, "I like someone that's just nice overall, just a nice guy really is groundbreaking in this world!"
Here's hoping Asghari is as groundbreaking as BritBrit deserves!