Scott Disick Reveals The Real Reason His Relationship With Sofia Richie Crumbled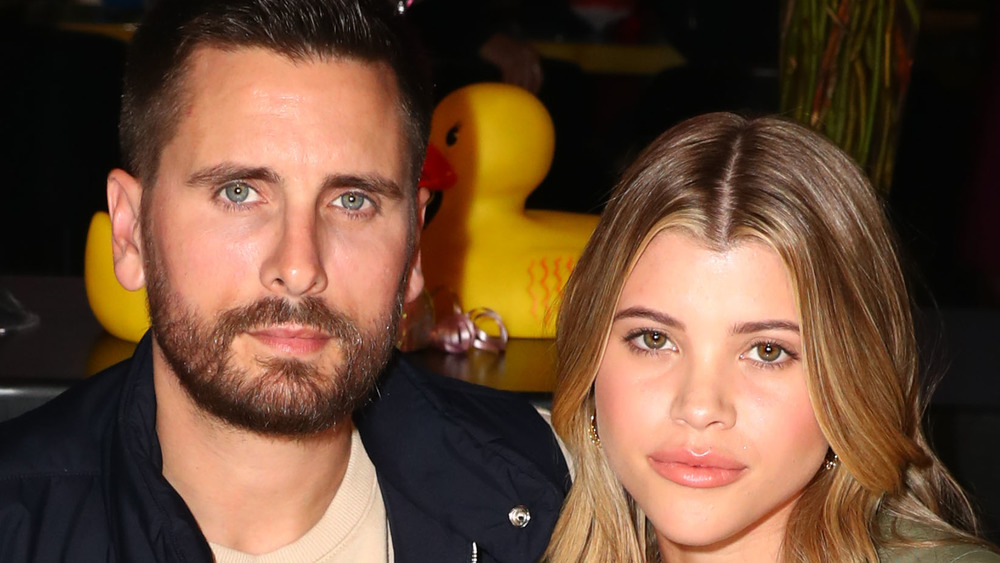 Joe Scarnici/Getty Images
Keeping up with the Kardashians is not a reality show for nothing, as Scott Disick got candid about his breakup with Sofia Richie in the upcoming season. Fans were given a sneak peek in the long-running series' 20th and final season in a new clip uploaded by the show on March 16, 2021. The two-minute video shows Disick engaging in a heart-to-heart with ex Kourtney Kardashian after the mother-of-three asked about his decision to go "on a break" with Richie.
Disick begins to philosophically reflect on his relationship with Kardashian and how that impacts other romantic relationships by explaining many people view their lives through rose-colored glasses. "I just think people come into our lives and think it's maybe easier than they think," he says in the preview. "But it's very true that we do come with a lot of baggage. It's definitely not easy that we see each other, work together, and are friends." 
Disick, who also has his own show, Flip it like Disick, suggested it isn't until after the honeymoon phase of a relationship that the cracks begin to surface. "When you first get with someone everybody is like, making changes and 'Oh, I'll do anything 'cause I'm so happy or so in love and so excited.' But then, when it sinks in and it becomes real life, it's a lot different." Disick confirmed his split with the 22-year-old back in August 2020 after nearly three years of dating, per People. 
Here's why Scott Disick says Sofia Richie felt 'neglected'
While Kourtney Kardashian sipped on a glass of wine, Scott Disick gave her the tea on his breakup with Sofia Richie. Disick revealed to his ex that she may have struggled with the idea of being lower on his list of priorities. "I've always been clear that my priority has been my children, my life with them. And I even put it out there that taking care of you is one of my priorities," he told her.
However, Disick seemingly shared there was no bad blood between them, as he called Richie "an absolute trooper" before admitting she was "neglected." He said, "The truth is, anybody dating somebody is gonna feel neglected when their significant other is spending more time with their ex than with them." Just after their breakup, a source told Us Weekly that, "Sofia was getting mad Scott was spending so much time with Kourtney." 
Disick dated Kardashian from 2006 to 2015 and the pair now co-parents their three young children — Mason, Penelope, and Reign. Considering the future of his relationship with Kardashian, Disick asked her, "I just don't know, like, are we just gonna, like, grow old just traveling the world with the kids, living one house down from each other or together at some point?" While Kardashian said the kids would "love it," she also said it's important to still "make sacrifices" to find love.
Disick is currently dating 19-year-old model Amelia Hamlin, while Kardashian is dating longtime friend Travis Barker.