Who Is Kelvin Sampson's Wife, Karen Sampson?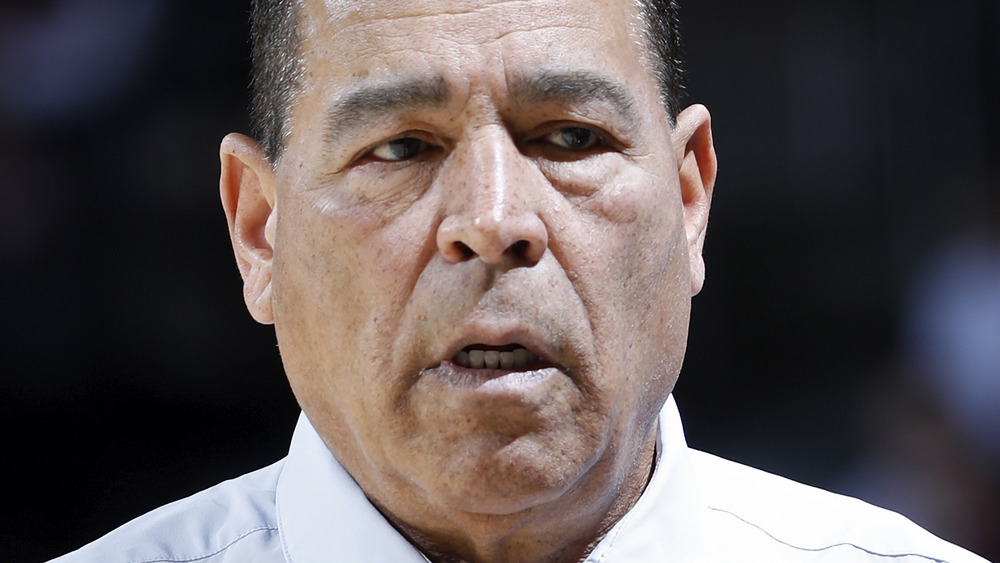 Joe Robbins/Getty Images
Kelvin Sampson's coaching career in the NCAA has been nothing but short of dramatic. The head coach of the Houston Tigers at the University of Houston was forced to resign during his stint with the Indiana Hoosiers in 2007-08, because he and his team allegedly committed recruiting violations, The New York Times reported. Sampson was banned from coaching in the NCAA for five years before the University of Houston hired him in 2014, per the Chicago Tribune.
Since his appointment, Sampson has guided the Houston basketball team to great heights. His record for leading the team is 163-63, per IndyStar, and they are the No. 2 seed in the 2021 NCAA Tournament. Sampson's success on the court can be attributed to his family dynamics off the court, as he and his wife, Karen Sampson, are as passionate about their marriage as they are about basketball. Keep scrolling to find more about Karen's influence on Kelvin.
Kelvin Sampson met his wife in high school
Like his NCAA cohort Brad Underwood, Kelvin Sampson married young. He met his wife, then Karen Lowery, in history class at Pembroke High School where his dad taught. "I remember the first time Kelvin called me at home," Karen Sampson told The Oklahoman in 1999. "He asked me what our history assignment was." Karen joked that Kelvin's pick up line was lame, because his dad taught the history class. However, Karen took Sampson up on his dates and they married after six years. The couple has a daughter and a son who are part of the Houston basketball team in various managerial roles.
While Kelvin has devoted his life to basketball, Karen has done the same with teaching. According to a press release by UNC Pembroke Board of Trustees, of which Karen has been a part of since 2018, she graduated cum laude with a degree in Early Childhood Education and taught school before she moved to East Lansing, Mich. in the late-1970s. Lowery has also been involved with the Philanthropic Educational Organization for 25 years.
Kelvin could not be more proud of his relationship with his wife, telling The Robesonian in 2015 that she helps him focus on his job. "I don't really care about (the spotlight)," he said, adding, "I've got the best assistant coach I've ever had — my wife (Karen). Being with my family, investing in my program, that's been the highlight of my career."