Billie Eilish Is Nearly Unrecognizable With Her New Look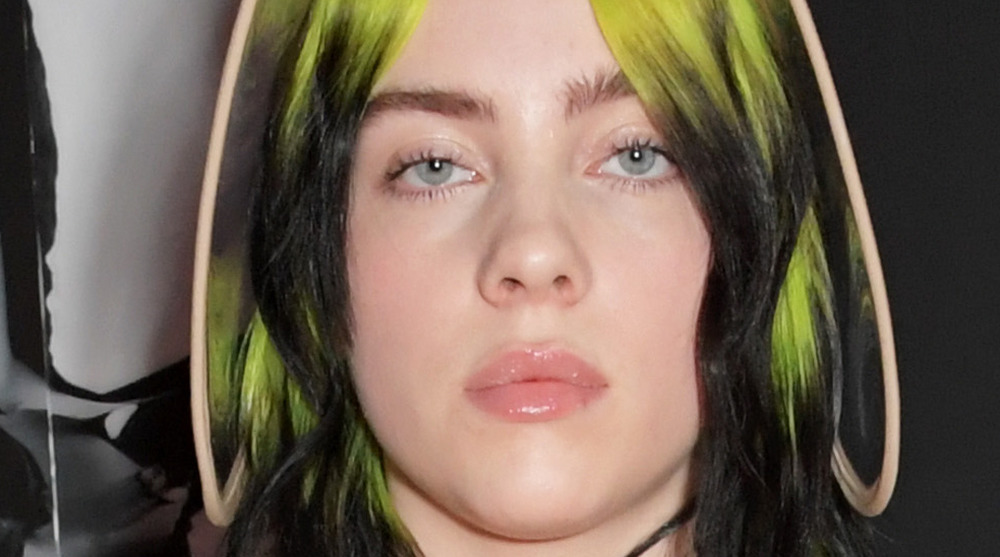 David M. Benett/Getty Images
Billie Eilish knows how to keep things interesting for her fans — whether it's new music or a bold new ensemble, the singer always keeps us guessing with what she'll do next. Fans are very familiar with Eilish's unique sense of style, though they never quite know what to expect next. Of course, a big part of Eilish's style is her hair, which has been gray, blue, and, for a while, her signature black with neon green roots. While the singer has been rocking the latter color for over a year, it seems that she has been eagerly awaiting a change.
In December 2020, Eilish joked around with fans on an Instagram live and told them to "stop making fun of [her]" for the green hairstyle she's been rocking for a while (via Seventeen). The singer also hinted that she was going to change her hair color soon, saying that she was ready for a "new era" once her documentary, Billie Eilish: The World's a Little Blurry, aired. Well, the doc dropped in February 2021, but as of the March 14, 2021 Grammy Awards, Eilish was still rocking the same 'do.
What a difference a few days can make! Though Eilish still had her signature green roots at the Grammys, the singer has revealed her new hairstyle less than a week after the show — keep scrolling to see her drastic new look!
Billie Eilish has gone platinum blonde
After much anticipation, Billie Eilish has finally changed up her hairstyle. According to Yahoo!, the "Everything I Wanted" singer first teased the change on her Instagram story, which simply showed a picture of a wall and asked, "Can you guess what color?" Fans immediately knew that the "color" in question must be Eilish's new hair color, and sure enough, she debuted her new shaggy-cut, platinum blonde locks with an Instagram video and selfie on March 17, 2021. "Did you guess correctly?" the singer asked in the caption for the video, and for the selfie, she simply said "pinch me," as a reference to St. Patrick's Day, as she's no longer wearing green. 
Needless to say, fans are thrilled about Eilish's new hairstyle. "Billie Eilish going blonde is the highlight of my year so far," one fan wrote on Twitter, along with side-by-side images of the singer with her old and new 'do. "Billie Eilish in blonde hair will save 2021," another fan joked, along with screenshots from Eilish's Instagram video. While fans definitely love Eilish's new blonde look, many are convinced that she simply bleached her hair to be able to go over it with a different color. "I'm 56% sure that's not the final color and ur playing with us," one fan tweeted, seemingly anticipating that Eilish will reveal yet another change-up. 
Only time will tell if Eilish changes her hair color again, but in the meantime, fans are totally here for her platinum blonde 'do.