George Michael's Boyfriend Denies Tweeting That Singer Committed Suicide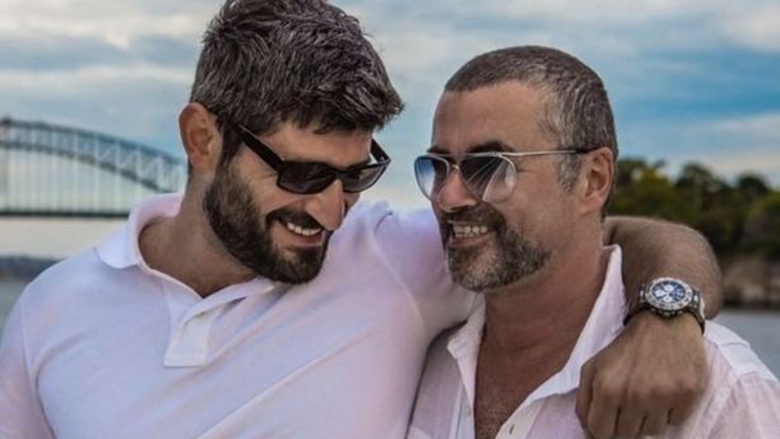 A week after George Michael died, his longtime partner is denying posting harrowing tweets from his account about the star's passing. The "Faith" singer died at his home on Christmas Day 2015 at age 53.
In a series of since-deleted tweets obtained by Us Weekly, Michael's boyfriend, hairstylist Fadi Fawaz, allegedly wrote, "We loved each other very much and we were together almost 24 hours a day..And finally he managed...he tried numbers of time [sic] to kill himself many times...the only thing George wanted is to DIE..."
In a statement to the Mirror, Fawaz said, "I am shocked with what's going on with the Twitter thing. My Twitter account has been hacked and closed. It's a bit scary, to be honest. I did not send those tweets. I woke up at 11.30 a.m. to the news. I am not going to worry about these things."
Fawaz, 43, had previously tweeted about finding Michael unresponsive in bed, writing (via Page Six), "It's a xmas i will never forget finding your partner dead peacefully in bed first thing in the morning." He then changed his profile to a photo of himself and Michael, writing in his bio, "I will never stop missing you."
The relationship between Michael and Fawaz may have been strained at the time of his passing, per Fawaz's own admission. "Everything had been very complicated recently, but George was looking forward to Christmas, and so was I," he told The Telegraph. "Now everything is ruined. I want people to remember him the way he was. He was a beautiful person."
Fawaz also told the Mirror, "I never saw him [the night he died]. I fell asleep in my car and I never saw him that night. The police know everything—that's the most important thing."
Fawaz wasn't the only lover devastated by Michael's death. The singer's ex, Texas art dealer Kenny Goss, was still close friends with Michael. "I'm heartbroken with the news that my dear friend and longtime love George Michael has passed," Goss told The Dallas Morning News. "He was a major part of my life and I loved him very, very much. He was an extremely kind and generous man. The beautiful memories and music he brought to the world will always be an important part of my life and those who also loved and admired him."