The Memory Kendall Jenner Shared That Made Kylie Break Down In Tears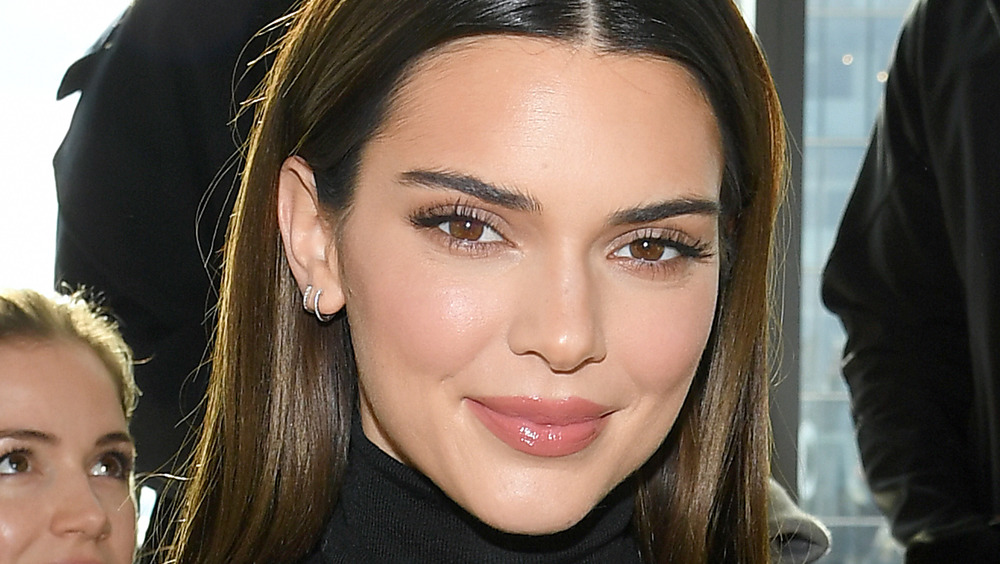 Dimitrios Kambouris/Getty Images
What happens when you get two reality show sisters in front of the camera, armed with makeup and plied with tequila? Lots of laughs, messy eyeliner, and tears! That's what happened when Kendall Jenner and Kylie Jenner sat down for a new "Drunk Get Ready with Me" video. Kylie had previously filmed an equally intoxicated video with older Khloe Kardashian back in 2019, but this time she got her model sister involved to highlight her new 818 Tequila.
The tipsy talk show saw the girls hilariously highlight the various stages of inebriation — similar to a standard night out — but all confined within a small studio. Before the giggle outbursts and subsequent stumbles, however, the video began on a "sentimental" note as Kendall reminisced about her "biggest insecurity" as a teenager. But to give her a little Dutch courage, Kylie poured her sister some tequila so they could "start the video with five shots." The Kylie Cosmetics founder, who obviously only used her own range during the video, suggested the pair do a "day to night" look, which saw Kendall consider her personal journey with makeup. The 25-year-old painfully recollected how she used to cake her face with such products during the ninth grade in a bid to cover her breakouts. 
Here's why Kendall Jenner covered her face with makeup every day in ninth grade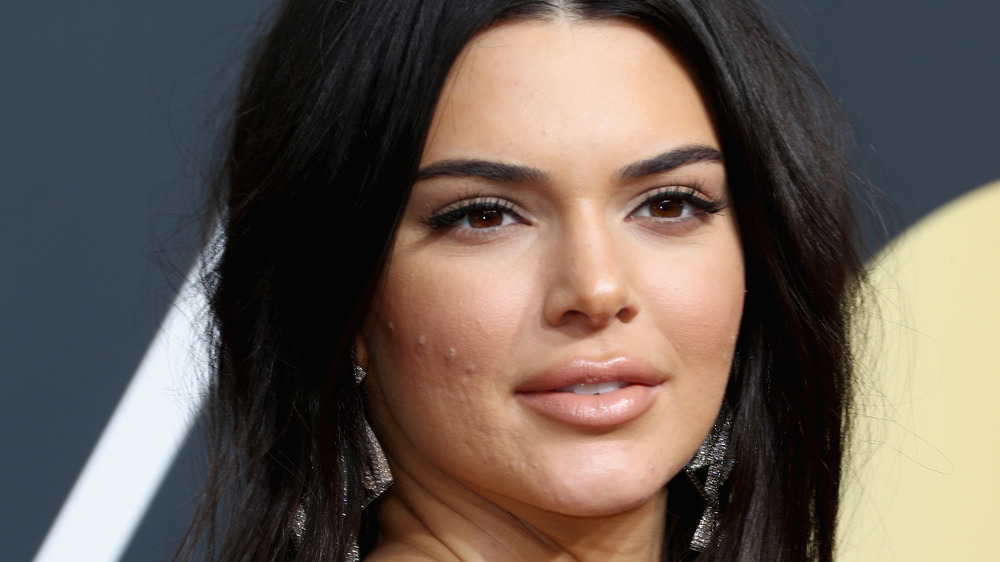 Frederick M. Brown/Getty Images
Despite being one of the most in-demand models today, Kendall Jenner has not always exuded confidence. Only in recent years has the reality star spoken publicly about her skin insecurities after unflattering images of her at the 2018 Golden Globes were published online. "I want everyone to know I'm okay, and you can be okay too," Kendall told People in 2019. However, the Los Angeles native with the flawless Instagram feed appears to be more open about her inner struggles as she chatted with sister Kylie Jenner about her "crazy" high school acne. 
"When I would do my makeup for school, I had really bad acne ... I remember the summer before ninth grade was when my acne went crazy and I was like, 'S***. I'm going into high school and this one guy was really hot and I'm gonna ruin all my chances,'" Kendall began. Clearly, her skin wasn't a problem for her then-beau — nor should it be — as the model revealed they dated. But she said his attraction to her perhaps had something to do with her eventual self-acceptance. 
"It was the confidence that came from within that probably really turned him on to me. The point of the story is. I would have so much acne and I would try and do my makeup ... I knew nothing about makeup at the time," Kendall said.
Kylie Jenner said she's more conscious of self-confidence issues now
Kendall Jenner continued her heart-to-heart with sister Kylie Jenner, even poignantly saying Kylie "boosted her confidence" during high school. "I remember every morning we would show up to school, dad would drop us off ... and I'd look at you and be like, 'Can you see my acne?'" she said to an emotional Kylie. "Kendall, you make me want to cry," Kylie said as she began wiping away her alcohol-induced tears. "Every day, you would say, 'No, you look beautiful.' And I knew you were lying but I appreciated you saying that," Kendall said. 
After the girls hugged, Kylie suggested that, as a mom to a daughter — she shares her toddler, Stormi, with Travis Scott — Kendall's anxiety hits home a bit more now. "It's just when you have your own daughter, you just think about this. I knew it was your biggest insecurity. And it always made me so sad," Kylie said, wiping away tears. But after starting on a low, the girls ended on a high — by way of dozens of tequila shots, that is — as the 16-minute video finished with the dynamic duo trashing the studio and revealing bright (and mismatched) makeovers. Let's hope they ordered a big, greasy meal following that shoot ... and remembered to wash their makeup off before bed!