Mariah Carey Spotted At Marijuana Dispensary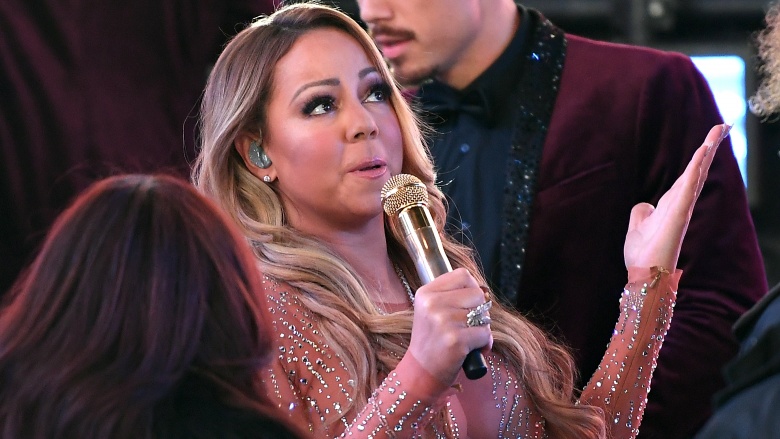 Getty Images
Tabloid photos of Mariah Carey visiting a marijuana dispensary before her disastrous New Year's Eve performance are lend new context to her famous high notes.
The Daily Mail nabbed photos of Carey, 46, and a crew that included her now-infamous manager, Stella Bulochnikov, at a marijuana dispensary in Aspen, Colo., on Christmas Eve—a week before her televised debacle.
Carey, sporting a green gown, and her entourage visited The Original Leaf dispensary. The shop's website says the store "sets the standard for top quality freshness, texture, flavor and variety," noting that "organic farming isn't primitive, it's actually farming with our future at heart." The website promotes "a variety of recreational edibles, topicals, dab bars and recreational marijuana."
The Daily Mail said Carey didn't carry any shopping bags out of the shop, so she may have been simply enjoying a tourist attraction in the Colorado city, where marijuana use is legal. TMZ claimed she purchased a particular strain that costs $400 per ounce!
As for what actually caused the issues during her year-ending performance, Carey is not sitting idly by and accepting the blame. Bulochnikov said the singer was present for soundchecks and rehearsals and that her inner earpiece malfunctioned, alleging Dick Clark Productions didn't do anything to help, choosing to exploit Carey for a viral moment. "Once things went wrong, they took the decision to keep rolling and make her look like a train wreck for the ratings," Bulochnikov told Page Six. "They owe her a public apology."
A source close to the songstress told The Sun, "Mariah is fuming and has been left very upset for the past couple of days. She won't let this go and believes somebody tried to sabotage her. She is launching her own investigation into the incident."