The Masked Singer: Fans Believe Chameleon Is A Famous Rapper
Season 5 of The Masked Singer kicked off on March 10, 2021, and continues to have the nation trying extra hard to figure out who is underneath the wild costumes. On March 17, Chameleon made his performance debut and entertained the celeb panel — Nicole Scherzinger, Jenny McCarthy, Robin Thicke, and Ken Jeong — by rapping to Nelly's classic hit "Ride Wit Me." 
In the first clue package, Chameleon, who seems to be a relatively tall man, said he puts the "tech in technicolor." His father told him to always keep up with the times and encouraged him to "tinker with every gizmo and gadget around." When Chameleon's career hit a low point, he relied on what his dad previously taught him. A TV with "007" displayed on the screen was shown as well as a turntable with a vinyl record. Chameleon ended with the statement, "I won't be blending in."
The panelists were a little stuck on who Chameleon could be. Jeong assumed it might be Dwight Howard, while Thicke guessed Redfoo from LMFAO. Scherzinger said a number of names: Calvin Harris, Diplo, Tiësto, and even Nick Cannon, who has temporarily been replaced as host by Niecy Nash due to testing positive for COVID-19, per StyleCaster. Although the panel may seem a little confused about who Chameleon is, fans think they have figured it out.
Fans believe Chameleon is this popular rapper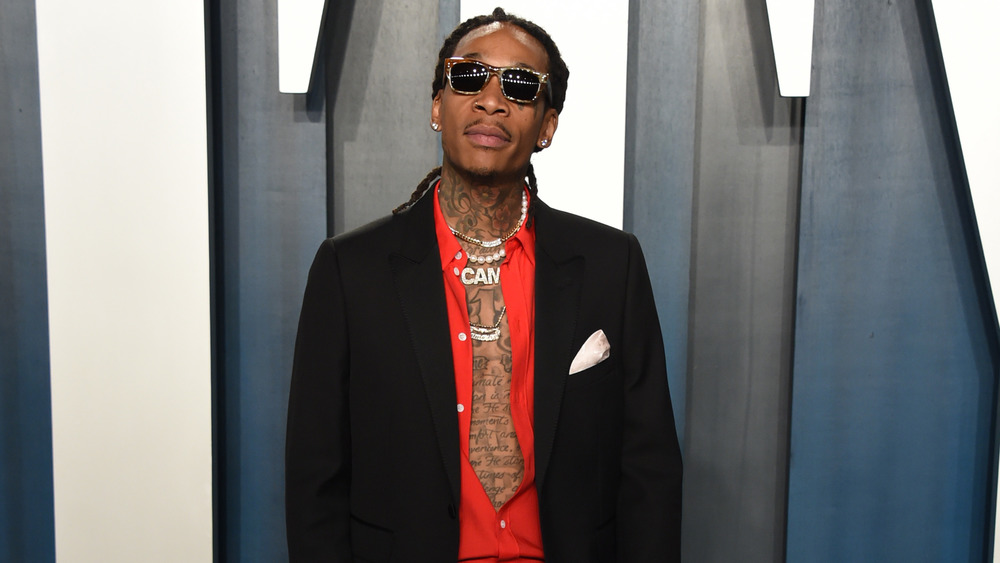 John Shearer/Getty Images
The panel rattled off a whole range of names for Chameleon, with each person suggesting a different celebrity when it came time to guess who might be under the mask. However, some viewers believe they already know who it is from Chameleon's voice alone. In fact, fans are fairly confident that Chameleon is someone the panelists did not even mention: rap star Wiz Khalifa.
"This gotta be the most obvious Masked Singer. We can all clearly tell that its [Wiz Khalifa]," one user tweeted, adding a couple of laughing crying face emoji. "Wiz Khalifa is the Chameleon on Masked Singer, stg. I'd recognize that voice anywhere," another person shared. "That chameleon, without a doubt is Wiz Khalifa. I looked up from my desk real quick cause I heard wiz' voice," remarked a third viewer.
Chameleon has yet to be unmasked and currently remains in the competition, meaning fans will have to keep watching and stay tuned to find out if they are correct.