Rob Gronkowski Lets Out His Feelings About The Aaron Hernandez Scandal
Noam Galai/Getty Images
After years of holding his peace, Rob Gronkowski is finally opening up about how he really feels about his former New England Patriots teammate Aaron Hernandez.
In 2015, Hernandez was convicted of the 2013 murder of his sister's fiancé, semi-professional player Odin Lloyd, for which he sentenced to life in prison following a jury trial in Massachusetts, as CNN reported at the time. The case continued to attract attention and made international headlines after the sentencing. On April 19, 2017, Hernandez was found dead in his cell in what has been ruled a suicide, according to a separate CNN report. The notoriety of the case has been such that it has been turned into a Netflix documentary, Killer Inside: The Mind of Aaron Hernandez.
Since then, Gronkowski has remained silent about the case. As The New York Post noted, he once nearly walked out in the middle of an interview on CBS This Morning when he was continuously pressed on the issue. But almost six years after the murder, it looks like Gronkowski is ready to talk. Read on to find out how he feels about Hernandez and the scandal that ensued.
Rob Gronkowski says he was 'shook'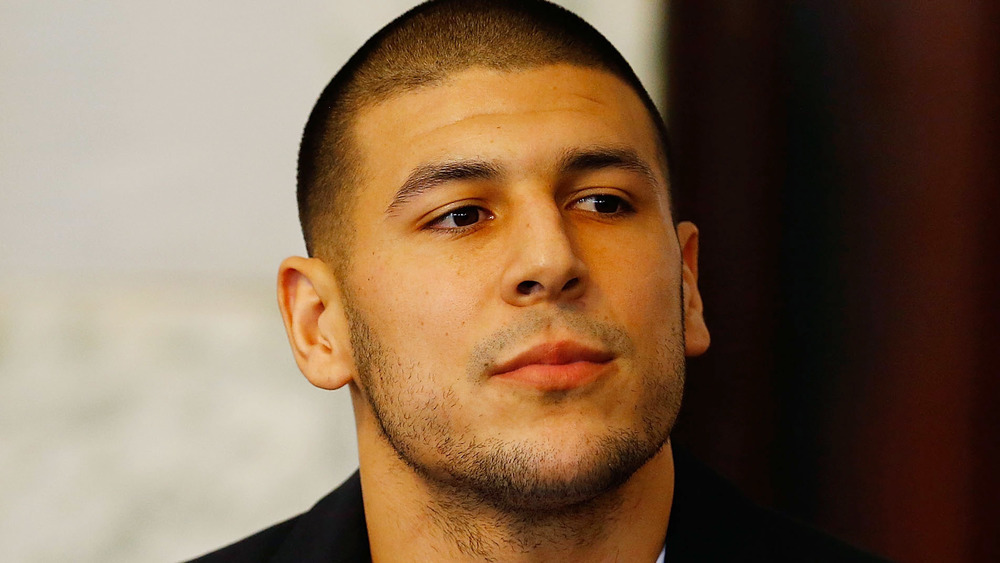 Jared Wickerham/Getty Images
On March 17, 2021, Rob Gronkowski and Sports Illustrated swimsuit model and girlfriend Camille Kostek appeared on the 10 Questions With Kyle Brandt podcast, during which he briefly admitted to feeling "shook" in light of the scandal involving Aaron Hernandez following the murder investigation, as The New York Post has reported.
"Aaron was a great football player. I get questions like that all the time about him and with everything going on, I was definitely shook when I heard that, when I heard everything about it because just being his teammate... you really don't really see that," Gronkowski said. "You're not really looking into players like that's who they are or that's what they're doing. I just try to keep it simple and light. He was a great football player but that doesn't mean anything. You learn from other people, too."
In a letter written from prison, Hernandez praised Gronkowski, calling him "the best [tight end] ever to walk on a football field," CBS Boston reported in 2016.