David Foster Is Annoyed With Katharine McPhee Over This
George Pimentel/Getty Images
Katharine McPhee and David Foster welcomed their first baby together in February 2021, per People magazine. "Katharine McPhee and David Foster have welcomed a healthy baby boy," McPhee's representative told the publication. "Mom, Dad and son are all doing wonderfully." The newborn is the former American Idol contestant's first child. Foster has five daughters from his previous relationships.
News of the pregnancy broke when the pair, who tied the knot in 2019, was spotted on a shopping trip in Montecito, Calif. McPhee was rocking a skin-tight gray leggings and black top combination that showed off her growing bump. The two musicians originally met while McPhee was on American Idol in 2006 and Foster served as a mentor on the show. They remained in contact, and Foster even performed at McPhee's 2008 wedding to Nick Cokas, per E! News. They were not romantically linked until 2017.
McPhee and Foster were fairly tight-lipped about their pregnancy, although it was no secret that McPhee hoped to have children with her husband, according to US Weekly. The Scorpion star gave fans a rare glimpse into her life as a mom in March 2021 when she posted a photo of herself on a walk with her son, writing that she loves being a mother, as reported by People.
Now, fans have gotten another peek into Foster and McPhee's life as parents — but it's not as cute as her mommy-son photo. Keeper reading to learn why David Foster is annoyed with Katharine McPhee over her parenting choice.
Katharine McPhee announced something David Foster wanted to remain private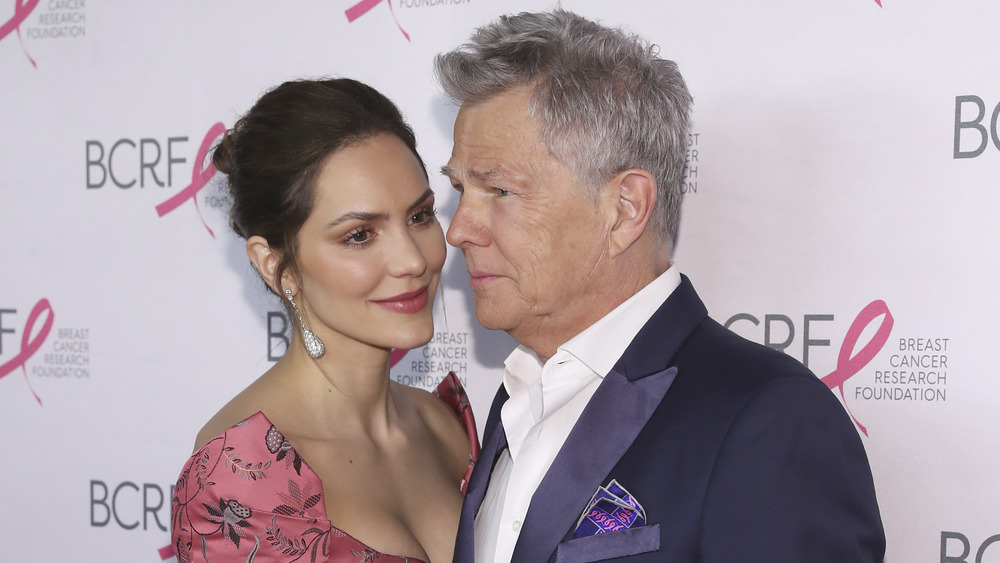 Bennett Raglin/Getty Images
Katharine McPhee revealed her son's "strong name" in an interview with Today on March 17, 2021. "We picked Rennie 'cause I'd actually been in labor for a while. We didn't have a name picked out," she admitted. "We had a couple names, but my husband was on a text chain with his sisters and one of his sisters suggested an old family name. It was his great-grandfather's name, his great-uncle's name, so it has a long history in his family. My husband said, 'Hi, Ren Foster,' and so we said, 'That's a good name. It's a strong name,'" she continued. 
Prior to making that revelation, however, the singer and actress stated that David Foster would probably "kill" her for announcing the name, but she did it anyway. It turns out that McPhee was right about her husband not being too happy about the revelation. "My husband was kind of annoyed," she admitted on SiriusXM's The Jess Cagle Show the same day she shared the news. "I said, 'What was I supposed to say?' Nothing?" While she explained that she understood why Foster wanted to keep the name under wraps ("It's the only kind of thing you can hold onto that feels private," she stated), McPhee said she decided to reveal her son's name because she wasn't trying to be "that pretentious over the name." Hopefully, this is just a minor disagreement in what appears to be a healthy family dynamic.