John Kerry's Latest Move Is Causing A Stir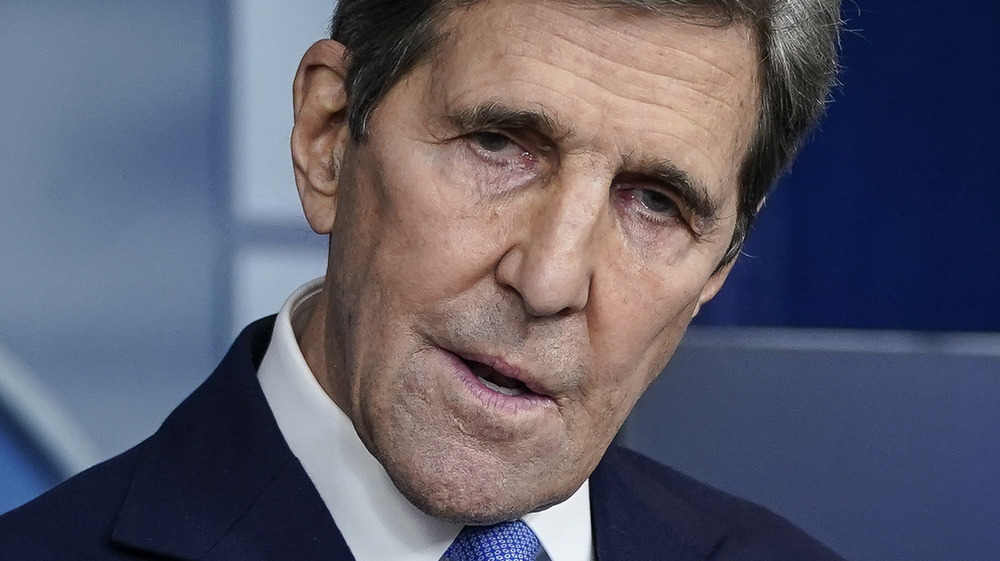 Drew Angerer/Getty Images
More than a year after Americans first entered quarantine and started donned prophylactic face masks to slow the spread of coronavirus, it looks like one of the top members of President Joe Biden's cabinet — as well as one of the most prominent career Democrats — is under fire for allegedly eschewing the safety measure.
As USA Today and other outlets reported, Kerry purportedly spent portions of time during a flight on American Airlines from Boston to Washington, D.C. on March 17, 2021 without wearing a mask, which the Centers for Disease Control and the World Health Organization both strongly recommend as one of the major protections against the catching and spreading of COVID-19. One of these moments was supposedly captured on camera by reporter Neil W. McCabe, who then wrote an eye-witness exclusive on the matter for The Tennessee Star. According to the conservative journalist, "the so-called Climate Envoy [John Kerry] was not eating, nor drinking, even though first-class passengers are often served before take-off" while remaining mask-less, which is against the updated American Airlines mask policy.
So what's the story behind Kerry's mask-free moment, and how did the former U.S. Secretary of State respond? Keep scrolling to find out.
John Kerry called the mask accusations 'malarkey'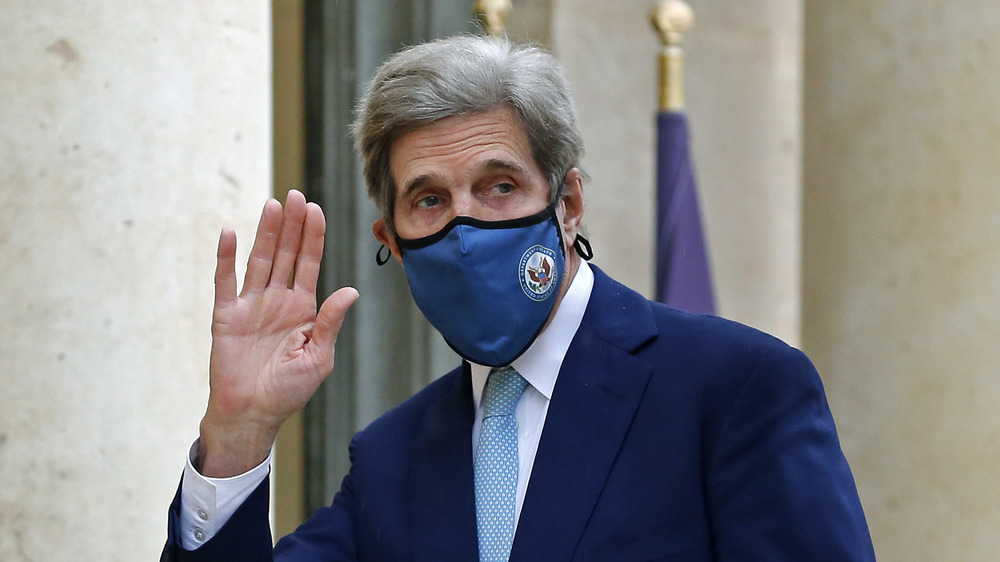 Chesnot/Getty Images
In response to the mid-flight mask scandal, John Kerry, who is currently serving as the Presidential Envoy for Climate, tweeted his dismay over the idea that he had gone mask-less on the American Airlines flight in question. The tweet, which was sent on March 17, 2021, cheekily incorporated the holiday into Kerry's verdict of the situation: 
"Feels like there's some St. Patrick's day 'malarkey' afoot on Twitter," read Kerry's tweet. "Let's be clear: If I dropped my mask to one ear on a flight, it was momentary. I wear my mask because it saves lives and stops the spread. It's what the science tells us to do." 
While The Tennessee Star reporter claims to have observed otherwise, a statement by an American Airlines spokesperson to USA Today seemed to corroborate Kerry's version of events. Per USA Today, the spokesperson disclosed that flight attendants on the Boston-D.C. flight "did not observe Secretary Kerry without a mask, and they were not alerted by other customers to a non-compliance issue." Even though this might have been the case, per the spokesperson, the airline is following through on its due diligence, promising to "continue to review the matter" and to "[reach] out to Secretary Kerry" in order to emphasize the importance of mask protocols on flights.